Meghan Trainor might be all about that bass ('bout that bass, no treble) but frankly, we're already sick of her ode to her own butt. But if you spend any time listening to Spotify, Rdio, or iTunes, it's easy to grow tired of the latest pop earworm. That's where Denied comes in. With a few clicks, you can banish your least-favorite songs or bands from earshot for good.
Denied installs a menubar icon in the shape of a palm-up hand. Click on it, and you're presented with a list of filters you've created, and the option to build new ones. Type in the name of your least-favorite band (the developers have their own vendetta against Nickelback)—or the title of that awful song your ex used to sing all the time—and Denied will spare you the indignity of ever having to hear it again.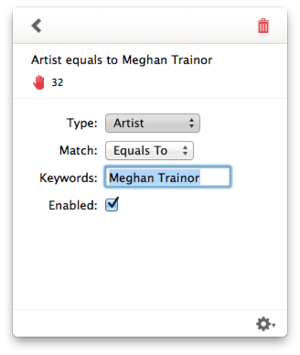 Denied works by using your music app's skip feature to bypass tracks that match the rules you set up. You can block songs by searching Artist, Track Name, or Album, and match exact or partial strings of search text. In practice, it works pretty seamlessly, and every time Denied saves you from hearing something you hate, a notification lets you know the application is working. Alerts can thankfully be turned off in Denied's Preferences. Denied even keeps stats on how many tracks it has skipped for you, which isn't really necessary, but it's fun nonetheless.
Unfortunately, you'll need to create filters manually—there's no way to grab info from the currently playing track. Still, with options to match full and partial text strings, it's pretty simple customize your filters to catch all the songs you don't want to hear by taking advantage of the "Equals" "Contains" "Starts With" and "Ends With" parameters of Denied's rules. The free version of Denied available at getdenied.com lets you create three filters, a limitation that's removed once you purchase from the Mac App Store.
Bottom line
Denied is simple and effective, but free Spotify or Rdio users can quickly bump up against the skip limits if you're extremely picky, or create rules that are too broad. If you just can't stomach that song even one more time (whatever that song is) Denied will keep the tunes flowing, minus those sonic annoyances.