It seems like Facebook is constantly adding new settings or changing old ones. Sometimes it's under the guise of simplifying your options, like with the new Privacy Basics walk-through. Other times it's because new kinds of ads are coming and Facebook wants you to be prepared. So there's no better time than the present to update your privacy permissions than the present. Let's face it: You're not going to remember to check on your Facebook settings once the chaos of holiday parties and New Year's resolutions takes hold.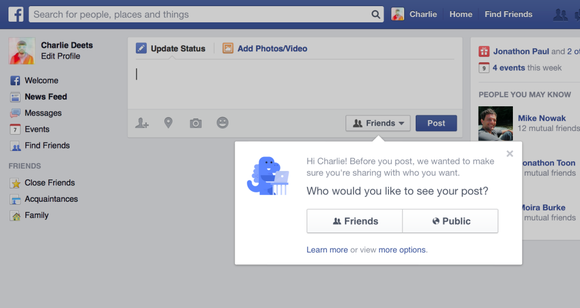 The bare minimum
Facebook has made it much easier in recent months to see what information you share, who can see what you post, and how Facebook uses the data it collectson you. For people who don't use Facebook very often, the network's own Privacy Checkup, which rolled out this September, is a solid refresher.
The guide, led by a helpful blue dinosaur, quickly walks you through basics like your default audience for all posts (friends, public, or custom), which apps have permission to access your Facebook account, and what kind of information on your profile is visible to the public. Privacy Checkup is easy to access on the top blue menu bar in your News Feed (denoted with a lock icon), useful, and fast, but you need to go deeper into your Facebook settings to get to the good stuff.
Delete ad preferences
Facebook shows you ads in your News Feed to make money. No surprises there. But you have way more control over how the platform uses your personal information to target ads to you than you realize. When you see an ad in your feed, there is a small grey drop-down arrow on the top right of the ad. This innocuous little arrow is the key to unlocking how and why the ad appears in your feed. Just select "Why am I seeing this?" from the list of options for an explanation. For instance, if you've given a company your e-mail address, it can cross-reference that information against Facebook's database to serve you an ad.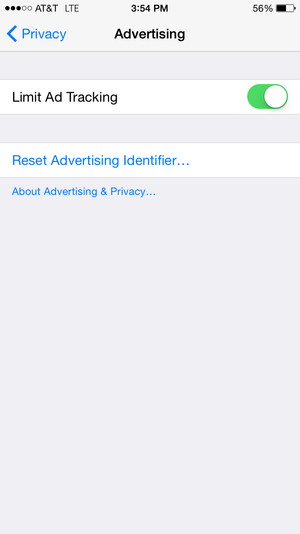 That same section will give you the opportunity to manage your ad preferences. Facebook has a roster of information about you based on pages or causes you like, your location and check-ins, and online browsing activity when you're logged into Facebook. Some of this information is accurate, while some of it is hilariously off-base. Facebook seems to think I'm an artist in my spare time, which I wish were true but isn't at all. You can delete all of these preferences if you don't want Facebook to target ads to you, or you can add more relevant preferences to get ultra-tailored ads. If you delete your preferences, note that you'll have to do this regularly because Facebook likes to keep adding information to your roster.
Cover your tracks
To prevent Facebook from following you around the web and marketing to you based on your activity on other sites, you'll need to opt out of tracking cookies with the Digital Advertising Alliance. It takes a second for the DAA to submit your requests with the slew of companies who want to track you, and you'll have to do it for each browser you use. Once you're done, Facebook will recognize the opt-out across all your desktop and mobile web activity. There are also settings within iOS and Android you can toggle on to limit ad targeting for an extra boost.
You get the last word
Do your friends and family like to tag you in posts and photos you'd rather not appear on your Timeline? Instead of retroactively untagging yourself, use my personal favorite privacy tool: Timeline Review. It's a little tough to find, but onceyou turn it on, you'll have complete control over what appears on your page. Follow these steps to activate Timeline Review on your home computer: Settings > Timeline and Tagging > Review posts friends tag you in before they appear on your Timeline? > Edit > Enabled.
Yeah, it's not exactly simple, but once you turn on Timeline Review, posts and photos you're tagged in will go into a queue for you to review. You can either approve a post to appear on your page or banish it. If you leave items in the queue, they'll languish there and won't be visible to your friends.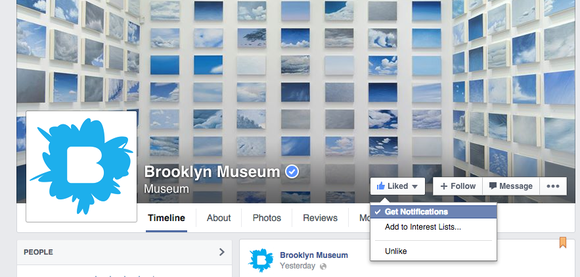 A better News Feed
The biggest complaint about Facebook that I hear from friends, family, and people on the Internet is one even Facebook CEO Mark Zuckerberg acknowledges: The News Feed algorithm withholds some content you might actually want to see. But there are a few tricks to seeing all updates from your preferred pages and friends. If you add people to a Close Friends list, Facebook's algorithm will recognize that you want to see more from those users. In your News Feed, tap on Friends > More > Close Friends > Add Close Friends. Once your list is filled out, you can choose to receive notifications every time those chosen few post.
Facebook has been cracking down on pages spamming News Feeds with useless links and photos, which is mostly a good thing. But what if you want to read updates from your favorite local businesses or find out about deals from retailers? Well, you'll need to take action. First, like the pages you want to appear in your News Feed. There's an arrow next to the Like button you can tap on a page to see more options. Select "Get notifications." Facebook will tell you when that page posts something, even if it doesn't appear in your feed.
These steps will take some time to work through, but once you're done, your News Feed will be a slightly less annoying place. (But not perfect: I'm not a miracle worker.)