When I reviewed PowerPoint for iPad version 1.0 back in April 2014, I found a lot to like but dinged the app for a few notable omissions; I also noted its dependence on a paid Office 365 subscription. Now at version 1.3, PowerPoint for iOS works on iPhones as well, and has adopted a new freemium model (like the other Office apps—Word and Excel) in which most of its features are available even to those who don't pay for Office 365.
It almost looks as though Microsoft turned my list of cons from version 1.0 into its to-do list—every major complaint has been addressed. Audio and video now play correctly, and you can add video (though not stand-alone audio) from your iOS device. You can now add and edit animations, and you can crop images. There's a Presenter View, so you can see your notes and thumbnails of your slides while giving a presentation. And—shocker—you can even opt for Dropbox file storage as an alternative to Microsoft's own OneDrive.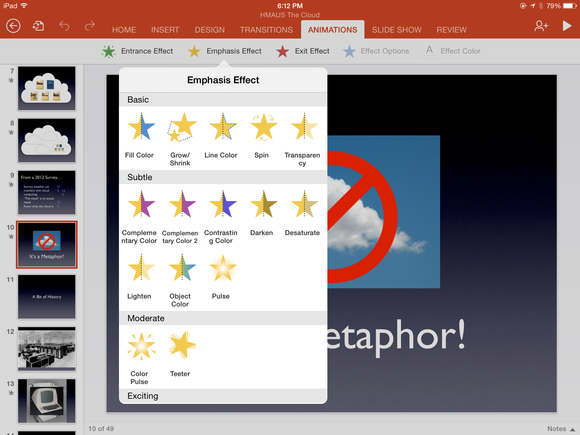 These changes are exceptionally welcome, and they make PowerPoint for iOS far more competitive with Apple's Keynote than it was previously. If you have an Office 365 subscription, you're in for a treat with the new PowerPoint. But if you don't, you'll miss out on a number of the groovy new features.
Free at a price
Like other Microsoft Office apps for iOS, PowerPoint offers three levels of access, two of which are free:
View Only: If you open the app without signing in to a Microsoft account, you can view and present (but not edit) documents.
View and Edit: Sign in with a free Microsoft account to create and edit documents (with some restrictions) and access OneDrive storage. You can create a new account in the app if you don't already have one.
Premium Features: Sign in to an account with a paid Office 365 subscription (or buy one via in-app purchase) and all features are enabled. As we detailed previously, the premium features are Presenter View; adding custom colors to shapes; adding and editing WordArt; applying reflections and shadows to graphics; adding and editing chart elements; and adjusting the shading of table cells, rows, and columns.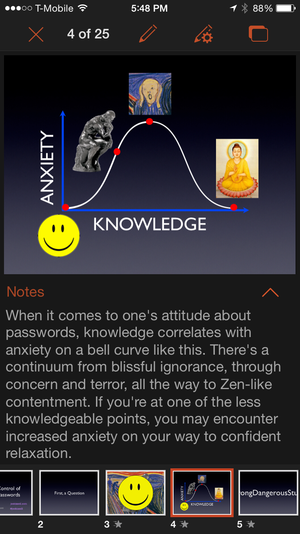 How useful is PowerPoint 1.3 in the "View and Edit" mode—the highest level of access you can get without paying? For me, the answer was "so-so," but your answer will depend on the types of presentations you give and whether you need to create or edit them on an iOS device.
I rarely use any of the non-premium editing features like WordArt and reflections, and if I needed them, I could create or edit my presentation on a Mac or PC. On the other hand, Presenter View is hugely important to me. I missed it sorely in version 1.0 and would be reluctant to give it up; it not only lets me see my notes while I control the presentation but also lets me jump to any arbitrary slide by tapping its thumbnail. If your workflow involves using an iOS device only to create presentations but not to display them, you may have the opposite reaction.
Chasing perfection
Although version 1.3 addressed my biggest complaints, it's still not a match for the desktop version of PowerPoint. A number of the limitations I mentioned in my earlier review are still present. For example, you have limited control over transitions; and you can't create new themes, add SmartArt, or see your slides in Outline view. On an iPad, you can see comments added on a Mac or PC, but not edit them or add new comments; comments are entirely absent on the iPhone.
The only significant bug I found (if indeed it is a bug) feels like an advantage. Because I already had an Office 365 subscription but wanted to test PowerPoint's behavior without it, I tried signing out. But that didn't disable any of the premium features. Neither did force-quitting the app, signing in using a different Microsoft account without an Office 365 subscription, restarting my iPad, or even deleting and reinstalling PowerPoint. In fact, the only way I could convince PowerPoint to treat me as a non-subscriber was to erase all the content and settings from an iPad, sign in to the App Store with a new Apple ID, download PowerPoint, and then skip signing in with a Microsoft account. (Similarly, after signing in to a free Microsoft account and then signing out, edit capabilities remained.) In other words: once you've enabled a higher level of access, it is exceptionally persistent.
On the other hand, I noticed that signing out from my Microsoft account also disabled Dropbox access, and I couldn't restore Dropbox access until I first signed back in to a Microsoft account—my only option besides local storage was SharePoint. (This was odd given that I could access Dropbox without signing in at all after a fresh install.) Since even a free Microsoft account will do for this purpose, that's a minor inconvenience.
Bottom line
If you take an Office 365 subscription for granted—which, after all, was required in PowerPoint version 1.0—version 1.3 is a phenomenal improvement. If, on the other hand, you approach it as a free tool, you get a perfectly nice, if limited, iOS app that can view, create, edit, and present native PowerPoint documents. That's nothing to sneeze at, considering how difficult it was to do any of that just nine months ago—and free is free, after all. But anyone wanting to do serious editing or use Presenter View will want to spring for a subscription.