Only the worst sort of ingrate would complain about finding an iPhone, iPad, or iPod touch stuffed in their holiday stocking. But if you want to really impress your favored Apple fan, there's nothing that does the job like placing a brand-new Mac under the tree. But, budget considerations aside, which current Mac is the most appropriate for the Apple lover in your life?
Should it stay or should it go?
Before slapping down your credit card for a new Mac (or, if you have an iPhone 6, waving your phone under an NFC terminal), it's not a bad idea to learn how your recipient uses a computer. If you spy them routinely lugging around an old laptop, that's a clue that they're a mobile maven. If, on the other hand, a computer monitor holds down a prominent space on the kitchen counter, you have some idea that a less-traveled Mac would be the appropriate choice.
Once you've broadly determined the kind of Mac they should have, it's time to explore the options within each product family. We'll start with the desktop models.
Quick reference chart: Apple's current laptop lineup

Quick reference chart: Apple's current desktop lineup
Mac mini
After years with no updates, Apple finally unveiled the latest version of the Mac mini in October 2014. Some people hoped that this would be the diminutive desktop Mac that finally delivered serious power in a small package. Those people were disappointed.
While today's Mac mini is more affordable than the previous model, it's hardly a powerhouse with its 1.4GHz ($499), 2.6GHz ($699), or 2.8GHz ($999) dual-core Intel Core i5 processors and built-in graphics system. And its RAM is soldered in place so you don't have the option to later upgrade it should you wish to.
That said, it does offer a number of ports including four USB 3 ports, two Thunderbolt 2 ports, HDMI, Gigabit Ethernet, and a SDXC card slot. And it uses both 802.11ac Wi-FI and Bluetooth 4.0. As with the last couple of Mac mini models it has no media drive for playing CDs or DVDs.
Who should you give it to?
The Mac mini would be appreciated by a variety of people. Elementary and high-school students who need a capable computer will find the mini a fine tool for helping with their homework. If the object of your gift-giving affection is a bit of a media nerd, that person will find the mini to be a great media server (though you'll want to throw in an external hard drive to hold their large music and video collection). And if you know someone who's been hankering to give a Mac a try—a partner who's had it with Windows or a sibling who loves her iPad and would like to see if Apple's elegance extends to the desktop—the mini is a great (and affordable) place to start.
iMac
At one time the iMac was considered Apple's "cute-but-not-terribly-serious" desktop computer. They looked great but were a little underpowered and, perhaps, just a little too precious in their design. Those days are long gone. In fact, where the iMac was the computer for "the rest of us," it's now a computer found on the desks of power users and pros.
The iMac comes in two screen sizes—21.5-inch and 27-inch—and ranges in price from $1,099 to $1,999 for non-Retina models. (We'll talk about the iMac with Retina 5K display shortly.) Except for the least expensive model, all non-Retina iMacs hold a 1TB spinning hard drive (upgradable to a Fusion Drive) and each is powered by a quad-core Intel Core i5 processor (save for the least-expensive iMac, which has a dual-core Intel Core i5 processor). Graphics performance kicks up when you hit the $1,500 threshold, with the $1,499 21.5-inch model bearing an NVIDIA GeForce GT 750 graphics card with 1GB video memory. The 27-inch iMacs also have separate NVIDIA GeForce video cards. The two least expensive iMacs have graphics chips that are integrated into the processor.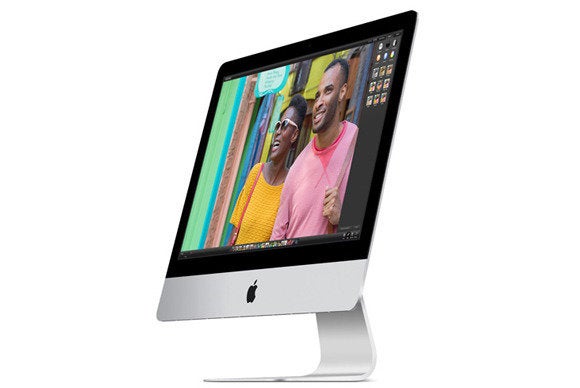 In regard to ports, the iMac has an offering appropriate for all but the most demanding user with four USB 3 ports, two Thunderbolt 1 ports, Gigabit Ethernet, and an SDXC card slot. Like the Mac mini they have 802.11ac Wi-FI and Bluetooth 4.0.
Who should you give it to?
If a loved one within earshot broadly mutters "Boy, I sure would like a new Mac…" they're likely muttering about an iMac. It's Apple's default desktop computer and the one that people picture when they think about a Mac. The depth of your generosity will certainly influence which model you get but, that said, the entry-level iMac is underpowered. Unless the person you're giving the Mac to simply wants to show off any iMac on their desk, you should plan on spending at least $1,200 on the 2.7Ghz 21.5-inch model.
Another determining factor is how much screen real estate you think this person would want. 21.5 inches is perfectly fine for common computer tasks—email, web browsing, texting, and so on—but if the gift recipient is heavily into photography, juggles a lot of windows, or uses their computer to watch movies, you'll want to look at one of the 27-inch iMacs. To narrow your choice from there, consider the kind of high-end work they do on the computer. If they're the family's video archivist who is constantly working with home movies in iMovie or a musician putting together their latest album in Logic Pro, the more powerful the iMac, the better. And speaking of more powerful iMacs…
27-inch iMac with Retina 5K display
This 27-inch iMac with Retina 5K display—priced at $2,499—gets its own entry for good reason. Sure, it's an iMac and therefore has a lot in common with the other 27-inch iMac models, but there are a couple of things about it that make it special.
The display, of course, is key. With a resolution of 5120 x 2880 (projecting 14.7 million pixels), this iMac's screen is gorgeous. And, surprisingly, it's power efficient—using 30 percent less power than the standard 27-inch iMac. The difference between this screen and that of a non-Retina iMac is not as startling as the difference between, say, a first-generation iPad and an iPad Air, but it's certainly noticeable with its razor sharp text and images that are clean rather than slightly hazy.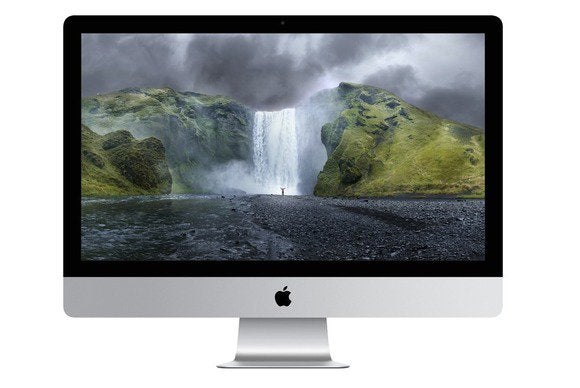 The other advantage is in this iMac's processing power. For tasks that require just a single core, the iMac with Retina 5K display can outpace Apple's most expensive Mac, the 2013 Mac Pro. This means speedy performance in all but the most demanding apps (and even with those apps this iMac is no slouch).
Who should you give it to?
Who do you really, really, really love? There's your answer. Unless your friend is hankering for a laptop or is the kind of professional who needs the fastest Mac made, unwrapping an iMac with Retina 5K display will blow them away.
Mac Pro (2013)
If you're thinking of giving someone the latest Mac Pro you could be accused of showing off. There is such a thing as over giving, after all. But fine, it's your money.
Of that money you're going to spend at least $2,999 for the 3.7GHz Quad-Core Intel Xeon E5 processor model (with 12GB of RAM, Dual AMD FirePro D300 graphics card with 2GB VRAM on each processor, and 256GB flash drive). And if you're feeling really generous, why not go for the top-of-the-line 3.5GHz 6-Core model with 16GB of RAM, Dual AMD FirePro D500 graphics card with 3GB VRAM each, and256GB PCIe-based flash storage?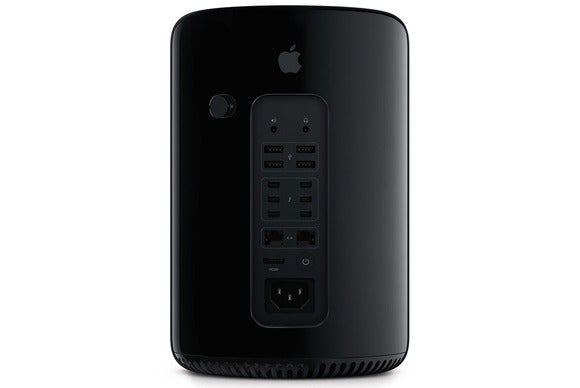 These Macs are stunningly fast, beautifully designed, and house four USB 3 ports, six Thunderbolt 2 ports, an HDMI port, dual Gigabit Ethernet, 802.11ac Wi-Fi, and Bluetooth 4.0. They can drive up to three 4K displays or up to six Thunderbolt displays.
Who should you give it to?
There isn't a person on earth more deserving of this Mac than you. Give your loved one an iMac with 5K Retina display and keep the Pro for yourself.
No? In that case, understand that Apple takes the word "Pro" very seriously with this Mac. As mentioned earlier, an iMac with Retina display will perform single core tasks more quickly than this computer. However, with apps that take advantage of a processor's multiple cores, the Mac Pro screams. If the target of your generosity routinely renders professional-grade video, spends hours on end with Photoshop, and appreciates beautiful design, they'll swoon when they see what you've purchased for them.
Going with a leaner look
And then there are Apple's laptops. While the boxes they come in may not be as imposing as a wrapped iMac, the right person will find them just as welcome. Let's start with the thinnest laptops Apple makes.
MacBook Air
The MacBook Air is supermodel slender and weighs next to nothing* (*nothing defined as just over 2 pounds for the 11-inch model and just under 3 pounds for the 13-inch MacBook Air). Yet even with its thin design and light weight, it's a solid piece of engineering—nothing about it feels flimsy.
When shopping for a MacBook Air you have a couple of choices to consider. First is screen size. A lot of people love the 11.6-inch model because it's ultra portable and still powerful. Others, who find they squint a little too much at the smaller Air's screen, prefer the more expansive 13.3-inch model.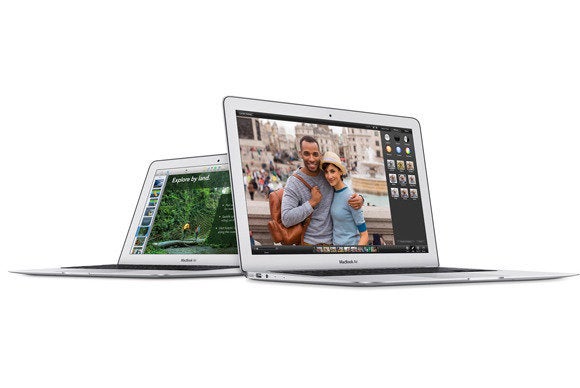 And then there's storage. The $899 11-inch MacBook Air's flash drive holds just 128GB of storage. That's plenty for folks who do typical computer things or are happy to attach an external drive to their computer for additional storage. But if a lot of large apps and files are going to be used with this laptop, you should look at the $1,099 version instead, which has a 256GB flash drive. Otherwise the two models have the same 1.4GHz Intel Core i5 processor and Intel HD Graphics 5000 built-in graphics processor.
Ports are not aplenty on these light laptops as the 11-inch model has just two USB 3 ports and a Thunderbolt port. The 13-inch MacBook Air adds an SDXC card slot to this configuration. Each has 802.11ac Wi-Fi and Bluetooth 4.0. If you want to expand further you'll use adapters or a dock via the Thunderbolt port. By default they ship with 4GB of RAM, which is a little on the slim side. You may wish to bump that up to 8GB when ordering.
Who should you give it to?
If your holiday pal walks akimbo due to one shoulder that's been dragged downward by years of carrying a bulky laptop, they'll be, at the very least, relieved to receive such a light laptop. Priced as it is, it's not a bad choice for college students if their work doesn't require massive amounts of storage. Photographers working in the field will appreciate it for its portability. And anyone who likes a grab-and-go laptop will love the Air.
MacBook Pro
The MacBook Pro is heavier, faster, and has a crisper display (except in one case) than the MacBook Air. It ships in six versions—the $1,099 non-Retina 13-inch 2.5GHz MacBook Pro, three 13-inch MacBook Pros with Retina display, and two 15-inch MacBook Pros with Retina display.
The non-Retina 13-inch MacBook Pro is underpowered with just 4GB of RAM, 500GB 5400 mechanical hard drive, and Intel HD Graphics 4000 graphics processor. Honestly, it feels like last year's (or the year before's) MacBook.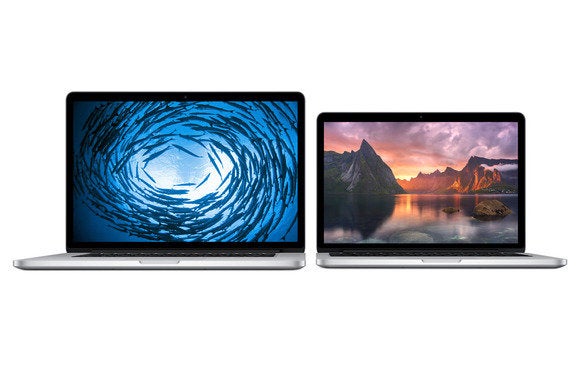 The first two 13-inch MacBook Pros—priced at $1,299 and $1,499 respectively—are distinguished by the amount of storage they offer, with the first providing 128GB of flash storage and the second, 256GB. Each has a 2.6GHz dual-core Intel Core i5 processor and Intel Iris Graphics. The $1,799 model bumps the processor to 2.8GHz and has 512GB of flash storage. All three come with 8GB of RAM.
The two 15-inch models have greater differences. The $1,999 version has a 2.2GHz quad-core Intel Core i7 processor, 16GB of RAM, 256GB of flash storage, and Intel Iris Pro Graphics. The pricier $2,499 model has a 2.5GHz quad-core Intel Core i7 processor, the same 16GB of RAM, 512GB of flash storage, and two graphics systems—built-in Intel Iris Pro Graphics and a separate NVIDIA GeForce GT 750M card with 2GB of VRAM.
As with the MacBook Air, you won't find a passel of ports on these laptops. They all sport two USB 3 ports, two Thunderbolt 2 ports, and an SDXC card slot. The non-Retina 13-inch MacBook Pro is the one remaining Mac with a SuperDrive for playing CDs and DVDs. It also has dedicated Ethernet and FireWire 800 ports. It, unlike the others, has 802.11n Wi-Fi (versus 802.11ac).
Who should you give it to?
If you want a MacBook Pro and don't want to play for a Retina model you could go with the entry-level 13-inch MacBook Pro, but given its weak specs it almost makes sense to shop for a used 15-inch model from a year or so ago. If you only want brand new, this MacBook would appeal to students who promise to not look enviously at their friends who have MacBook Airs.
The choice between the 13- and 15-inch Retina models comes down to storage capacity, size, weight, speed, and, of course, expense. If the person you're giving the gift to is accustomed to a heavier laptop, is fine with a smaller screen, and does "real work" on it rather than surfing the web, texting, and picking up email, the $1,499 model with 256GB flash drive makes a lot of sense. If they deserve more (meaning slightly more speed and 512GB of storage), turn to the $1,799 MacBook Pro.
If, on the other hand, they consider themselves to be a power user and damn the weight and size, only a 15-inch Retina display MacBook Pro may do. For the speediest graphics performance you'll want to go with the top-of-the-line $2,499 model. Those dual graphics cards can make a difference, plus they'll look kindly on the extra storage to lug around large images and video files. If they're "If they like big, but not necessarily the best" then it's the 256GB version.
Being the not-so-secret Santa
Quite honestly, it's tough to disappoint when giving someone a new Mac. Naturally you don't want to do so before scouting ahead—making sure that the computer they have is no longer adequate or that the computer you give is one that entirely suits their needs. If you're the sneaky sort, it's not a bad idea to suggest a little trip to the local Apple Store to "pick up a new case." While you're sifting through them, take a peek to see which items grab your friend or family member's attention. If it's an iPad, so be it, you've just saved a load of money. But if it's a Mac, your gift should cover you through this holiday and the next five.