Yet another Google app for iOS got the Material Design treatment on Thursday, and this time, it's… Google. Google's latest version—5.0—sports a complete redesign and overhaul with new features to boot. Now, Google will remember your recently visited pages so you can quickly access them again and has a new Google button so you can start a new search in one tap. It also integrates with Google Maps, specifically for exploring what's nearby in either Map or Street View.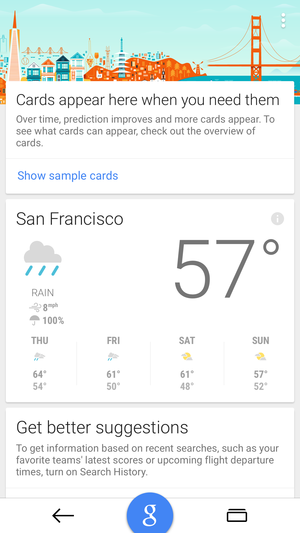 Google has a simplified three-button navigation bar at the bottom of the screen, which ties into Material Design. You'll see a back arrow button on the left, your Search button in the middle, and your Recents button on the right. The app has been optimized for the iPhone 6 and 6 Plus, so you'll see big, bold photos when doing an image search.
Why this matters: Google continues to update its mobile app suite for iOS to create a unified look and feel between apps. However, Material Design is hotly debated. Some like the condensed menu, which hides most of the app's control buttons until you actually need to use them to make more screen space for content; others hate digging through the menu to find the controls they need. It definitely takes some adjustment. So, if you're a fan of Material Design, you'll enjoy the steady upgrade to all of Google's apps. If not, you may want to find alternatives.
Get to know the new Google
If you're not familiar with Google's eponymous app, it essentially takes the best pieces of Google and displays them within one app. The app is built around info cards, which frequently change to show useful information as you might need it. This is the main component of Google Now, a cornerstone feature of Android. You'll see cards for the weather, places nearby, public transit timetables, photos taken nearby, and more.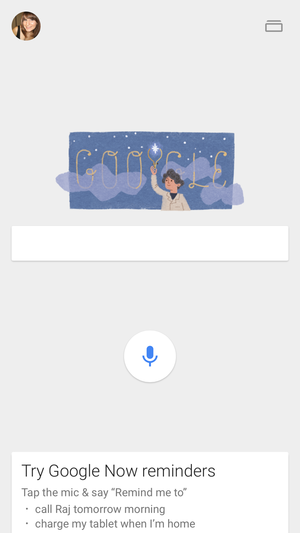 To fully integrate the app with your Google history, you can link up your Google account and toggle on Web History. That way, the app can show you cards with details on your favorite sports team's latest score, or an updated departure time on a flight you're taking later, for example. You can also link up your Google Calendar to get a snapshot of your daily schedule. These cards will change, depending on the time, your location, and your preferences. Tap any card to get more detail, then swipe down when you're done.
Of course, it wouldn't be a Google app without a search feature. The search page is a mobile optimized version of Google's browser search, so you can see the day's Google Doodle. The app supports voice search—just tap the microphone button to access it—or you could manually type in your query. Results can be filtered by web, image, or map, with the option for more specific search categories, too (including news, videos, shopping, and books). If you want directions within the map search, you'll be redirected to the Google Maps app on your phone if you have it.
I like Material Design, so I see the benefits to using Google as a tool to get a daily snapshot of relevant info. The update puts the things you need to know front and center, with a clean yet bold interface that looks awesome on my iPhone 6 Plus… if not a bit too Android-y.
Google 5.0 is available now in the App Store.