You know it could happen some day: you might lose your iPhone, iPad or laptop. If you've activated Find My iPhone (or the similarly named feature for other devices), you'll get an approximate location for the device, but if it's in an apartment building or office building, or if there's no Wi-Fi or cellular access, you might not be able to track it down precisely.
If someone finds your device, it would be good to make it easy for them to get in touch and return the device to you. There are plenty of Good Samaritans out there, and it's worth preparing your device so if one does find it, they can contact you.
Essentially, you want to add contact information to your device, in a way that anyone who turns it on can find your name, email address and phone number (obviously not your iPhone's number), and get in touch. An easy way would be to paste a sticker on your device, but that might be ugly and it could wear out. Why not add contact information to the lock screens of your Macs and iOS devices? It's easy.
Set a lock screen message on a Mac
Let's start with a Mac; this is the easiest one to add contact information that displays in a lock screen. Open System Preferences, and then click Security & Privacy. Click the padlock to authenticate—you need to be an administrator to access the setting you want to customize—and then check Show a message when the screen is locked. Click Set Lock Message, and enter a message, such as your name, email address, and phone number.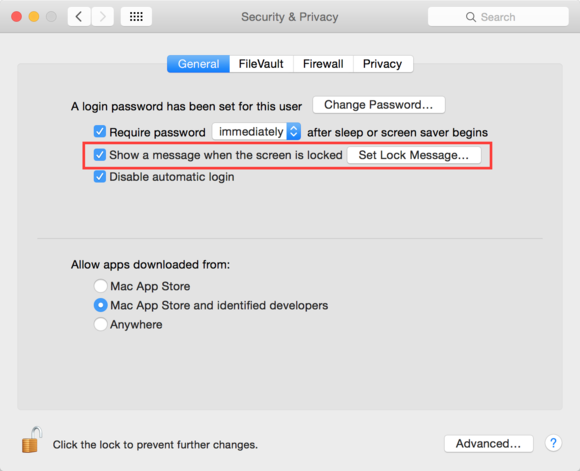 Click OK, then log out to view the login screen and check the message. Anyone finding your MacBook Pro or MacBook Air can read this message, though the laptop will need to have some battery power. Hopefully, if the battery is dead, the person who finds your laptop will have a charger.
Create a custom lock screen wallpaper for an iPhone or iPad
On an iOS device, the best thing to do is add some text to your lock screen wallpaper. You can do this in two ways. There are a few apps that can add the text for you, such as the free (with in-app purchases) Contact Lock Screen Info or the $1 If Found Lock Screen. But you can also do this with any image editor, even Preview.
Start by choosing which lock screen wallpaper you want to use. Unfortunately, you can't do this with any of Apple's stock wallpapers, because you can't send copies of them to your Mac to edit. But choose another, then open the image in Preview. Choose Tools > Annotate > Text, and you'll see a text field. Type what you want, then move it to the location you want; I have mine at the bottom of my wallpaper. Make sure the text is readable; that it's not too big or small, and the right color. Select all the text, then click the text options button in the Preview toolbar and choose a font, size and color.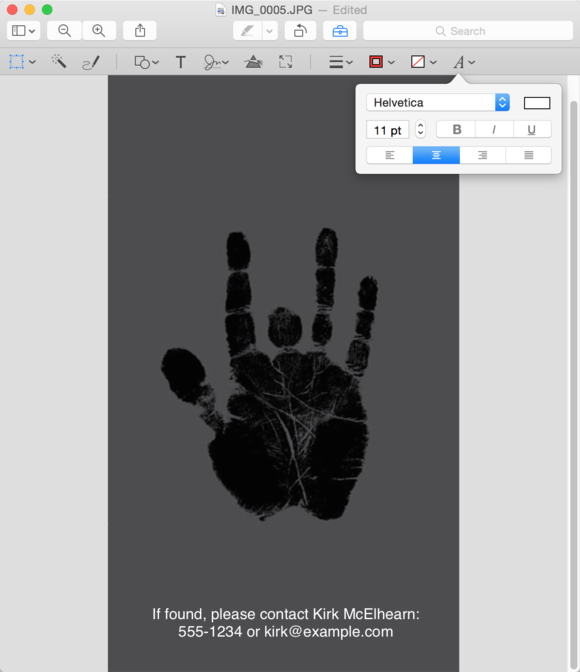 Save the image, and sync it to your iOS device; one of the easiest ways is to email it to yourself, then tap and hold the image in an email and then tap Save Image. It will be added to your Camera Roll, and you can then set it as the lock screen wallpaper in the Wallpaper settings. Check that the text is readable in this smaller size; especially make sure that, if you put it near the bottom of the wallpaper, it's not behind the "slide to unlock" text that displays when you wake up an iOS device. If not, go back to Preview and move the text so it's in the right location.
Let Siri help you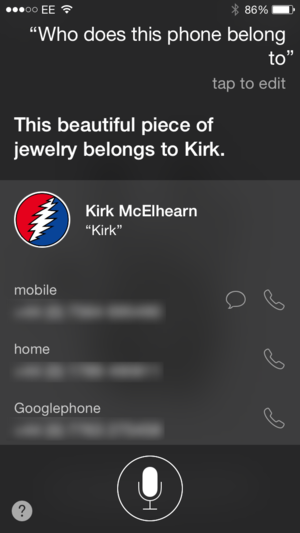 There's one more way to have your iPhone tell a good samaritan who it belongs to: Siri. If you have Siri set to work on your lock screen (Settings > Touch ID & Passcode, and then scroll down to the Allow Access When Locked section), all someone needs to do is press and hold the home button to activate Siri, and then say "Who does this iPhone/iPad belong to?" Siri replies by displaying information from your contact card, if you have chosen one in Settings > General > Siri > My Info.
There's one small problem with this: Siri displays all the information on the contact card, so anyone who finds your device can know your name, address, phone number(s), date of birth and much more. You may want to set up a second contact card with limited information, but that means that Siri might not be efficient with other requests.
No matter which method you choose, it's a good idea to have contact details on your iOS devices and your laptops. If you lose one of them, a Good Samaritan may come along, and this information could help you get your device back.