Another iOS update, another round of bugs. This time, a recent update to iOS 8 deleted ringtones and alert tones. I explain how to get them back. I also look at using multiple Apple IDs in the iTunes Store and App Store, discuss not being able to block iTunes Radio, and look at a question about moving an iTunes library to a new Mac while retaining metadata.
Lost ringtones
Q: All my ringtones are missing from my iPhone and I can't find any way to re-download them. What can I do?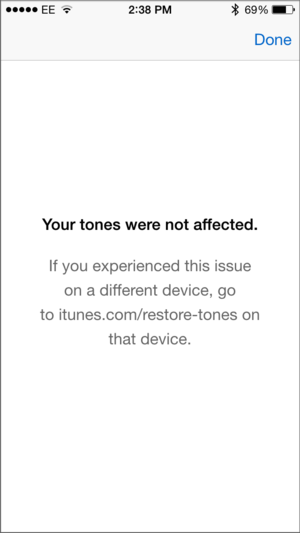 I suddenly got a flurry of emails about this over the past few weeks, and then, interestingly, Apple's notes for last week's iOS 8.1.2 update mentioned this issue:
"This release includes bug fixes and addresses a problem where ringtones purchased through the iTunes Store may have been removed from your device. To restore these ringtones, visit itunes.com/restore-tones from your iOS device."
Apple has a support document, which reads:
"Follow these instructions if you updated your iPhone, iPad, or iPod touch to iOS 8.1.1 and can't find ringtones or alert tones you purchased from the iTunes Store."
So, if you've lost ringtones or alert tones, either visit itunes.com/restore-tones on your iOS device, or check out the above support document to learn more. If you go to that document's associated URL—which redirects to the iTunes Store app—and your device hasn't been affected, you'll see a message telling you so:
Using multiple Apple IDs
Q: I have two different Apple IDs, but thanks to recent Apple terms and conditions changes, I can switch between them on the same device just once every three months. Before, I could switch between them whenever I wanted to. I have two different Apple IDs, one for my work expenses, and the other for my personal purchases.
Why can't you use two Apple IDs on the same device? For example, if you have two different credit cards, why can't you switch between them?
While this problem only affects a minority of users, it is irksome for those who encounter it. According to Apple, when you switch the Apple ID you use to sign into the iTunes Store or other Apple stores on a device, "you cannot associate that device or computer with another Apple ID for 90 days."
As this reader points out, some people may need to charge business expenses to a different credit card, and this isn't possible with Apple. Unlike, say, Amazon—where you can record multiple credit and debit cards and choose the one you want to pay with—Apple only lets you store one payment method. What I do is charge all my purchases on my Apple ID and then submit, to my business, any business-related expenses as personal expenses. It's a headache, but it's the most reasonable way I've found to deal with the situation as it stands.
As to why Apple does this, I think it's simply so you can't take a friend's iOS device and sign in with your Apple ID, download everything you've ever purchased, and then switch back to their account.
Disabling iTunes Radio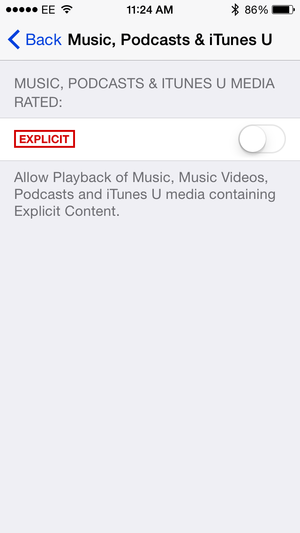 Q: We have given our 10-year-old son an old iPhone to use as an iPod for games and taking pictures. We would like him to have access to the Music app to listen to songs we specifically download for him, but don't want him to have access to iTunes Radio. Is there a way to completely turn off access to iTunes Radio or block it from appearing? Even if explicit content is blocked, there is so much else we don't want him listening to (or viewing, in the case of certain album covers).
Unfortunately, there's no way to do this. While you can block explicit content—go to Settings > General > Restrictions, enable restrictions, and then block explicit content for Music & Podcasts—this may not catch everything. And, as you say, your son can still see album covers in iTunes Radio. It's surprising that, while you can block access to the iTunes Store in the Restrictions settings, you can't do this for iTunes Radio.
Move iTunes library while retaining Date Added?
Q: Is it possible to move an iTunes library to an external hard drive on another computer and maintain all metadata, most notably the Date Added field? I'm ready to move my iTunes library to an external hard drive connected to a new Mac, and I want to maintain this field, as many smart playlists are based upon it. I failed the last time I tried this; every track bore the date that I moved my library.
I had the same problem when I did a clean install on a new Mac and then copied my iTunes library. Moving it to another hard drive isn't a problem—if you use iTunes' method of moving and then consolidating the library—but once you put it on a different computer, iTunes gives the library a different internal ID, so it will see the files as new. I don't know of any way to make that change to the files themselves.
Have questions of your own for the iTunes Guy? Send them along for his consideration.