December is always the blurriest month, our vision clouded by snowstorms and twinkle lights. Instagram on Tuesday rolled out an update that introduces five new filters, and a new method of previewing all the filters by seeing them over a blurred thumbnail of the image you just took.

The new filters, Slumber, Crema, Ludwig, Aden, and Perpetua, "softly and subtly shift colors" according to Instagram's blog post. This sounds great for winter photos especially, when a small color tweak can brighten the mood.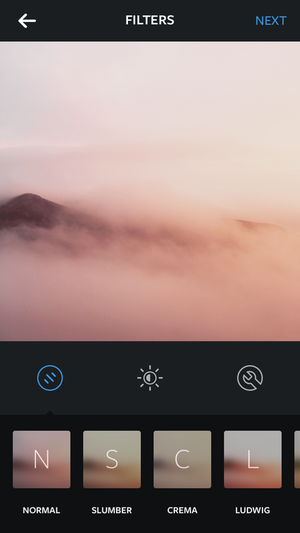 Being able to see your photo previewed behind the row of filters lets you see how the colors will change, which makes picking one that much faster—all the better to keep capturing the holidays one square photo at a time.
Instagram is putting its new filters front and center, but another new addition in this update is a Manage button at the end of the filter list, which lets you reorder and hide the filters. So if you go to Valencia time after time ( it does make everything look extra soft and dreamy), you could put it first in the list—or stick it at the back or hide it to break your habit.
Instagram's update is rolling out today to the App Store as well as Google Play. If it's not showing up yet, keep checking back.
What's your favorite filter? (Or do you do all your editing and filtering in another app?) Let us know in the comments!