The holidays come with trappings and tradition; with family, flavors, and favored evergreens among them. Adding to the atmosphere is holiday entertainment—the sentimental songs and movies entirely inappropriate in mid-March that are the perfect December accompaniment.
Given that this media has such a limited shelf life, most of us don't bother to acquire it. Rather, when family and friends gather, we too often flip channels on the TV or hope that the local FM station is playing something appropriate. And that's so 20th century. Today the one thing that separates us from scads of holiday fare is a fair-to-middling broadband connection. The only remaining trick is finding the good stuff. And we've got you covered. Just jingle over this way.
Streaming free holiday music
There's no reason to ask your Mom to bring her CD copy of Christmas With Julie Andrews when you seek some audible holiday cheer. There are a host of places you can go for streaming holiday music.
iTunes Radio: iTunes Radio is streaming ten genre-based stations now. They include Holiday Hits (pop tunes from the '80s and later), Holiday Classics (Bing and other easy listening vocalists), Swingin' Holidays (jazz), Country Holiday, Soulful Holiday, Rockin' Holiday (alt and indie), Classical Holiday, Latin Holiday, Holiday Sing-Along, and The Sounds of Christmas (Christian). You can play iTunes Radio for free (with ads) with iTunes on your computer, on your iOS devices, or with an Apple TV. If you've purchased a $25-per-year iTunes Match subscription, you'll get your holiday cheer ad-free. Regrettably, it's not supported on non-Apple devices such as Sonos or Roku.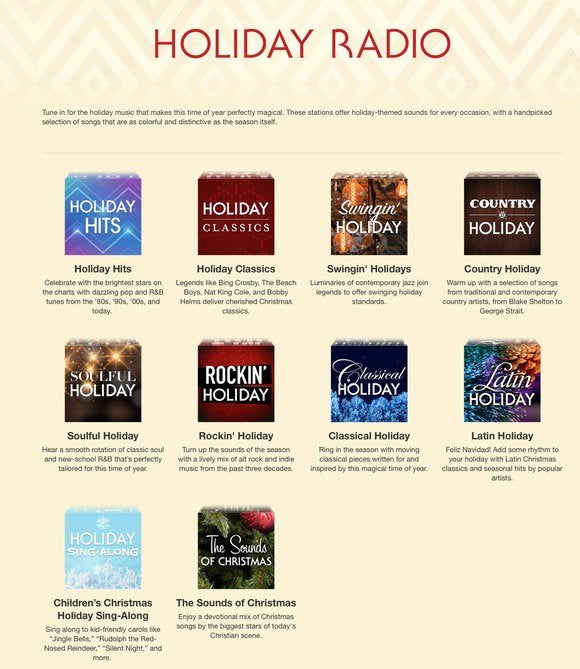 Pandora: It should come as no surprise that Pandora has a nearly exhaustive collection of holiday stations. They include Christmas (traditional vocalists), Christmas Traditional (same traditional vocalists), Today's Christmas (modern pop artists), Country Christmas, Classical Christmas, Rockin' Holidays (traditional rockers), Family Christmas (hmm, more traditional vocalists), Navidad Boricua, Folk Holidays, Tropical Holidays (for the Parrothead crowd), and Hanukkah. Free listening from Pandora is also ad-supported. With a Pandora One subscription ($5 a month or $54.89 a year) you can turn off the ads. Pandora is supported by just about every device made, save for the Apple TV.
Rdio: Rdio, generally thought of as a subscription-based streaming service, has a free ad-supported plan as well. It features 21 holiday channels including Macy's Holiday Magic, Holiday Party, Posada Navideña, Alt.Holiday, Hanukkah Hits, Kids Christmas, The Island of Misfit Christmas Songs, New Years Eve Cocktail Party, and Hangover Mix. You can do away with the ads for $10 a month. Rdio can be had via your Mac's web browser, using the Mac desktop client, or from an iOS device running the Rdio app. Again, no Apple TV support, but Rdio can be found on a host of other devices and platforms.
Spotify: Spotify also offers free, ad-supported streaming. And it too features a stocking-full of holiday playlists—45 in total. Included in the collection is A Classic Christmas, Jazzy Christmas, Christmas Pop, Folksy Christmas, Christmas Classical, A Very Indy Christmas, Acoustic Christmas, Christmas Blues, and a whole lot more. To do without ads and add the ability to download tracks, sign up for Spotify Premium for $10 a month. (If you're a student in the U.S. you can have Spotify Premium for just $5 a month.) A desktop client is required to play Spotify on your computer and you'll find a Spotify app for most of the other devices in your life.
Slacker Radio: Slacker Radio isn't about to be left out of the holiday party. It offers 16 holiday stations, among them are Kids Christmas, A Very Soulful Christmas, Hipster Holiday, Eclectic Holiday, Navidad Latina, and You'll Shoot Your Eye Out (songs from holiday films). If you'd like to skip the ads you can do it by pungling up $4 a month. (On demand listening and offline music can be had for $10 a month.) Slacker Radio can be played within your browser and there's a compatible app for your mobile device.
Rhapsody unRadio: Rhapsody is a very good subscription music service but you can get it for free only during its 14 day trial. That said, there are far fewer than 14 days left in the holiday season, so why not? If you're willing to pay $5 a month, you can have Rhapsody unRadio, which is a commercial-free radio service similar to Pandora. unRadio currently features 15 holiday stations that include Holiday Music Radio, Merry Indie Xmas! Radio, Rock and Soul Christmas Radio, Xmas Oddities Radio, and Cool Yule Radio. Rhapsody lacks a Mac desktop client but can be played through a web browser. And it has its own mobile app.
Holiday video fare
Background music is a great accompaniment to the season, but when you want to really immerse yourself in the holiday spirit, there's nothing like a movie. And of course there are sources for them as well. Regrettably, finding free movies worth watching is very challenging.
Netflix: Speaking of not-free movies, everyone's go-to place for subscription streaming of movies and TV shows is Netflix, which has a reasonable collection of holiday-themed favorites. Among the highest rated are Tim Burton's The Nightmare Before Christmas, Scrooged, The Muppet Christmas Carol, Irving Berlin's White Christmas, The Bells of St. Mary's, and… well, then a whole lot of movies you'd show only if you wanted to drive your relatives out of the house. A Netflix streaming subscription costs $9 a month (and makes a lovely holiday gift). Netflix is supported on every device you own (and many you don't).
Hulu: Hulu has put together a collection of holiday movies and TV episodes. The movies aren't great (unless you have a strong affection for made-for-TV fare such as A Very Brady Christmas). Hulu remains the place to go for TV episodes, however. Hulu can be streamed on just about any device, including the Apple TV.
Amazon Instant Video: If you're an Amazon Prime member you can stream some of Amazon's holiday movies. Regrettably, very few of them are free and, of those that are, only a couple are worth watching. However, if you're willing to spend a few dollars and have a device capable of streaming Amazon content (the Apple TV is not one of them) then you'll find it a solid source for movies and TV shows.
The iTunes Store: Okay, so Apple isn't giving away holiday movies for free. It is, however, offering them for a discount. Visit the store's holiday movies page and you'll find that you can purchase some of your favorites in HD for $10 apiece (in some cases the standard definition version is less expensive). Some are also available to rent for $4, which is a small enough price to pay to keep your rambunctious nephew occupied for 90 minutes.
And a happy new year
With all these resources at your disposal there's not a reason on earth why you should suffer through a silent holiday season. And, best of all, after playing with some of these services you may find that they're useful on throughout the year. Just imagine, Valentines Day Vivaldi, Easter earfuls, Labor Day libretti, and Halloween Hosannas! What a harmonious new year you have in store!