A flight-tracking app is a handy tool to keep tucked away in your iPhone's toolbox, both for managing your own travel schedule and for keeping an eye on flights in case you've been tapped for an airport pickup. Honestly, what's more annoying than a last-minute flight change that you don't get notified about in time?
But with the App Store flooded with apps that all claim to do the same tasks, picking out the best one for your needs can be tough. Plus, some apps offer so much more—from airport maps and weather data to baggage claim status and directions. That's why I've spent the last few weeks looking at 25 different flight-tracking apps, trying to find the very best of the bunch.
To start, I decided to focus on two common use cases for these apps: apps for travelers, and apps for airport pickup duty. I split this up because your feature wish list will vary depending on these two cases. If you travel a lot, you will have a much different set of requirements (multiple trips, future flights, airport information, weather forecasts) than someone who just wants to know when a given flight will arrive at the local airport.
All of these apps get their data from somewhere else, so if that source has issues, you'll either not get the information you require, or worse, the presented data may be wrong. To test the integrity of the source data, I picked a few random flights and loaded them in every tracking app, then compared their estimated and actual departure and arrival times with data from each airline's website. I was pleasantly surprised by the results: not a single app had horribly incorrect times for the flights—most were spot on with the airline's estimates, and the worst was only 10 minutes off. I tested all of the apps on both an iPhone 5 running iOS 7 and an iPhone 6 running iOS 8, and ran without problems on both
Not only did the best apps need to do what they promised—track flights—they also need to be easy to use and provide good value for their purchase price (if there is one) to be considered the cream of the crop. Apps also needed to be current and updated regularly to make sure they were optimized for Apple's latest devices.
Besides those guidelines, I also paid particular attention to a certain set of criteria:
Maps: Does the app offer a map showing flights' progress across the globe, or terminal maps for the destination airport? Can you zoom those maps, and how is the quality of the presented information?
Weather: Do the apps contain weather information for the departure and/or destination airports? Is it one day's weather, or can you view a forecast for upcoming days as well?
Flight search: Are flights easy to search for? How far out can you find future flights? Can flights be combined into trips? How well did each app find representative flights when compared to an online travel booking service?
Other criteria: Can you sync flight information across devices? What sort of alerts does the app support—are they pre-flight or just on/off? Can you share flight data with someone else via some method? Are there tie-ins to third-party services for trip planning, etc.?
Keeping our use cases and criteria in mind while testing these apps, there are two that stand out the most—one for those looking to meet someone at the airport and one for those who travel a lot. (As for aviation geeks like myself, we have something for you, too.) In addition, there are some honorable mentions that each bring something unique to the table.
For the frequent flyer
For the frequent flyer, a flight-tracking app needs to support multiple itineraries, have information on airports and weather, and allow the user to easily add future flights. The app should launch quickly, and have an intuitive interface.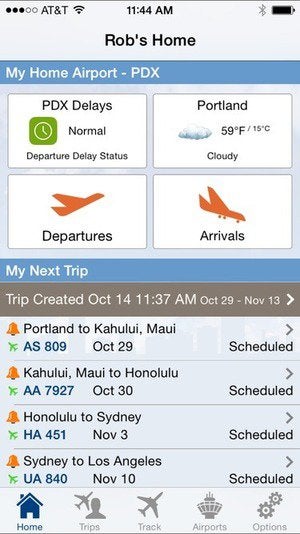 The app I felt best met all these requirements is FlightView, which (somewhat confusingly) comes in three different flavors. All three feature the same ten major features. FlightView Free includes in-app adds; FlightView ($1) removes the ads, and FlightView Elite ($4) adds airport arrival/departure boards. To me, the $1 "normal" version is the sweet spot—you won't see any ads, and all you give up is the airport arrival/departure boards (which strike me as having limited usefulness). If you buy the normal version and decide you want the flight boards, you can get them with a $3 in-app purchase.
The main screen of the app is an overview of your home airport (weather, flight delays, arrivals and departures if you're using Elite), along with your planned trips.
Buttons along the bottom of the screen let you easily tap into your trip details, track a flight, get info on airports, and set the app's options. You can track flights by route or flight number, and you can get a sample flight just by shaking your iPhone.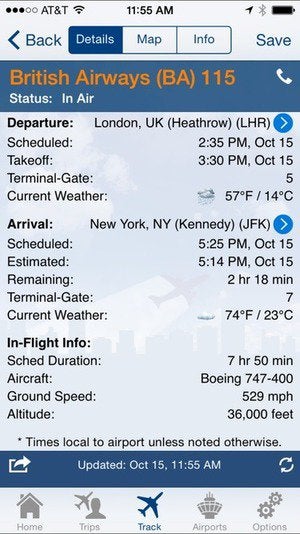 FlightView uses its own website as a central repository of flight information—flights you add on the app appear automatically, and vice versa. You can also forward your itinerary emails to the website, and their flights will be automatically parsed and added to the app (assuming you booked through a supported provider). FlightView organizes flights by trips, making it easy to set up a complicated multi-city trip, and you can set up multiple trips. Individual flights within a trip can have notifications enabled or disabled, and you can add notes as well.
When tracking a flight, you have access to detailed flight info, an in-flight map, and a notes/notifications tracking screen. The flight info screen contains the usual suspects—aircraft model, speed, altitude, departure and arrival airport info with weather, and arrival gate.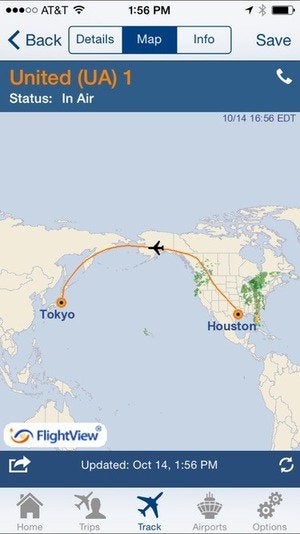 In some cases, you'll even get the baggage claim number, and a handy telephone icon connects you to the carrier operating the flight. If you need more information on either the departure or arrival airports, you can get delays, driving directions, and a weather forecast with the tap of a button. (Elite users can also get the airport's arrivals and departures.)
The map is functional, and includes a weather overlay (at least for the U.S. and Canada). However, the map is not zoomable, and doesn't include any landmarks. For long flights, the entire map is zoomed out to show the departure and arrival airports, which can create a very small map with a very large representative aircraft. Still, the map provides the information a traveler might want, assuming they have in-flight Wi-Fi.
One thing missing from FlightView is a database of airport terminal maps. This isn't a problem for airports you visit regularly, but a map can be quite useful to get a sense of a new-to-you airport's layout.
Other than the lack of maps and the not-quite-ideal inflight map, there's a lot to like about FlightView for serious travelers, and the ad-free version is an incredible bargain at $1.
For airport pick up duties
If you have to pick someone up at the airport, you can use pretty much any flight tracker on the market—they all let you look up a flight, and tell you when it will be on the ground. But the reality is that every single one of these apps is overkill for what you need—you don't need an in-flight map, and you don't need airport information. All you need to know is when to pick up your party. For that singular task, I found Just Landed ($2) to be just about ideal for flights within the U.S. and Canada.
To use Just Landed, you only need the flight number and airline code of your party's flight. If you don't know the airline code (i.e. United Airlines is UAL), you can look it up directly in the app. Enter the code and flight number, and Just Landed shows one screen with everything you need to know for picking someone up at the airport.
Just Landed also gives you a nice visual cue. You'll see an airplane moving over the terrain on the app's home screen, and it slowly progresses from left to right across the screen as the flight approaches its destination. If the plane is still on the ground, you'll see a static image of a plane at a gate.
I love the simplicity of the app's design: it's got everything you need, and nothing you don't. There are exactly eight data items on Just Landed's single screen: flight number, departure and arrival airports, arrival time and gate, estimated driving time to the airport, an icon to get driving directions, and—taking up nearly a quarter of the screen, so you can't miss it—a "you should leave in" graphic that tells you, well, when you should leave to make it there on time. It factors in distance from your current location to the airport, and it includes both traffic delays and an estimate of the time it takes a passenger to disembark and make their way through an airport. Leave when the app tells you to, and—barring any unforeseen events—you'll arrive at the airport in time to pick up your party. The app also sends you notifications so you don't miss the departure time, and for any relevant information about the flight you're tracking.
When you arrive at the airport, the app prompts you to send a text to the party you're picking up—being able to do so directly from the app means you're less likely to forget to do so, and you don't have to switch to another app (or even, gasp, the phone!) to let them know where you're waiting.
While not free, Just Landed's focus on getting you to the airport on time—it's the only app I found that tries to estimate drive time based on traffic—makes it well worth its reasonable $2 cost.
Honorable mentions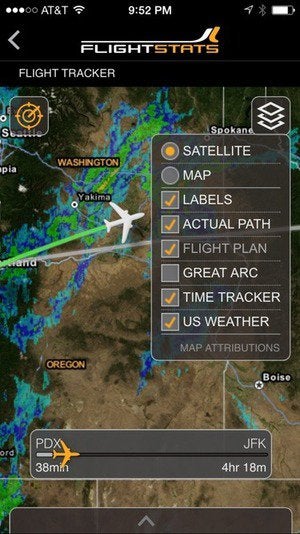 If you like good in-flight maps (or simply good maps of planes in flight), FlightStats (free, with a $2 in-app purchase option to remove ads) is worth a look. You can choose which data values to overlay on the map, and switch between satellite and map-style viewing. Unlike some apps, the maps in FlightStats are based on the plane's actual flight path, not just an idealized route. While this app lacks somewhat on the trips-and-itineraries-side for serious travelers, and is overly complicated for picking someone up at the airport, the maps are quite impressive.
For an excellent travel app to help with all aspects of airline travel, consider iFly Pro ($5). Land at a new airport? Use the GPS-enabled terminal maps to find your way around. Need something? Service directories for many airports include the locations of ATM machines, lost and found, luggage carts, medical help, and smoking areas.
The amenities section will help you find food, shopping, and airline club rooms. You can add a given shop or restaurant to the overlay map, so you can see exactly where it is in relation to you. Each airport is also linked to the highly active iFlyer forums, so you can read what people have to say on various topics. The interface can be a bit daunting, and the only way to add trips is via TripIt's website. But this is the best app—by far—for information on the world's airports.
For the aviation enthusiast
If, like me, you enjoy everything about aviation, you'll be amazed at what you can get with Flightradar24 Pro ($3). (Although the app runs on both the iPhone and iPad, it's much more satisfying on an iPad due to its gorgeous visualization.) This app is strictly for enthusiasts: it is ideal for is looking at (primarily) commercial aviation on a global scale. Flightradar shows active flights (as many as it has data for) on a scalable map—zoom out enough, and you can see an amazing number of flights.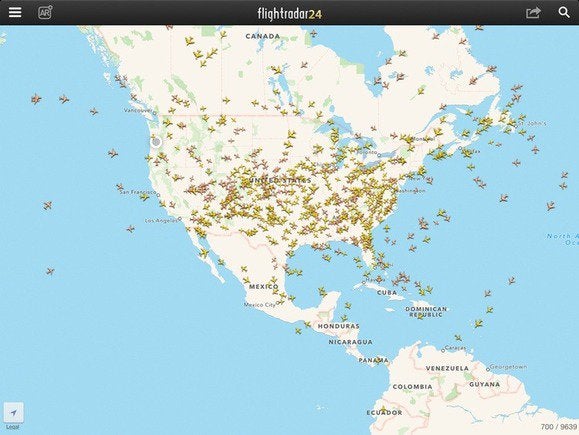 The map updates in real time (as near as the FAA allows, at any rate), so you can just zoom in on a busy airport area, and watch the traffic flow in and out. Tap on any plane, and you'll see the aircraft's flight path, along with an overlay window containing a ton of information: airline and flight number, departure/arrival times and airports, a progress bar showing how far along the flight is, and a lot of detail on the aircraft. Be sure to take a look at the plane's registration number and radar squawk code as well. There's the usual physical data, such as altitude and speed, but there's also track and vertical speed.
Along the bottom of the overlay window, icons let you isolate that selected flight, share it with others, or even enter a virtual 3D cockpit—tap the 3D button, and you'll get a representative "out the cockpit window" view, showing the terrain that the pilots are seeing. While you wouldn't ever confuse this for a flight simulator, this 3D view is more engrossing than I was expecting.
Flightradar24 Pro also includes an augmented reality mode. Point your iPad or iPhone at the sky, and you'll see a small overlay tag for any aircraft in (virtual) sight. The tags tell you how many miles away the flight is, its airline and flight number, where it came from and where it's going, aircraft type, and current altitude and speed.
As a demonstration of technology, this is very impressive. Of course, Siri can give you some of this same information ("What planes are overhead?"), but it's not presented in such a graphical real-time manner.
The app can also show any airport's arrivals and departures, via a $2 in-app purchase. A $5 in-app purchase allows you to create custom alerts that are triggered based on geographic location, flight number, airline, or aircraft. While this was fun to play with, it's a spendy in-app purchase without much real-world use, at least that I can envision. One final $2 in-app purchase replaces the generic aircraft icons with model-specific representations; I found this useful, as it makes it easier to find a given type of aircraft in a sea of hundreds of icons.
Wrapping it all up
There are tons of flight trackers out there, and most of them are really quite good. The ones I've focused on here do the job particularly well, and provide all the information you'll need, whether you're doing the traveling or the picking up.
Of course, my testing was a miniscule drop in the daily bucket of airline flights (a handful out of tens of thousands), so there's no way to extend my limited test results and say that every app tracks every flight nearly perfectly. My advice is therefore to always back up one of these apps with an occasional check of the airline's own app or website, just to be certain of the times on your flights.