This year was all about the messaging app, and for good reason: Social networks behaved abysmally in 2014. Sharing information and photos privately with friends is a compelling alternative to social networks with their ads, weird research experiments, and harassment.
That's not to say anyone is abandoning social media, but more and more users are pressuring companies to be better and more honest about how data is used and what is being done to make networks like Facebook, Twitter, and new anonymous social apps safer spaces.
Does Facebook finally have a rival?
No other network can challenge Facebook in terms of active users (1.35 billion and still growing), but when the company deleted the accounts of well-known San Francisco drag performers, a new kid on the block welcomed the influx of users with open arms.
The issue: Real names. Facebook has always been hinged on identity. After all, you can't search for your high school crush if everyone uses pseudonyms. But drag performers who created new identities for themselves were being punished for not using their birth names. Activists banded together and found a new network, one that allowed for anonymity and is free of ads: Ello.
After the fledgling network, which is still in beta, made headlines and grew by leaps and bounds in just a few days, Facebook clarified that its real name policy actually just meant "authentic" names. The ruckus died down, as it always does. It was clear that Ello would never kill Facebook, but the platform is still growing and adding new features—clearly no flash in the pan. And who needs a Facebook killer when you have a solid Facebook alternative?
Twitter's abuse problem
Twitter is an online forum that allows people to take on pseudonyms, so of course it has trolls. That's just the nature of the Internet. But this year itbecame clear that the network has a lackadaisical approach to cracking down on abuse.
In August, bullies tweeted comedian Robin Williams's daughter Zelda doctored photos of her deceased father in the days following his suicide. Then attackers doxxed female video game developers in a Twitter campaign that included rape and death threats. And those were just the major incidents. Abuse on Twitter happens daily on a smaller scale, and the harassment is largely aimed at women.
So the company finally acknowledged its abuse problem andset out to solve it. So far, the steps have been incremental—a faster way to file a complaint against another user and an easier way to manage your block list—but Twitter said more tools are on the way to help people feel safer on the platform.
Foursquare ditches check-ins
In its quest to become a hyperlocal recommendation engine, this year Foursquare cast off check-ins, its most popular feature, and rebuilt its app to rely on geolocation and user tastes. You can still check in to locations with a stand-alone app, Swarm, but users were furious—no more competing with all other users to become mayor of your favorite bar. No more badges or check-in perks. It didn't go over well.
Swarm was a little buggy at launch, with check-in hiccups and constant crashes. Foursquare has pushed out regular updates to improve the experience, evenwhile shifting its efforts to smarter recommendations, and Swarm's latest version has better ratings than it did at launch. Peoplehave begrudgingly accepted the revamped Foursquare, which is actually worth using (though I found the constant location-tracking creepy ). The company also overhauled its iPad app, turning it into a travel-planning tool. Foursquare clearly has no shortage of ideas, even if they're not always popular.
Bullying thrives on anonymous apps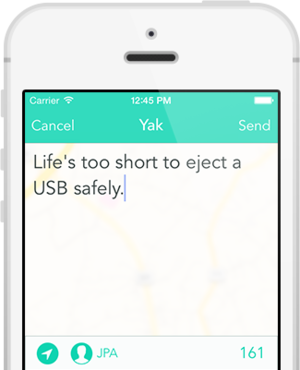 Just like Twitter, the anonymous apps that took over the world this year have struggled to stem the tide of malicious gossip and bullying that run rampant when anonymity is involved. Secret, Whisper, and Yik Yak spread across collegecampuses and took root in tech companies. Facebook introduced its own take on anonymity with the spin-off app Rooms.
Apps that were supposed to encourage funny musings or heartfelt confessions took a nasty twist. Rumors about tech execs spread on Secret while junior highand high school students used Yik Yak to bully their classmates. Secret banned the use of real names and recently rebooted as a location-based conversational app with private messaging. Yik Yak created geofences to block middle school and high schools from using the app, but bullying among college students sadly still thrives on the network. Professors at Colgate University recently staged a social media sit-in and flooded Yik Yak with positive posts after racist comments on the app caused tension on campus. The challenge for anonymous apps in the new year is to figure out if there's a way to create a safe, anonymous space that's fun for everybody, or if anonymity inevitably breeds (and feeds) trolls.
Facebook toys with your emotions
Everyone knows that Facebook uses algorithms to adjust your News Feed so you don't get a straightforward chronological timeline of all your friends' posts. It's annoying, but a fact of life. The network went farther than that—too far—when it experimented with 600,000 users' News Feeds, showing some peoplepositive posts and others negative ones to determine how your friends affect your mood. News of the experiment, which was conducted in 2012, came out in July and caused a firestorm of controversy.
Facebook isn't sorry about using your activity for research, but did promise to be more responsible about it with an updated research policy. Some experiments will undergo more scrutiny than others from an internal review board. But you can't opt out of being a guinea pig for Facebook's social science—you agree to being researched when you sign up.