Almost by necessity, Apple grew out of the homebrew movement, in which enthusiasts swapped knowledge and parts for building computers, and were as much tinkerers and electrical engineers as they were users.
That attitude, though—that you could do anything you liked just so long as you learned a few basic rules and concepts—wasn't just limited, in those early days, to the hardware. Apple started bundling a little app called HyperCard with the Macs it sold in 1987, and with HyperCard, if you could think of an app, you could build it.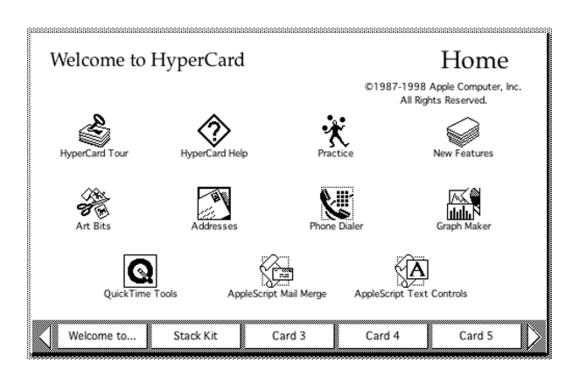 It used a card-based metaphor, not unlike a presentation deck in Keynote, but vastly more powerful, since you could not just make buttons active to move from card to card, but also do rich, complex programming using some simple, English-like commands.
Apple has moved away from the homebrew mindset, making computers for the desktop, laptop, and pocket that are hugely powerful but which trade the Wild West attitude of the '80s for stability and a very different kind of creativity. For Mac users of a certain vintage, though, HyperCard still looms large in the mind.
When we asked on Twitter what your memories of HyperCard were and why you thought it was important, one of the most common replies we got was from app-makers today who said that they might never have become developers in the first place if it wasn't for HyperCard.
Developers like Realmac Software founder Dan Counsell and Bill Battershill credit HyperCard with getting them into programming.
@chrisphin @macworld HyperCard got me into programming, without it there might not be a @realmacsoftware today!

— Dan Counsell (@dancounsell) November 28, 2014
@chrisphin @macworld It's what got me into programming. I was 9 and my school had a HyperCard 'club' at lunch in the Mac Plus lab. #Memories

— Bill Battershill (@gwbattershill) November 27, 2014
We heard that again and again, and a common thread was the users' young age. Adam Kemp got his first coding experience using HyperCard in junior high, and the programmer behind Notice Development started in school too:
@chrisphin @macworld Using HyperCard in jr. high was my first experience using code to control a computer. So fun I made a career of it.

— Adam Kemp (@TheRealAdamKemp) November 27, 2014
@chrisphin @macworld HyperCard got me interested in programming. One of the older students actually made a very basic FPS it was brilliant.

— NoticeDevelopment (@Notic3Dev) November 27, 2014
Some people we heard from even carried those lessons back into the classroom, like @travoose: "It was my first introduction to doing something produced on a computer that I could see instant results of. It's the reason why I am a computing teacher today."
For others, like @CedillaFive and @tracyevans, it was the gateway to a new and exciting way of thinking.
@chrisphin my first unfinished project, a choose your own adventure toon was a HyperCard stack. First of many unfinished projects.

— Cedilla Five (@CedillaFive) December 2, 2014
@chrisphin @macworld HyperCard was important to me because it allowed me to transform from monomedia artist to multimedia developer.

— Tracy Evans (@tracyevans) November 27, 2014
@chrisphin @macworld I built interactive video walls based on laser disc players controlled by HyperCard in a 512k Macintosh.

— Tracy Evans (@tracyevans) November 27, 2014
Whether you can trace a career back to HyperCard or not, though, everyone should still miss how accessible it made the process of making your Mac just get something done.
@chrisphin The only time I'd really been able to program my Mac, Hypercard offered so many possibilities. Still wish they'd bring it back.

— lonadar (@lonadar) November 27, 2014
@ddddrew made "A presentation with pictures of my favorite baseball players and their stats. Dissolving transitions! Easy for a kid to use."
"HyperCard was the first real solution to create something without being a developer!," said @betancur; "And amazing apps like Myst born!" Ah, Myst—probably the most famous HyperCard app, and one that brings us back to HyperCard's role in enfranchising entire generations of programmers. It was important, says @pilky:
@chrisphin Because HyperCard allowed Myst to be built, which got me interested in making games, which made me become a programmer

— Martin Pilkington (@pilky) November 27, 2014
@chrisphin The grand irony being I never actually used Hypercard in the end!

— Martin Pilkington (@pilky) November 27, 2014
To celebrate HyperCard, I went to London—to the prestigious London College of Communication—to talk to Keith Martin, a senior lecturer there for the video above. We wanted to explore more the impact and legacy of this astonishing app-building app. (Apologies in advance for the subpar audio.)
Share your memories of HyperCard in the comments, or if you're too young to have used it, let us know what other creative tools have inspired you!