Last week's Work Beyond Mac covered essential gear for getting work done on an iPad. But accessories are only part of the equation that makes the iPad my go-to computer. The other half of the formula, naturally, is apps. Between the new features in iOS 8 (Can I get a "Huzzah!" for extensions?), and developers leveraging the raw computing power of the iPad Air 2, we're in the middle of a downright exciting time for productivity-focussed apps on iOS.
These are some of my essential apps for getting work done on your iPad, and in many cases, your iPhone too.
Workflow
A relatively new addition to my digital bag of tools is an app called Workflow ($3). Think of it as the Mac's Automator feature, but for iOS devices.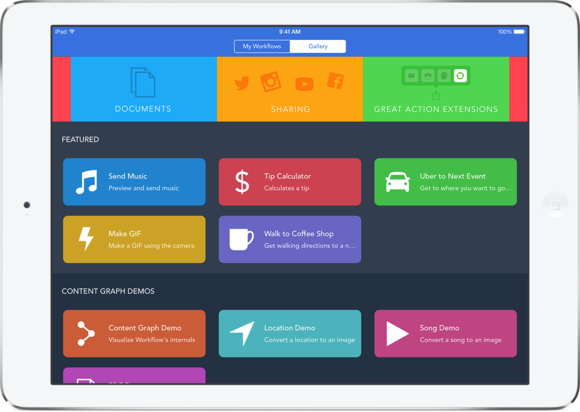 The app makes it possible to automate mundane tasks such as annotating, then deleting screenshots in your Camera Roll, or more complex tasks such as converting a YouTube video to an MP3—without you doing more than tapping a couple of buttons.
Pythonista
I also use Pythonista ($7) to automate parts of my daily work routine. Taking a different approach than Workflow, Pythonista requires you to code actions in Python. I know next to nothing about programming in Python, but I've found the list of scripts in the app's forums to be more than sufficient to get started with. I get the most use out of Pythonista when it comes to creating consistent screenshot layouts for posts. Additionally, it cuts down the amount of time it takes me to process screenshots.
Pixelmator
There was a time when editing photos on the iPad was mostly clunky and inconvenient. Then Pixelmator for iPad ($10) happened and the iPad became a legitimate photo editing platform. Perhaps I'm overselling it a little bit, but really, this app is easy to use, powerful and has near feature parity with its OS X counterpart. I just wish iCloud Drive played nicely with my RAW image files.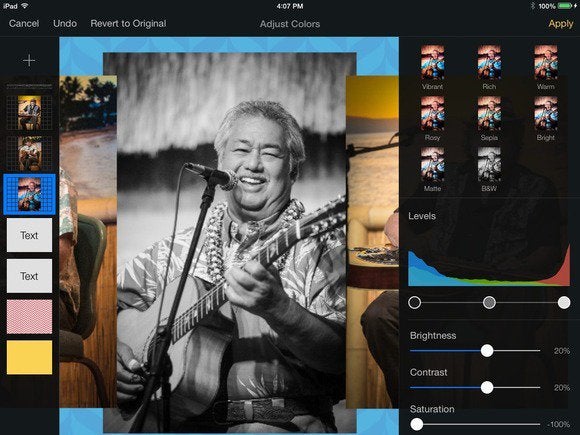 Editorial
Editorial ($7) is the complete opposite of iA Writer, with buttons and information all over the screen. Editorial enables users to create workflows such as spell-checking text, Googling synonyms for a word, and finding and replacing text, just to name a few. It even offers a built-in browser for quick research, eliminating the need to leave the app. Think of it as a text editor on steroids.
Email+
Email+ ($3) is a brand-new app with the main goal of making it easier to create emails to large groups. The interface is intuitive, and the sharing extension makes it possible to share documents (such as Google Docs) with contacts from nearly anywhere on your device.
iA Writer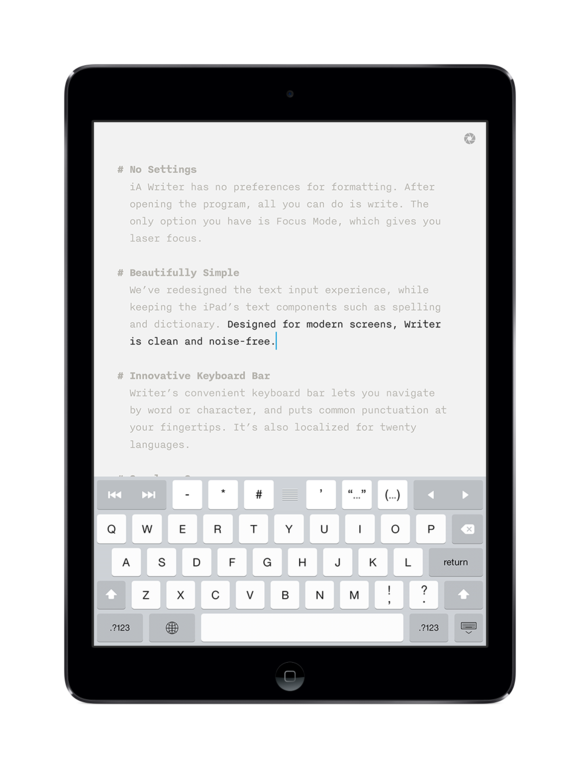 iA Writer ($5) is my preferred writing app due to its Markdown integration and distraction-free writing interface. Best of all, it's not just for those who often stare down a blank screen with a blinking cursor. One of its lesser-known uses is creating and sending HTML-formatted email.
Google Sheets and Google Docs
Admittedly, the combination of Google Sheets and Google Docs is the best setup for sharing and working on the same document with people both inside and outside of your company. If you find yourself having to work with other people a lot, these two free apps are a must.
DocuSign
Printing, signing, scanning, and then emailing important documents can bring a morning's productivity to a screeching halt. DocuSign's interface is a bit confusing at times, but overall it gets the job done. With a few swipes and taps I can place my initials and signature on a document and send it back without ever leaving my desk. Not to mention, I get to do my part in saving the planet due to not having to print out lengthy contracts.
Fantastical 2
Fantastical 2 ($4 iPhone, $8 iPad) is one app I'd be lost without.
Fantastical makes entering an appointment or reminder nearly painless with its ability to turn "Lunch with John tomorrow" into a scheduled appointment. But my favorite feature is that it combines iOS Reminders and your Calendar into one app, making it easy to manage both types of entries from the same place.
1Password
With the amount of leaks and hacks surfacing seemingly daily, having strong passwords is more important than ever. 1Password is the app I use to create and manage my passwords. My favorite feature of the app is its integration with iOS 8. Using extensions, I can access my vault directly within Safari on my iPhone or iPad and log into accounts without having to bounce around between apps. The app is free, and the Pro upgrade is $6 via in-app purchase.
Expanding your app horizons
The amount of apps I use on a daily basis is constantly in flux. New apps are released, older apps are updated adding features that once caused my abandonment, or my thought process changes just enough to find value in overlooked features. That's the best part about software—it's constantly changing.
My biggest takeaway from trying and using countless apps to improve my workflow is to never be intimidated by an app. Sounds silly, right? But technology can be intimidating, even to those who use it day after day. Six months ago I would have never looked at an app like Pythonista or Editorial. Yet after spending time tinkering and learning where they fit into my workflow, I can't imagine working on an iPad without either one of them.
I asked last week for suggestions on your favorite gear for working on an iPad, and this week I'm extending the same question regarding your favorite apps. Which apps can't you work without?