Apple broke sales records in 2014 with bigger iPhones, then satisfied long-time fans with a Retina iMac and an updated iPad—all great products, but we're looking ahead to 2015, when we expect to see even greater releases out of Cupertino.
Apple Watch
Apple's most anticipated product of 2015 is one that's already seen the light of day: the Apple Watch. Introduced alongside the iPhone 6 and Apple Pay in September, Apple's own smartwatch will offer notifications, fitness features, not to mention advanced haptics and Siri on your wrist, via a paired iPhone. Apple's WatchKit SDK, in developers' hands now, will result in "glances" and small apps that complement fuller apps on your iPhone. Controls for a music player is one example, not to mention controls for the array of HomeKit-enabled devices we expect to hear about in January at CES.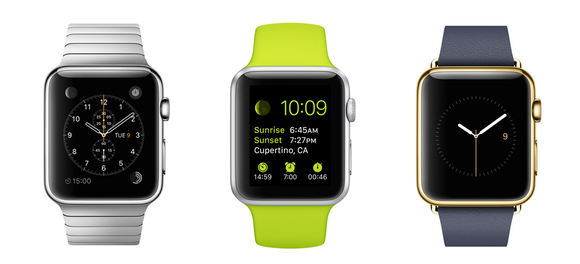 So while Apple has big plans for the watch, it's still a first-gen product in a new category—will enough people buy it? I think it could definitely make a splash. After all, Apple Watch already has a cool attitude. By courting the fashion industry so heavily, it's almost like Apple already thinks they have the current crop of smartwatches beat. Apple is going after the luxury watches and its clientele of people who are down to buy things made from solid gold. Just like it dominates the high end of the computing market, Apple is aiming, we think, for the upper crust of the watch market, and it's going to be incredibly fun to see how that works out. Apple didn't invent MP3 players or tablets, but it did make those things cool, and lord knows the smartwatch market could use some of that in 2015.
HomeKit and HealthKit
This year was both a doozy and a snoozefest when it came to Apple's two open development platforms, HealthKit and HomeKit. Both were announced at WWDC back in June and were billed as Apple's hubs for all things connected home and fitness related. Naturally, we had high hopes for what both of these platforms could be like. And then…. Not much happened.
HealthKit was the first to roll out. It launched with iOS 8 in September, and with it we got a standalone health app from Apple for the iPhone—called, fittingly, Health—that displays all of the data that the iPhone's M7 or M8 sensor tracks. However, when you look at Health's data tracking points, the design is a little lacking, which is why you'll need to use a third-party health or fitness app with HealthKit compatibility to really make use of this data.
However, HealthKit needs one more thing before it can really take off as a hub: the Apple Watch. We expect to see a better HealthKit experience in 2015, because the platform is sure to be a driving force behind the wearable's features. Once the Apple Watch launches, we'll likely see more third-party health apps jumping on the HealthKit bandwagon, too.
HomeKit will officially launch in 2015, so we'll finally see some compatible connected home products hit the shelves. Rumor has it we'll see some HomeKit device prototypes at CES in January, so we'll get an early taste of what's to come. We also reckon that HomeKit will be closely tied to the Apple Watch as well—imagine controlling your smart lightbulbs and appliances with a gentle tap on your wrist.
These connected hubs are only half-baked platforms now, but once the Watch launches they'll really take off, opening the door even wider for third-party apps and devices.
Apple TV
The Apple TV has served Apple reasonably well over the past several years, providing a way to play iTunes content on your television as well as stream such Internet heavy hitters as Netflix, HBO, YouTube, and MLB.com. But it's time for it to take some important next steps.
The first is to make the Apple TV even more entertaining. This could come in the form of more networks and media sources, thus bringing the dream of cable cutting closer to reality. But it might also mean an Apple TV that supports an app store of its own—one that brings games and interactive media to Apple's set-top box.
In addition to a more entertaining Apple TV, Apple might produce one that helps us manage the many devices in our homes. Thanks to Apple's HomeKit technology, we will soon be able to use our mobile devices to control many of our home's smart appliances, including lighting and security systems, thermostats, refrigerators, and power outlets. While we could do this with a host of individual apps, a single app that talks to a HomeKit hub would be vastly more convenient. And the Apple TV seems like the perfect candidate. It's always on, it doesn't use a lot of power when idling, and it could protect the data coming into and out of your home's smart devices. Add the ability to trigger some of these functions from an Apple Watch and you've got a sweet home.
Beats Music
Apple didn't buy Beats Electronics this year because the company wanted to expand into headphone manufacturing. What execs in Cupertino were after was Beats Music, the unique subscription-based streaming service that could challenge Spotify with a little help. Apple's revenues from iTunes music downloads are dropping due to streaming, and iTunes Radio (with its many limitations) isn't exactly killing the competition.
So next year, we expect Apple to overhaul Beats Music and rebrand it as an iTunes streaming service. The company is reportedly in talks with record companies to push the monthly subscription price down from $9.99 to $5 a month, and we expect the revamped service to remain a premium one—no ads, just songs.
Musicians are unhappy about the royalties they receive from streaming services (see: Taylor Swift), but Apple could turn it all around using its existing relationships with artists and labels. The company revolutionized the music industry once before with iTunes and iPods at the dawn of the 21st century, but can it pull off the same hat trick today? Apple rarely forges new territory, but has a track record of perfecting products and services that other companies struggle to get right. And if Tim Cook can get Taylor Swift on board, Spotify's in trouble.