Stop me if this sounds familiar: One of my family's holiday traditions involves all of us sitting around the table fiddling with our phones, occasionally looking up to eat or drink, while my mother (futilely) attempts to get us to talk to each other. Er…yeah.
Holiday traditions are usually great for bringing families together—but not if those traditions include technology, according to my mother. But your iPhone can be used for good—if you know where to look. Here are ten apps that can actually enhance your family's holiday traditions, whether those traditions involve opening Advent calendars, taking photos, reading stories, or playing games.
Open up a whole new Advent calendar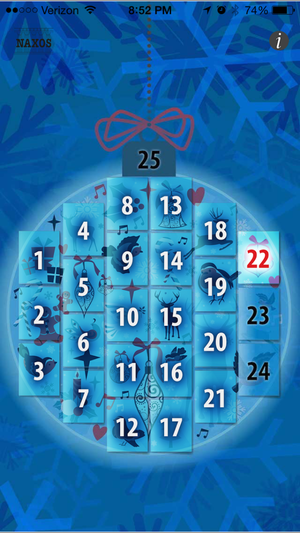 It's difficult to make an Advent calendar into a digital experience, because you can't digitize candy, chocolate, or toys. But the beautifully designed Musical Advent Calendar 2014 (free) tries anyway—and does an excellent job. This year's Musical Advent Calendar is designed to look like a hanging Christmas tree ornament painted with snowflakes, gingerbread men, and wintry songbirds. Tap the ornament, and a calendar overlay appears, with numbered "doors" for each day leading up to Christmas. Behind each door you'll find a full-length classical holiday track (including Tchaikovsky's "Dance of the Sugar Plum Fairy" from The Nutcracker) and a link to the full album on iTunes. You can return to past doors again and again, so by Christmastime you'll have access to an entire collection of 25 festive tunes… that means you can check out almost all of them right now.
Call, video chat with, and track Santa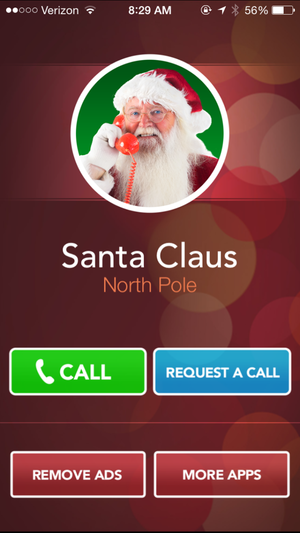 Santa's on top of the tech game—after all, he's been NSA-style spying on us for years. But now there are apps that you can use to make your kids' Santa experience even more interactive (and perhaps more terrifying).
There are several apps that let you call, or get a call from, Santa, but I like Net Unlimited's A Call From Santa! (free). This app is free—the only in-app purchase is to remove ads—and it lets you call Santa's voicemail or get a semi-personalized call from the man himself. The app works over your phone's external speaker (make sure the sound is on), because it's not actually a phone call. Use the voicemail feature to "report" your child to Santa's Naughty-or-Nice list, or input your kid's age and gender and have them get a personalized pre-recorded call from Santa.
If you're just looking to scare your kids into being good, Fake Call From Santa (free) pops up a fake Incoming Call screen on your iPhone with Santa as the caller. Or, if you're looking for a more personalized experience, there's Hello Santa (free), an app that lets you schedule live video chats with Santa for $20 apiece ($10 gets you a pre-recorded video message from Santa). When Christmas Eve comes around, kids can also use your phone to track Santa's flight around the world via NORAD Tracks Santa (free).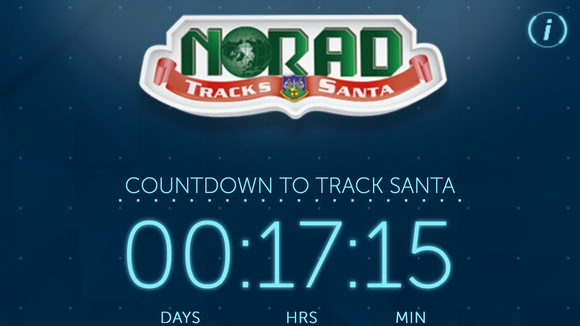 Send some holiday cheer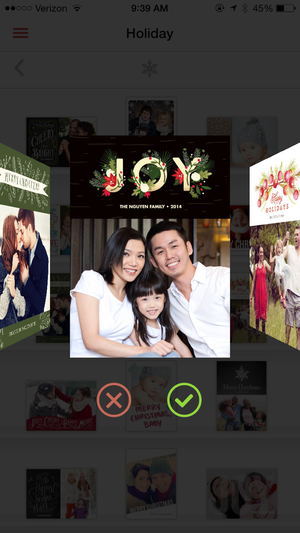 Holiday greetings never go out of style, but not everyone has time to hit the post office. Ink Cards (free) makes sending cards a snap: For just $2, the app sends your recipient a physical card personalized with your photo and message. Ink Cards' categories include Christmas, Hanukkah, New Year's, and generic winter holiday styles, and cards arrive around a week after you order them.
Last-minute senders can use Pho.to Lab (free), a photo frame app that lets you create cute photo manipulations to share with your friends and family. The app has been updated to include Christmas and winter-themed frames—for example, one manipulation puts your face on the face of "Santa's girlfriend," while another overlays a 2015 calendar atop your picture. Pho.to Lab is free, but some features—such as premium frames and manipulations—can be unlocked for a one-time fee of $5.
Have a holiday-themed family game night
Need a relatively fail-safe way to avoid awkward family conversations? Games! Holiday Charades (free) is a fun guess-the-word-on-my-forehead style charades game that everyone can play.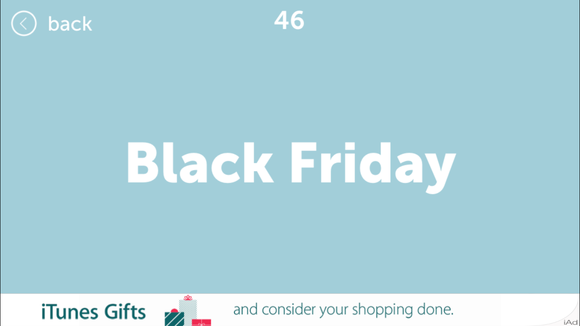 Here's how it works: Open up the app, choose a category, and place your phone on your forehead. The app displays the answer to everyone who's looking at you, and they have to act out answer while you guess. Categories include holiday movies and specials, Christmas music, and holiday foods, and you can set rounds to be 60, 90, or 120 seconds long.
Start a digital story time
Holiday story time is an old-school tradition that can be enhanced with apps thanks to interactive e-books, which come with pre-recorded narrations, music, games, and other fun activities for kids.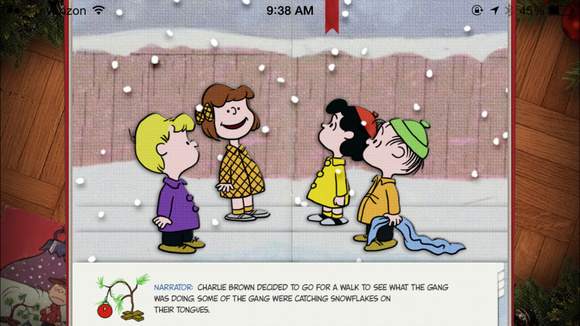 A few of my favorites include the beautifully illustrated Hanukkah: The Festival of Lights StoryChimes ($2), which reads the story of Judah Maccabee aloud to young readers against a musical backdrop. How the Grinch Stole Christmas ($2) features Dr. Seuss's illustrations and a pre-recorded narration (you can also record your own narration). A Charlie Brown Christmas ($3) is a digital pop-up book: The illustrations are designed to look like 3D pop-ups, and can be interacted with through taps and swipes.