These days, keeping up with games can be a full-time job. So how do you separate the signal from the noise, the wheat from the chaff, the Temple Runs from the Temple Jumps? Allow us to help by regularly selecting a game You Should Play.
It's only been out a few weeks, but I'm ready to put Crossy Road into my all-time pantheon of amazing, time-absorbing iOS games. That might seem premature, but my last few weeks of frantic lane-hopping and high score-chasing have generated the same kind of pocket-based obsession that lured me into games like Orbital, Super Crate Box, and Impossible Road in the past.
Every loss is irritating. Every amazing run (rare as they may be) makes my heart thump like mad with each tap. I'm emotionally invested, and it's all over a game that essentially turns Frogger into an endless action game with social hooks. But while Crossy Road may tweak the familiar approach from a gaming classic, it doesn't feel lazy or hacked together.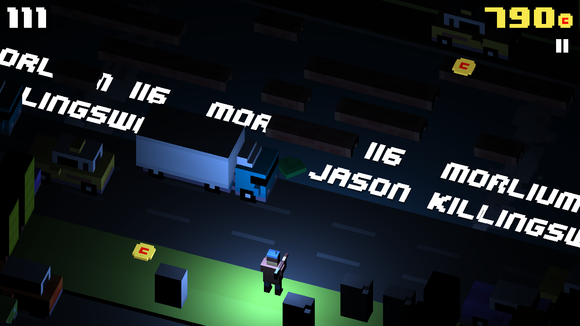 Crossy Road is charming, with vivid block-based artwork that surely owes some debt to Minecraft, and it's also one of the friendliest free-to-play games I've ever enjoyed. I haven't spent money in Crossy Road. I'd be happy to, but it just hasn't come up across hundreds of attempts. But ultimately, the biggest perk is the alluring twitch gameplay, which finds you sprinting through traffic and bounding across floating logs while friends' scores taunt and encourage you.
Why have scads of iOS gamers crossed the road since the game launched in late November? Here are three reasons why you should download this amazing freebie and find out.
It's a great challenge: As in Frogger, Crossy Road is a straightforward game of timing and reflexes, but that doesn't stop it from being a difficult game to really excel in. Here, there's no goal at the end of the stage, along with no set pattern of roads and rivers: everything is randomly generated, which means you'll face a new challenge every time. And you can't linger in one spot for more than a few seconds, otherwise the game ends.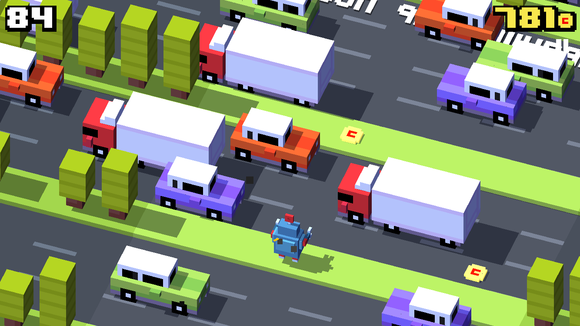 You'll need to be constantly aware of your surroundings as you tap to move forward one lane at a time—or swipe to move to either side or backwards—as trucks and trains whiz by and logs float into view. It's important to learn some essential tactics to play at a high level: sprint whenever possible, avoid the edges, and seriously, play in landscape to get a better view of traffic patterns on either side. As those skills start to register, Crossy Road gets its hooks into you—but it's the social component that seals the deal.
Leaderboard legend: Crossy Road is a perfect pick for anyone who loves a good Game Center leaderboard chase. The entire point of the game is trying to set the furthest distance possible, so being able to compare your number against those of your friends makes it an ideal game for a social component. And it's handled here masterfully, with the names and scores of your Game Center friends pasted right onto the lanes you run across, letting you know with each step whose trek you're dominating.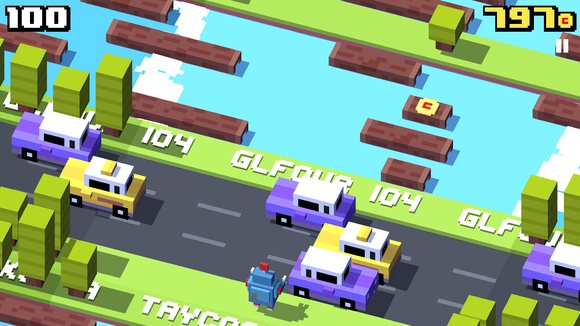 I'm currently embroiled in a three-way high score chase with two local pals, and we talk about it outside the game before digging back in to prove our respective supremacy. Each of us has toppled the others at some point, but none of us can stop trying to push the bar. As of this writing, I'm tied with one friend with a score of 372, and we're far ahead of anyone else on my friends' leaderboard. But since it's a shared number-one spot, I can't stop trying to crush him and propel forward once more.
Seriously free: Truly, Crossy Road is one of the least punitive free-to-play games I've ever encountered. You'll face no restrictions on time, energy, or play attempts, and there are no premium perks that affect gameplay. You won't even find ad banners or pop-ups. The lone freemium element comes from a tiny handful of paid characters, which comprise just a fraction of the total roster. The rest are unlocked via in-game coins, which are generously handed out with regular play. Still, I'd be happy to pay for meaningful added content. (Please, give me reasons to pay money.)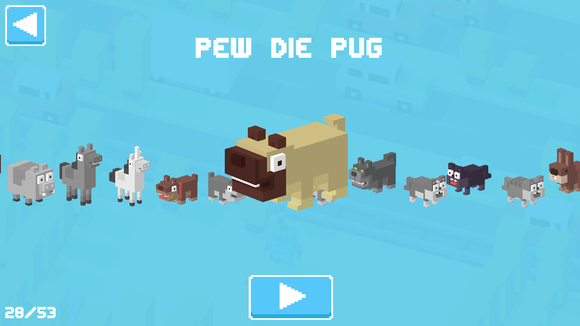 Aside from maybe Threes, I can't think of an iOS game I've played this intently all year, and the free approach comes with absolutely zero manufactured frustration. Whether or not you have a soft spot for the Konami classic it pulls inspiration from, Crossy Road is one of the top time sinks available on the App Store today.
Developer: Hipster Whale Platform: iOS (Universal) Price: Free