Free-to-play games often look appealing, but it's difficult to know at a glance whether the business model is insidious and fun ruining, or reasonable and worth pumping a few bucks into. With Freemium Field Test, we'll take a recent free-to-play iOS game, put it through its paces, and let you know if it's really worth your time (and money).
Among things that never cease to make me happy, Peggle may not top the list (hello, wife and son!), but it sure is close. The tense challenge of clearing every orange peg from a well-built board pairs so perfectly with the explosive payoff: the inevitable blaring of "Ode to Joy" as your massive score tallies and fireworks detonate. Over the years, I've played through Peggle on computer, console, touchscreens, and even the old-school click-wheel iPod. It's amazing.
So imagine the mix of joy and trepidation I felt seeing Peggle Blast appear on the App Store in December. It is PopCap and EA's first free-to-play twist on the series, and while they've shown that they can do quality freemium experiences in the past, even something like Plants vs. Zombies 2 felt a bit less special due to the added repetition from the revised design.
But still, I think: More Peggle can't be a bad thing, right? Right. But also wrong.
The pitch
At its core, Peggle Blast doesn't stray from the established pachinko-meets-pinball formula. You're still given a limited number of balls to shoot from the top of the screen, watching as they hit pegs and blocks on the way down—and hoping they smash all of the orange ones that must be cleared. Green pegs offer limited-use special abilities, while purple pegs boost your score (which can lead to free extra balls), and if your ball lands in the moving basket below, you get a bonus shot.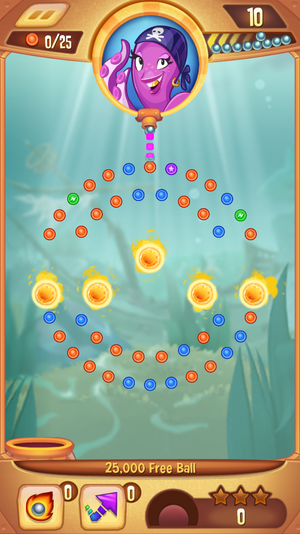 That's all still here, but Blast shakes up the approach in other ways. Namely, it's the first mobile entry with one-handed, portrait-oriented gameplay—ignoring the iPod Classic entry from years back, of course—which makes one-handed play feasible.
And it also adds new tricks: eggs that you must hit multiple times to hatch them (without letting them fall to their scrambled doom), oil slicks that stop the ball's momentum, or large, flaming rocks on the board that will burn up your ball upon contact. You'll also find switches that, when hit, allow certain pegs to be cleared—or, conversely, prevent those pegs from being cleared. In other words, it's Peggle, but a little more diverse and often quite a bit trickier. That's important to note.
As of the North American launch, Peggle Blast includes 90 stages, a few of which are boss battles that can span multiple rounds—lose in a later one and you'll start from the top—and include a high-score showdown against a computer-controlled player. It's cute and funny in typical PopCap fashion, so while the price tag has disappeared, the charm thankfully hasn't.
The catch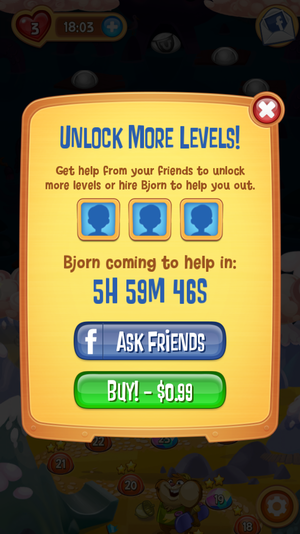 Even the friendliest free-to-play game usually has some sort of deterrent—something to keep players from pushing quickly through the game without spending real money. I'm fully in favor of paying developers for their games; upfront is preferable, but there are free-to-play games in which spending money provides a worthwhile benefit without sullying the experience. It's tough to tell at first, but Peggle Blast isn't one of those games.
In fact, my initial hour or so with Peggle Blast was great, and hinted at no severe restrictions or deterrents. But then I cleared the first 15 stages, and an ominous note popped up: ask your Facebook pals to open up the next world. Well, no, I don't think I'll bother my friends, family, and colleagues for access to that totally rad gopher's set of stages, but that's a really cool idea. The first barrier was magically waived, but when the next one hit, a penalty emerged: six hours until the next world opens, or $1 for immediate access.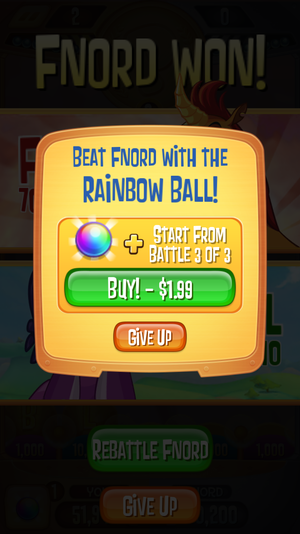 That's fine. I'm used to timers in free-to-play games, and this one isn't so terrible. I'll finish a world at night, go to bed, and wake up able to start the next one. What I'm not used to, when it comes to Peggle at least, are stages that don't seem like they can be feasibly completed without spending money on boosts. Those aforementioned gameplay complexities are subtle additions at first, but eventually serve as pay-walls in disguise—especially the switches.
After a particularly arduous run at a level with two sets of switches—and a couple hours' wait, since your lives must regenerate—I accepted the prompt to spend $2 on a couple of power-ups. Armed with additional balls and extra power-up pegs, I finally cleared enough orange pegs. And then my sad fate hit: I'd cleared the pegs, but somehow not scored enough points to satisfy the secondary objective and move on. I just wasted $2 to fail one stage in Peggle Blast.
The verdict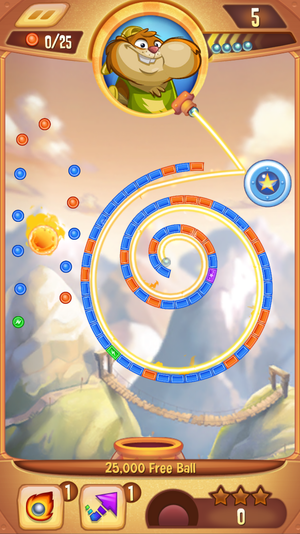 That was, unsurprisingly, the final straw for me. All told, I spent several dollars chasing random power-up prompts, but it never satisfied me; it just allowed me to keep playing. But that thirst for playing and replaying stages to notch higher scores and complete objectives just wasn't there. Peggle Blast is Peggle, yes, but the magic is diminished in favor of potentially leeching out a dollar or two at a time from fans.
Luckily, Peggle Classic is still available on the App Store for a buck, and the Nights expansion within is another buck. Both are spectacular. Buy them immediately if you haven't already. For fans, Peggle Blast offers moments of fun early on, but when the going gets tough, just give up. That's not the most uplifting message, but parts of the game feel designed not to test your skills and persistence, but rather your resolve when it comes to not paying for progress.