We already knew you can't use an Apple Watch without an iPhone, but 9to5Mac just uncovered screenshots of an Apple Watch "Companion" app for iOS that will manage the apps on your Apple Watch and how it interacts with your iPhone.
Just like you can tweak your iPhone's home screen by tethering to your Mac and dragging icons around in iTunes, you'll be able to move icons around in the Companion app to reorder them on your Apple Watch. The Companion app will also let you slap a fancy monogram on your watch's face, or even enable a red dot on the top of the watch's screen when a sniper has you in his sights you have unread notifications.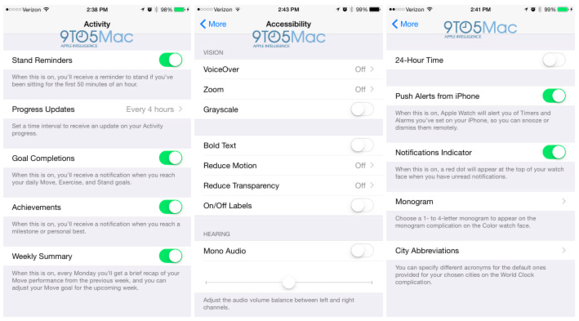 Other screens will let you set up default text replies you can fling back to incoming messages, and choose whether custom replies—which you speak into the watch, since it has no keyboard—will be translated to text before sending, or will be sent as audio.
9to5Mac's screenshots also show the Apple Watch's accessibility options, and some new tidbits on the security features. For example, you can use a four-digit passcode to lock your Apple Watch (which is required if you want to use it for Apple Pay), but there's also a setting to automatically unlock the watch when you unlock your paired iPhone, as long as you're wearing the watch at the time.
Check out 9to5Mac's full report for more detail and tons of screenshots of the not-yet-final Companion app, which is likely to launch with iOS 8.2, alongside the Apple Watch, probably in March.
Does seeing these settings make you want an Apple Watch more, since they tease some of the things it'll be able to do, both with and without your phone? Or are you taking a more sensible wait-and-see approach—at least until we find out final prices and release dates, anyway?