Tanner Zagarino is a typical 16-year-old boy. He goes to public high school on Long Island, where he competes for the school wrestling team. He likes clothes and posting selfies with his friends. He jokes around with his mom, who gets roped into those selfies sometimes. He's typical in every way but one: Zagarino rakes in more than $15,000 a month from social media.
His Instagram photos have attracted 439,000 fans. His tweets have drawn more than 93,000 followers. Judging from the comments on his posts, most of his fans are teen and tween girls. Advertisers consider him an "influencer," a guy who can get people to buy stuff. Zagarino already has a fashion blog and is establishing a YouTube presence. He just started a year-long stint as a "Hot Guy" panelist for Seventeen magazine. He can pull in up to $35,000 a month from all this work, says manager Kyle Santillo.
Are you suddenly questioning your career path? You're not alone.
RT for follow/DM #SEVENTEENxTanner pic.twitter.com/wUKHpRCFi7

— Tanner Zagarino (@TannerZagarino) January 14, 2015
The hustle
This is the current state of celebrity: democratized, personality-driven, and fleeting, where anyone anywhere can be a star. Just look at Alex from Target, whose photo spread like wildfire among teen girls a few months ago. A glance at his Twitter account shows he's already capitalizing on his instant fame. (Though as of December, he still worked at Target.)
Like Alex from Target, Zagarino is an attractive kid, still a bit baby-faced with tousled light brown hair and a preppy style. He's taking more cues from Kanye West now, he says, aging out of the mall and into high fashion.
The road to social media stardom is a little different for everyone, and for some it happens overnight. For others, a lot of hustle, a little good luck, and a gift—good looks, photography, comedy, even the ability to style clothes in interesting ways—leads to online celebrity, however long that lasts. You may not have heard of Tanner Zagarino yet, but ask your little sister, your daughter, or your niece. She probably liked his photo on Instagram.
I met Zagarino on a freezing December afternoon at The Bitter End, a tiny venue on Manhattan's Bleecker Street. He was doing an appearance at Jingle Jam, the kind of concert where adults buy cheap parent passes to accompany their kids. The place was packed with teen girls, and Zagarino was hanging out in the back, admiring handmade signs his fans brought him.
Zagarino doesn't perform at these appearances. He doesn't sing or dance. He's not a comedian. He signs merchandise and hypes up the crowd alongside other social media stars. And when he promotes these appearances on Instagram, Twitter, and Snapchat, the girls turn out in droves. One flew in from France, another from Colombia, to meet him. Girls have tracked him down on the streets of New York for a chance to take a selfie with him and share it to their own social networks. It's a strange and sudden turn of events for a kid who barely had an Instagram presence a year and a half ago.
"I was just having fun with it," he tells me. "I wanted followers. I didn't know the right hashtags, I just posted pictures of myself. I was getting my friends to take photos of me most of the time."
Zagarino was discovered by modeling agents—and girls—when he appeared in pop singer Alli Simpson's music video " Notice Me" in November 2013. It's a song (and a singer) that never made it big on the American charts, but the video now has more than 9 million views on YouTube. He signed with a modeling agency but left after realizing he could make more money online (though he has since signed on with Wilhelmina Models). He hired a manager, KM Creative's Santillo, and found a few ways to leverage his Instagram popularity. One is appearances. The other is ads.
Likes = $$$
Brands look for people who have a lot of followers, like Zagarino, but it's equally important for those followers to be invested. Influencers aren't exactly celebrities, but well-known in the way cool kids in high school with good taste tend to be. If their thousands of followers also like, heart, retweet, reply, or otherwise interact with them, brands are willing to shell out money for these influencers to promote their products on various social networks.
Zagarino linked up with a company called Speakr, which uses an algorithm to match brands with influencers for ad campaigns. He tends to work with fashion brands like Aeropostale and Old Navy that would appeal to his teen audience, but has also promoted a fitness app and other random products he likes.
"The brands don't say, 'Hey, I want Tanner,'" said Speakr CEO Marco Hansell. "They say, 'Hey, I want someone who is really influential with young teenage girls.' Tanner became part of this pool of people that technology identifies as having a large influence over the audience the advertisers are trying to grab. In Tanner's case, when he came in, he had a higher than average engagement rate, so he came in and ended up being one of the top picks for some of the demographics."
Zagarino has 1.12 times more female followers under 19 than the average Twitter user, according to Speakr, which is why entertainment and fashion brands are particularly interested in him—and also why he's been paid to promote Amy Poehler's new book Yes Please and the movie "Ouija."
That engagement rate and influence with teen girls also helped Zagarino land a deal with AwesomenessTV, a divison of DreamWorks Animation. The digital video network develops talent on YouTube and helps fledgling stars like Zagarino translate their popularity into YouTube subscribers—and ad dollars. Though Zagarino is just now building up his YouTube presence with weekly videos, AwesomenessTV partner manager Maxwell Peters told me the network is giving him a higher ad revenue split than is typical for a beginning YouTuber "because of the potential we saw."
AwesomenessTV is already a powerhouse presence on YouTube, with 114 million followers and more than 800 million page views per month, according to Variety. Hearst recently invested $81.25 million for a 25 percent stake in the digital video network. AwesomenessTV already had a deal with Hearst to run the Seventeen magazine YouTube channels for the publishing company, and now that Zagarino is in the Seventeen fold as a Hot Guy panelist, Peters said there are plans to fit him into Seventeen Channel content this year.
AwesomenessTV can also dig into its stable of popular YouTube personalities to help promote Zagarino's channel.
"We found that the best way to grow a channel is to cross-pollinate audiences, having Tanner doing a collaboration with a bigger YouTuber or one of his friends where they can share subscribers," Peters says. "Hopefully by tapping into the other person's audience we'll be able to transfer some of their fans to Tanner and vice versa."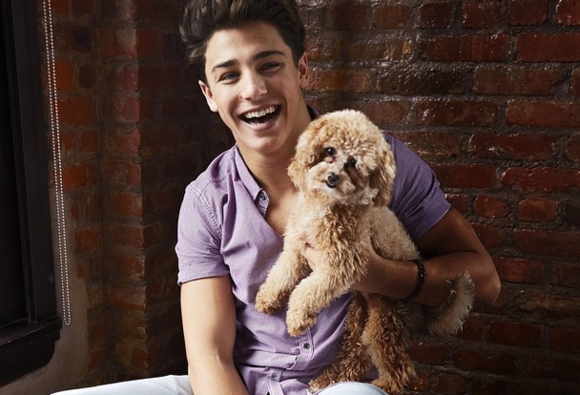 No flash in the pan
Santillo said Zagarino will focus less on branded social media posts this year, though they're steady money, to develop his YouTube channel and land more fashion editorial work. He'll ratchet up the appearances, like recent gigs at Dick Clark's New Year's Rockin' Eve and the American Music Awards, and maybe go international, though it might interfere with school.
"School comes second," Zagarino jokes backstage at The Bitter End.
"That's news to me," says mom Elizabeth. She glares at him, then laughs.
Elizabeth, herself a former model, says it's so much easier to become famous these days. She watches Zagarino manage his career on his phone, posting Instagram shots or sending off tweets between school and wrestling practice. It just takes less effort than it used to. Zagarino eventually wants to go to acting school and build a more stable, long-lasting career. But when I ask him about Alex from Target's overnight success, he sounds almost wistful.
"It kind of invalidates social media for all the people who work very hard to get where they are," he says. "People are grinding every day putting out YouTubes and Vines just to see one person blow up and become trending."
But anything can happen. With a little bit of luck (and all that hustle), Tanner Zagarino could be the next viral superstar before he turns 17.