First it was spam. Then it was click-bait. Now Facebook is tackling hoaxes that pop up in News Feed because your gullible friends won't stop liking and sharing obviously fake stories.
Hoaxes will probably never really go away, because Facebook isn't going to delete any posts. Instead, the network is using your feedback to determine when a story is a scam. Now when you click to hide a story and banish it from your feed, Facebook offers a new option: "It's a false news story." If enough people report the post as false or misleading, the network will halt the story from spreading like wildfire.
"People often share these hoaxes and later decide to delete their original posts after they realize they have been tricked," the company said in a Tuesday blog post. "These types of posts also tend to receive lots of comments from friends letting people know this is a hoax, and comments containing links to hoax-busting websites. In fact, our testing found people are two times more likely to delete these types of posts after receiving such a comment from a friend."
Sounds like people spend a lot of time and effort spreading and debunking hoaxes.
Facebook will also append a note to a false story if it does surface in your News Feed: "Many people on Facebook have reported that this story contains fake information."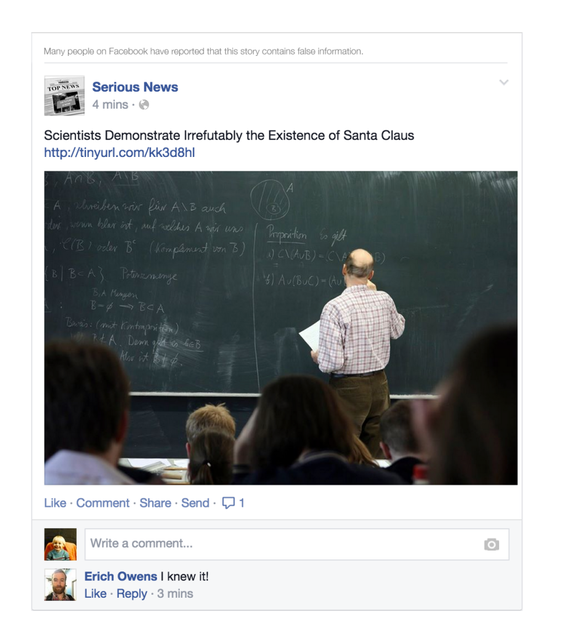 The network said the move shouldn't affect obviously satirical content, like posts from The Onion, but I think Facebook is giving people too much credit—we've all seen the kinds of scam stories that our friends and family have shared on their timelines. Remember the one about having to pay a fee to use Facebook? Oh, wait, that hoax pops up every year.
It's unclear if the hoax stories about Facebook itself will be banished from News Feed altogether with this latest purge, but regardless, the move is a welcome one. Facebook is continuing a year-long effort to use its content-sorting algorithms for good, and it looks like the campaign has been successful.