When you own a small business, the temptation to hand over a business card with your personal cell number plastered on it is natural. You're merely offering a direct line to the person who can make decisions. Accessibility is a key selling point when touting the advantages of your business over larger corporations.
But you can oversell your accessibility—and the end result is interrupted dinners, missed birthday parties, and alarming calls at 2 in the morning. Customers want what they want, when they want it. These interruptions might be good for business, but they're bad for personal health and relationships.
Carrying around a second phone to separate business from work is inconvenient and expensive—what about taking advantage of the devices you're already carrying? The proliferation of apps offering virtual phone numbers has made it entirely possible to manage a secondary business line from your iOS device. Google Voice and Skype are respectable choices, but they aren't the only options—I found three other services that might fit your own use case a little better.
Cloud Phone
Cloud Phone is a business solution from the same people behind the consumer messaging app Voxox. Cloud Phone offers an online portal for managing your account, setting up an auto attendant (that's the computer voice you hear when calling companies), screening incoming calls, and even receiving faxes.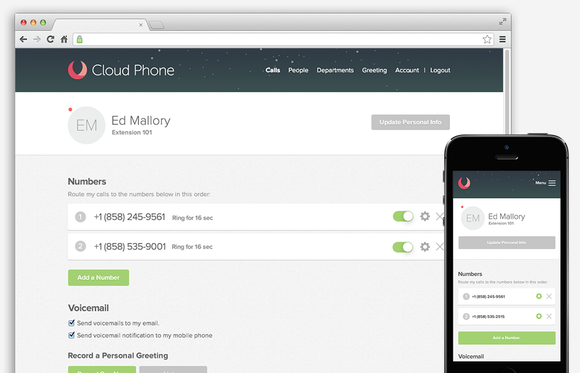 Cloud Phone's biggest caveat is that it lacks a mobile app. All account management is done through its website, and that, confusingly, includes placing a call. You have to type in the number you want to call and the number of a phone near you. In turn, the service calls your number and asks you to press 1 to complete the the call to the other party. Receiving a call isn't as messy, and the incoming number shows up on your personal phone as any other incoming call would. Clearly, Cloud Phone is a service for those who plan on receiving far more calls than they'll ever make.
Pricing starts at $10 a month for two extensions and 1,000 minutes. It tops out at 10 users and 5,000 minutes for $25 a month. A 30-day trial lets you put the system through its paces before making any commitments.
ZipZap
For those wanting access a similar service through an app, there's ZipZap, although the app is currently iPad-only. The app reminds me of the classic photo displaying a switchboard operator managing random cords. Only instead of cords, you have these circular icons containing pertinent information for the person on the other end of the line. When you want to answer a call, just drag the icon into the middle of your iPad's screen and start talking. The interface is a bit puzzling at first, yet after completing a few calls and sending some messages, it begins to make sense.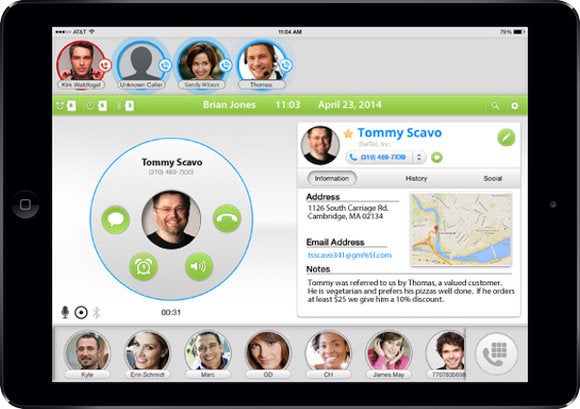 ZipZap is aimed at people who take a lot of calls, sometimes concurrently: One feature I wasn't able to test in ZipZap was the ability to manage 10 calls at the same time—who does that?! Perhaps the best part is the ability to walk away from your iPad (or turn it off) and not have to worry about your smartphone ringing due to a business call as you would with other services. But you can always set up a forwarding number if you're worried about missing calls.
For $25 a month (paid yearly) you get one phone number with unlimited voice minutes and text messaging. If you prefer to pay on a monthly basis, the cost jumps to $30 a month. The free 30-day trial doesn't require a credit card.
Line2
Line2's key feature is that it's cross-platform: the company offers an app for iOS and Mac, in addition to Android and Windows. Line2's Personal service, for $10 a month, is geared towards someone who doesn't need an unlimited voice plan or extra features like auto-attendant or a toll-free number. In addition to its allotment of 5,000 outbound minute allotment, you also get unlimited text messaging and inbound calls, and access via any Line2 app.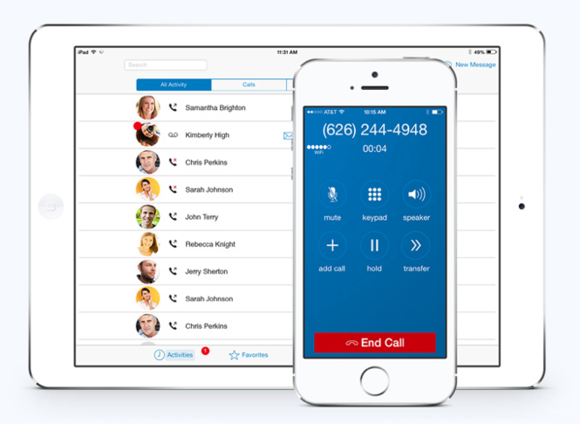 For $15 a month, the Business plan gives you those same features along with auto-attendant, after-hours call handling, call forwarding, and a few other extras. (Both plans have a free 7-day trial.) The iPhone app you use with either plan is great—since it doesn't connect to your phone's Messages and Phone apps, it truly keeps your work conversations separate from your personal life.
I've yet to find a single solution that's as seamless to use as the phone number already attached to my iPhone, but some of them are very close—and I appreciate how they all eliminate the need for a second device. If you're looking to experiment with a second phone number—even just temporarily, like a throwaway number for selling your couch on Craiglist—you can always try Burner, which offers pay-as-you-go credits.