In its recent ad for the MacBook Air, Apple demonstrated how much people loved it by showing the ways in which people had personalized theirs with stickers. And although my current 2008 MacBook Pro is stickerless, my previous MacBook and iBook were covered in them, so I get it.
Still, this personalization of the MacBook Air is very much despite Apple, not thanks to it. In 1996, however, Apple introduced a Mac that you were very definitely encouraged to customize: the PowerBook 1400 series with its BookCover feature. Part of the plain black lid slid off, and you could replace it instead with a piece of clear plastic under which you could position your own designs.
The original Apple-supplied BookCover inserts look amusingly dated now, although this style of illustration will probably zap anyone who survived the '90s right back there quicker than the opening bars of "Losing My Religion."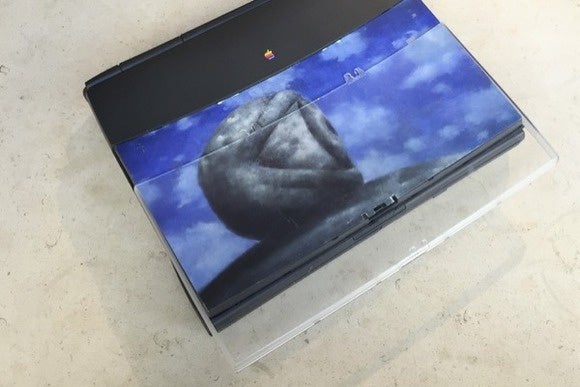 The real joy, though, was making your own inserts so that your PowerBook 1400 became much more personally yours. For much of its life, mine has sported this fabulous glam wrapping paper.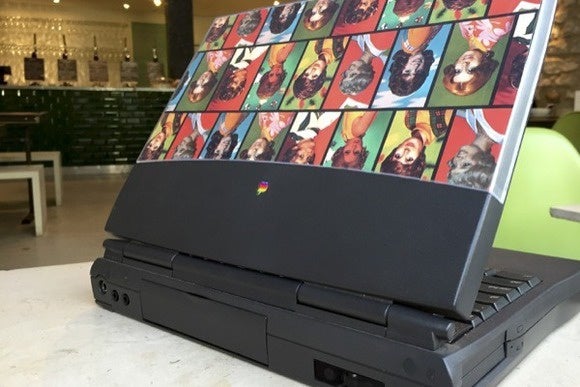 I bought the paper on eBay years ago and cut it to shape when I loaned my wife this laptop to write essays on (and play SimCity on…) when she was studying to become a teacher, but it stayed in place even when she finally moved on to my cast-off iBook G3.
I discovered when sorting out my childhood Astérix books recently that one of them had been so loved by me as a kid that it was falling to pieces and had many pages missing, so I carefully removed a spread, trimmed the gutter and butted the two pages up next to each other to create this insert, getting the shape right just by cutting around one of the official Apple inserts with a scalpel.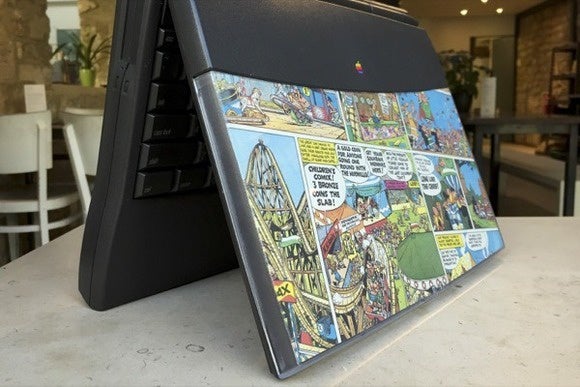 However, nestled inside the Apple Extras folder on the hard disk of a PowerBook 1400 was a template file so you could create and print your own designs. (These days you can poke around the internet to find a handy EPS version.)
Apple's suggestions for personalized BookCovers in the manual that accompanied the PowerBook 1400 are terrific—and terrifically dated. I especially love the analog nature of the first suggestion, which reminds me of the SideShow feature of Windows Vista.
According to Apple, "Examples of inserts you might make with the template include:
a weekly appointment calendar and To Do lists
your latest digital art
a travel itinerary, with key contact information and a small map
a cartoon or comic strip (perhaps with weekly episodes)
notes for a presentation
a "cheat sheet" for procedures you tend to forget, such as how to set up for sending a fax or how to connect to an information service you don't use often
outline art for your children to color (and the finished pictures)
You're likely to find other templates for BookCover inserts on popular shareware forums or as supplements to commercial software.
Of course your inserts don't have to come from the template. All sorts of things would look good under the BookCover, including family pictures, the logo of your school of favorite team, a collage of colorful scraps and images, or even business cards."
Peculiarly, there's no suggestion to use your company logo as a BookCover insert, but I think it looks rather smart! Note that I put the Macworld logo the wrong way round according to the fashion of the time—look at the orientation of the Apple logo—but I agree with modern Apple that this is the right way to do it!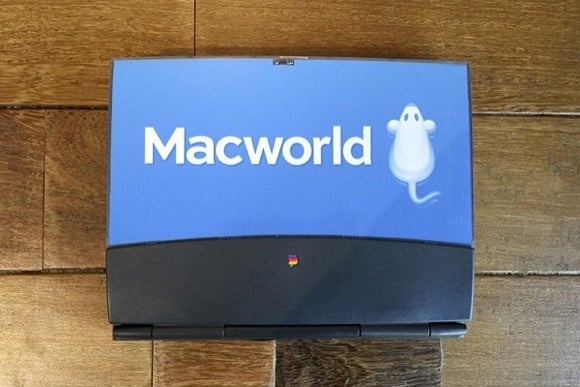 You could even buy third-party solar panels that slotted into where the BookCover would go, which is a highly pleasing little hack—even if you'd probably have to sit on the equator of Mercury at noon to get enough light to supply sufficient power.
Oh, and by the way, do you remember when—since their hinges were mounted on the top rather than on the back edge of the laptop—screens could do this?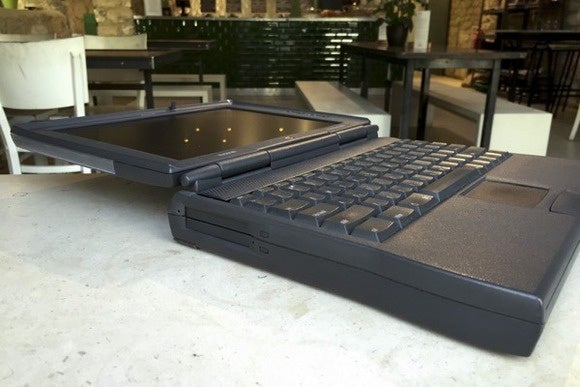 That hinge design also meant ports were on the back rather than on the sides, which I'd prefer even today; the tentacular splurge of cables coming out of the side of my MacBook Pro as it sits on its TwelveSouth HiRise looks messy. Of course, these old hinges mean that the laptops were thicker too even if everything else had been equal; this one barely fits into my laptop bag!
There's a lot more about the PowerBook 1400 that was remarkable, but that's for another time…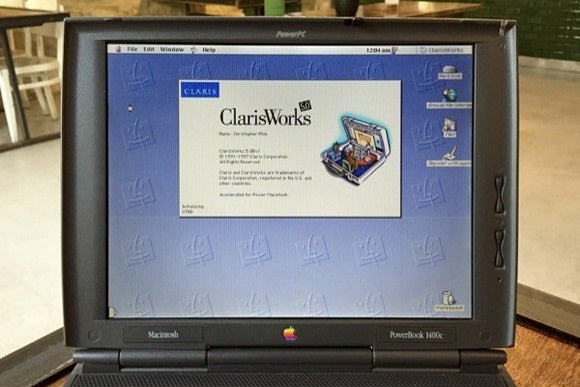 Share your stories of your personalized Macs in the comments, especially if you had any clever ways you used the PowerBook 1400's BookCover inserts!