The responsive touchscreen of an iPhone or iPad is perfect for creating within games as much as simply playing them—it's part of the reason why Minecraft has been even bigger on phones and tablets than computers or consoles. Cartoon Network's Adventure Time already has a number of App Store entries, but the new Game Wizard ($5) takes a new tack, letting you construct your own side-scrolling game worlds from scratch and then share them with the online community.
It has one other big, interesting thing: the ability to sketch out your levels in specially marked, printable grids, and then scan it into the game using your device's camera. Got a knack for constructing elaborate, well-composed game worlds? You can print out a dozen sheets of paper and design your sprawling masterpiece, and then stitch it all together digitally.
But should you? I fired up Adventure Time Game Wizard and my increasingly dusty printer to try my hand at world building, both with the finger and a ballpoint pen.
Wizard worlds
Game Wizard builds its core experience upon a solid 2D action game starring the familiar heroes, villains, and locations from the offbeat animated series. The virtual controls are a bit awkward (tip: use the directional pad, as the movement slider is terrible for vertical inputs) and the game design feels pretty familiar. You'll slash and shoot enemies and leap between platforms, while occasionally taking down tougher boss characters.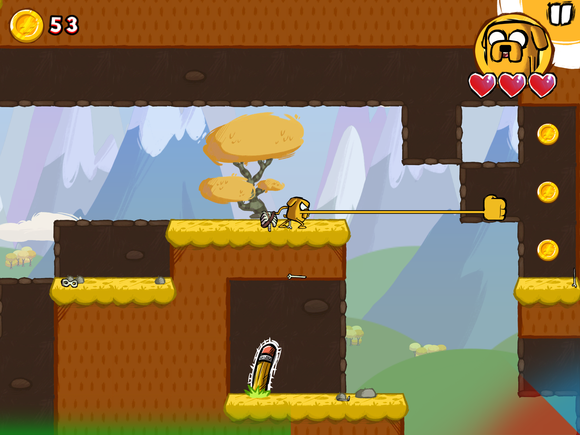 It's not remarkably original, but it is amiable fun—and it does a great job of maintaining the tone and style of the show. Game Wizard even introduces a brand new main foe, the Doodle Wizard, voiced by "Weird" Al Yankovic, with the rest of the characters handled by their respective actors from the TV series. Kids should dig it, and adult fans ought to find it agreeable, but the pre-made stages aren't really the key draw here.
That, as you might imagine, is the game's creation suite, which makes it easy to put together and play through your own game levels. You're limited to the characters, enemies, and environmental assets seen in the campaign, which doesn't allow for a ton of visual customization—but you're given the flexibility to create your own stage arrangements on a blank grid, and the large space allows you to design twisting, complex challenges. Well, that's assuming you have the patience for it.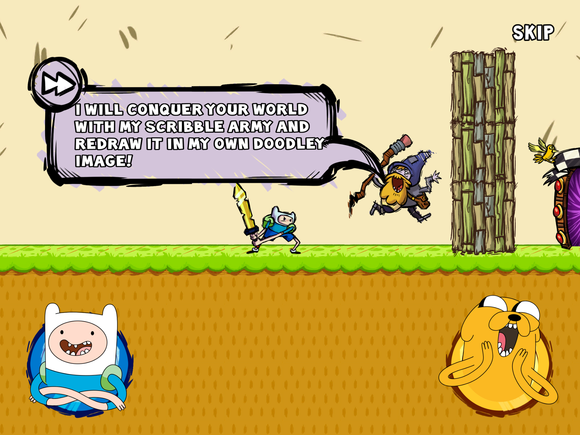 Building a worthwhile stage takes time, but the digital interface is pretty intuitive and easy to understand within moments. You'll draw terrain, place hazards and moving elements, and set the goal and checkpoints; you can even put in hidden areas for a secret surprise for anyone else that downloads and plays your stage. Sharing your levels to the built-in portal is a snap, and there are already loads of free user-created stages to download and play through.
Paper, craft
So how does paper factor into this equation? You can print out a starter kit tutorial packet from the official website, or just print the basic grid sheets from either the Web or the app itself. Within the packet, you'll find the instructions on how to turn the blank grid into a digital masterpiece. Truth be told, it's a lot of tracing lines and adding dashes and X's and the like—you'll never have to try and draw a character or enemy, because that stuff actually is added later on the app side of things. All you're doing is plotting out the layout and basic contents.
From there, you can scan the page into the app using your iPhone or iPad's camera. And that's where the shine wore off a bit for me. You'll need a ruler and a steady hand to sketch with success, and even then, the camera recognition seems a bit spotty. When I scanned my first stage attempt, the entire world ended up being full of lava—which meant Finn perished immediately once the game started. Not my intention!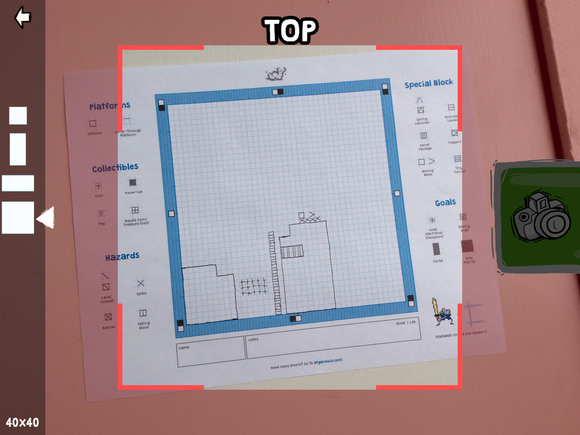 In later attempts, the game would occasionally misinterpret what I'd designed in spots, breaking apart platforms and attaching together items that I meant to be apart. Luckily, you can tweak everything digitally within moments, so unless your hand-filled grid is an utter mess, it won't take much effort to fix the issues. That said, you're still putting a lot of time (and paper and ink) into something that you can do entirely within the app with much less hassle.
But I concede that I'm probably not the target audience here. I got a kick out of drawing levels on paper and scanning them into the game, but struggled with what felt like an unnecessary use of added time. Kids, on the other hand, may have all the time in the world, and will love building out amazing, personalized worlds and then pulling their own original creations into the game. And parents concerned about extensive screen time will happily trade some paper and ink to get their kids off of the iPad for an extended period.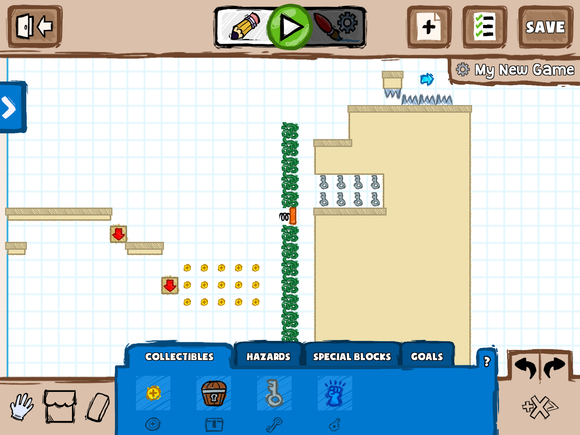 It's that sort of distinctive edge that makes Adventure Time Game Wizard more than an average iOS game for young fans of the show: it's a project, a cross-media exploration of creative joy, and it can be a lot of fun. And with surely scads of other players designing and sharing their own small wonders for everyone to enjoy, it could stick with fans for quite some time.