Apple made all the money last quarter—its $18 billion in profit is not only the best quarter Apple's ever had, it's the best quarter any company has ever had, and a jaw-dropping 74.5 million iPhones sold is a big reason why. But record-shattering $74.6 billion revenues weren't the most interesting part of Tuesday's Q1 2015 earnings conference call, in which Tim Cook took questions from analysts about the rest of Apple's plan for success, and how to keep this momentum going.
Apple Watch in April
First of all, the Apple Watch has a more solid ship date—sometime in April. Cook said in his prepared statement, "Development for Apple Watch is right on schedule, and we expect to be shipping in April. Developers are hard at work on apps, notifications, and information summaries that we call Glances, all designed specifically for the watch's user interface. The creativity and software innovation going on around Apple Watch is incredibly exciting, and we can't wait for our customers to experience them when Apple Watch becomes available."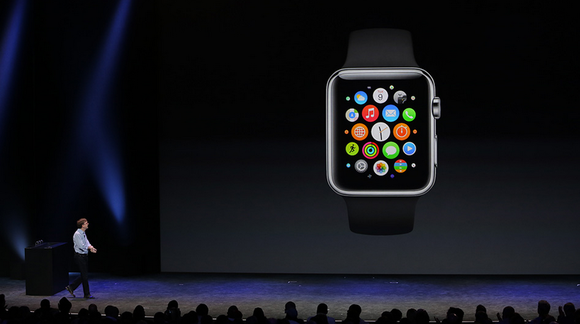 Previous rumors had said March, and Apple had only said spring, so it's nice to get a better idea of exactly when the Watch will hit stores. Later, in the question-and-answer portion of the call, an analyst pressed for a little more detail, and Cook first took the opportunity to make us all jealous that of course he has one already:
"My expectations are very high on it. I'm using it every day, and love it, and I can't live without it. And so I see that we're making great progress on the development on it, the number of developers that are writing apps for it are impressive and we're seeing some incredible innovation coming out there."
Cook even elaborated further on the shipping month, too: "And just to clarify, what we had been saying is early 2015, and we sort of look at the year and think of early as the first four months, mid as the next four months, and late's the final four months. And so to us, it's within the range. It's basically when we thought. But most importantly, we're going to be thrilled to start shipping it, because we've got a lot of customers who are wanting to get one."
People sure do like the iPhone
Apple sold a record number of iPhones in the quarter, 74.5 million units. That's off the charts high, 23.4 million more than the same quarter last year. Cook doesn't expect the iPhone train to stop rolling anytime soon, either: "I would point out that only a small fraction of the installed base has upgraded, so there's a lot more people within the installed base, but I would also point out that we had the highest number of customers new to iPhone last quarter than in any prior launch. And also that the current iPhone lineup experienced the highest Android switcher rate in any of the last three launches in any of the three previous years. We didn't look back to the other years, I don't know about those."

Cook declined to break out figures of iPhone 6 versus 6 Plus, but he did say this: "What I can tell you is that iPhone 6 was the most popular iPhone last quarter. But obviously to sell 74.5 million, they were really all popular. And all did well. There is clearly a geographic preference difference, where some geos would skew much higher on their preference to iPhone 6 Plus than other geos. So it's something that's not consistent around the world."
Apple's growth in China also contributed to the iPhone 6's successful launch. Despite not being on sale a full quarter in China (iPhone 6 launched mid-October there, and the quarter ran from October 1 to December 27), Apple saw 100 percent year-over-year growth. Expect China to become a bigger chunk of Apple's revenue over time, as Apple expands its footprint in the country. "We'll hit 20 [Apple Stores] soon and we're doubling that by mid 2016," Cook said. "In fact our online revenues in China last quarter were more than the sum of the previous five years."
Apple Pay is working out
Tim Cook said Apple Pay was "in the first inning" but the company is already pleased with its progress. It's popular with banks—750 banks and credit unions have signed up—and represents $2 of every $3 spent in contactless payments for the big three credit card networks.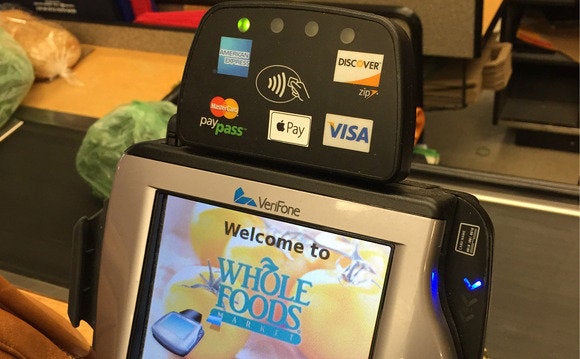 Merchants are seeing good numbers too. Said Cook, "In merchants who already accept Apple Pay, the rates are even higher. Panera Bread tells us Apple Pay represents nearly 80 percent of their mobile payment transactions, and since the launch of Apple Pay, Whole Foods Market has seen mobile payments increase by more than 400 percent." You can even use it at vending machines— USA Technologies announced the same day as the earnings call that it was adding Apple Pay support to 200,000 vending machines, coin-op laundry machines, and parking meters across the country.
"With all of this momentum in the early days," Cook crowed, "We are more convinced than ever that 2015 will be the year of Apple Pay."
But of course, this is just a start. Apple still has yet to roll out the service to any other countries. Just as each country has different mobile phone operators, Cook explained, "There's a different set of banks in a lot of the countries, some of the processes with the merchants are different. And so it's an area where there's quite a bit of difference country to country to country and so there's clearly heavy lifting involved to scale. However, it's not something that scares us or that's preventing us from viewing it as a big opportunity." We're keeping a close eye on Apple Pay's expansion too.
So is that IBM partnership
"We don't do a lot of big partnerships, as you probably know. And so when we do one, it is significant, and we really believe in this one and what it can do for customers," Cook explained when asked about Apple's partnership with IBM to create custom applications for enterprise customers such as Miami-Dade County and American Eagle Outfitters.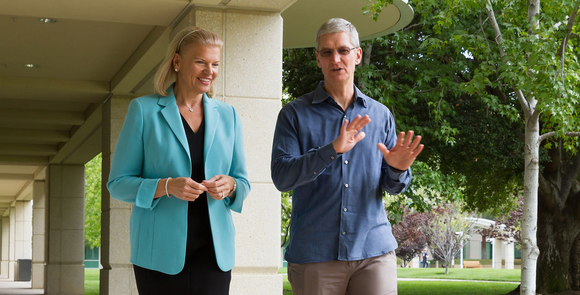 To really change the way people work, Cook said, they need apps tailored to their exact job, not just general productivity tools like spreadsheets and word processors, which the iPad has in spades. So the partnership with IBM is aimed at helping tailor apps to enterprise customers.
Cook said, " In December, we delivered the first 10 mobile first for iOS apps for banking, retail, insurance, financial services, telecommunications, governments and airlines, making iPhone and iPad even more productive for enterprises by providing app and cloud services with IBM's big data and analytics capabilities. Another 12 apps will be released this quarter, including three new industries: health care, energy and utilities, and industrial products. This will bring us to a total of 22 apps and we're on track to have over 100 by the end of 2015."
iPad sales slid again
This enterprise push couldn't come at a better time, as iPad sales were soft this quarter at 21.4 million, which is 4.6 million fewer than sold during the same holiday quarter of last year. But Apple remains bullish on the iPad's long-term prospects, with Cook echoing pretty much the same things he said when iPad sales slid last quarter too.
First, iPad is attracting new customers: "I see that the first-time buyer rates are very high. By very high, I mean that if you look at some of the developed markets, like the US, Japan, the UK, you would find that 50 percent of the people are buying an iPad for the first time. If you look in China it's over 70 percent. And so when you have that kind of first-time buyer rates, you don't have a saturated market."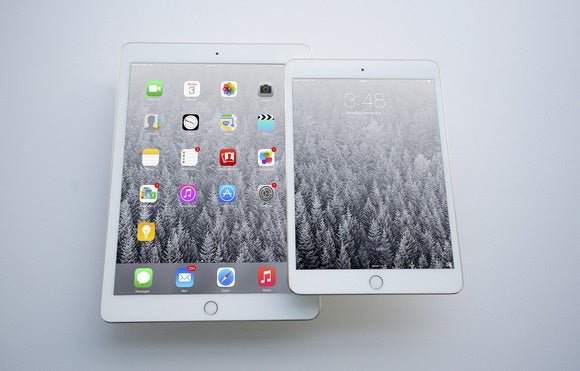 And people really like their iPads. Customer satisfaction surveys are high—one was mentioned as hitting 98 percent. People who like their tablets use them a lot too: "When I look at the usage, the usage is six times our nearest competitor. Usage measured in web browsing is like 71 percent of total tablets. Also the commerce taking place across the iPad is enormous. Essentially over 80 percent of the commerce on tablets is taking place on iPad."
So over time, Cook thinks people will keep buying iPads, but probably not as often as they tend to upgrade their iPhones. With iPhones getting bigger and MacBook Airs dropping in price last year, the iPad is also getting squeezed from both sides by Apple's own products: "There's probably some level of cannibalization that's going on, with the Mac on one side and the phone on the other."
Strong Mac sales once again
The Mac had a great holiday quarter, selling 5.5 million, up 14 percent from the previous year's holiday quarter, when Apple moved 4.8 million Macs. Globally, personal computer sales continue to creep down slowly, but the Mac's market share has grown in 34 of the last 35 quarters.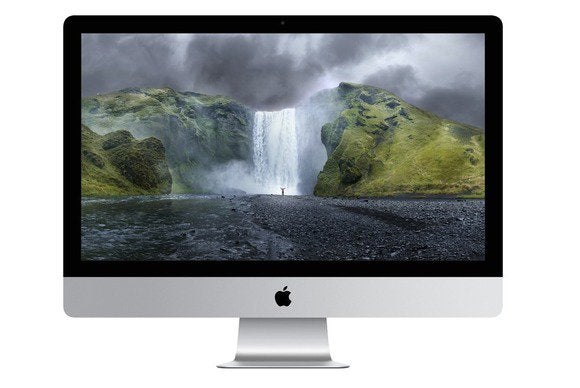 Still, the Mac didn't get any special attention in the call, with analysts asking about pretty much everything but: Apple Watch, iPhone, iPad, even the Apple TV. And Cook teased that 2015 would hold big advancements for HealthKit, HomeKit, and CarPlay—all iOS initiatives, for your health data, home automation, and in-car infotainment, respectively.
Next quarter, Apple is projecting revenue of $52 to $55 billion. Apple Watch won't have launched yet, but iPhone 6 and 6 Plus supply is finally keeping up with demand, and Apple Pay will continue to grow. The sun's been shining on Cupertino lately, and Cook and Co. are forecasting a bright year ahead.