We're used to social networks where we follow people and view what they post: Facebook, Twitter, Instagram and others depend on each user connecting with others in order for content to be shared. Plague doesn't work like that at all, but it can be addictive despite its limitations.
Plague is a new paradigm for sharing information. Through its free iOS and Android apps, users post cards, containing text (140 characters), photos, and/or videos, and "infect" other users who are nearby. These users, in turn, decide whether they want to spread the cards to other users near them: swiping up shares a card, and swiping down ignores it. Each user has an "infection index," which increases as they participate, and which determines how many people their shares will infect.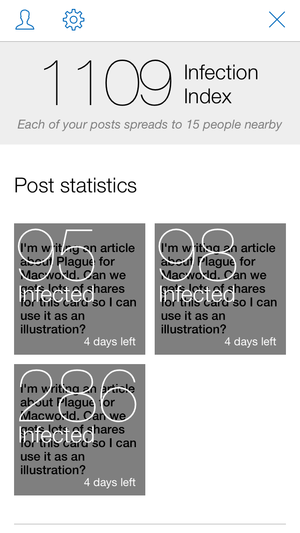 But there is an element of randomness in Plague. In the screenshot above, you can see a card that I posted three times; each was seen by a different number of people. In essence, Plague is a digital message in a bottle. Most cards disappear quickly, but the popular ones will propagate around your country, continent, and even around the world.
Plague cards expire and disappear from the network after seven days. So even interesting content won't last very long. Posts aren't dated, so you don't know how recent they are—Plague isn't designed to chat about TV shows, sports or today's news. (To be fair, there was an outpouring of "Je suis Charlie" cards after the terrorist attacks in Paris in January, but they quickly disappeared from the rotation.)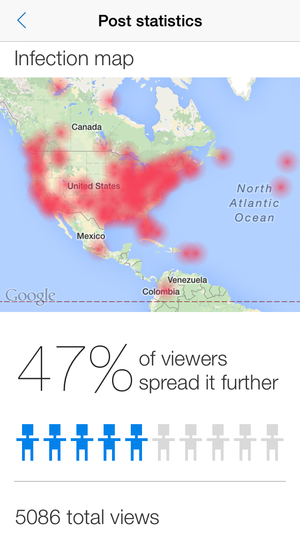 All this makes Plague a bit superficial. Content is currently dominated by motivational quotes, memes copied from Facebook, photos of street art, and nature pictures, notably sunsets. If the goal is just to spread content to as many people as possible, then natural selection suggests that users post text and photos that meet the lowest common denominator.
There's no real discussion, either. While you can post comments to any cards, starting a dialog with users, none of these comment threads last very long. You can't share cards outside of Plague, and you can't save them. You can't even copy links or texts in comments.
Sure, there is some original content, but you have to slog through a lot of boring stuff to get to it. Since you don't follow anyone, you can't choose to prioritize the people who do have interesting things to say, and you can't even see a user's posts when you view their profile. I haven't seen much spam or porn, and users can kill off that kind of content by not choosing to spread it (they can also flag cards and report users who post such things), helping the network stay free of objectionable posts.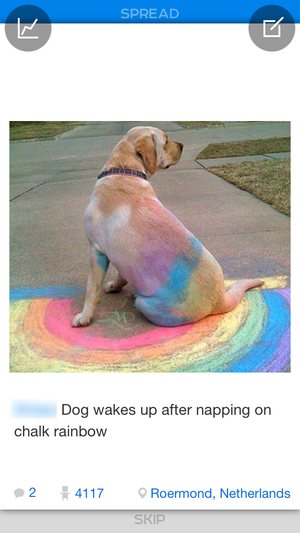 Unless you swipe a lot, you'll only see cards from people near you—this limits what content you can see. If one of the goals of Plague is to spread information around the world, it should have a bit of randomness in the initial spreading of posts, rather than only infect nearby users. Many posts won't make it across an ocean.
Plague can be fun for a while. It's slightly addictive, until you start seeing the same photos posted by multiple people, and the same tired motivational quotes and memes. The concept is interesting, but the fact that you can't choose who to follow means that it's too easy to get overwhelmed by banal content, rather than finding interesting people.