iTunes, like most software, requires that you do things in a certain way. It isn't very flexible for users who think differently. For example, why would anyone want to get rid of iTunes Radio? Why would iTunes users wish to sort their music by artists' last names, then first names? And why would you want to use a more capable Info window to tag files? Because that's the way you prefer to work? Let's explore.
Deleting iTunes Radio
Q: Is there a way to disable iTunes Radio? I don't use it and I sometimes click it by accident. It also pops up every time I launch iTunes, asking me for my iTunes password, which is driving me mad.
There is a way to hide iTunes Radio, but to do this you also have to hide the iTunes Store. You can do so by choosing iTunes > Preferences, and then clicking Parental. The Parental Control preference lets you block certain features that you may not want your kids to access.
One of these is the iTunes Store. If you check this, and then click OK, you'll see that buttons for the iTunes Store and iTunes Radio no longer appear. (Note that Internet Radio is different from iTunes Radio. It's a feature for listening to Internet radio streams within iTunes.)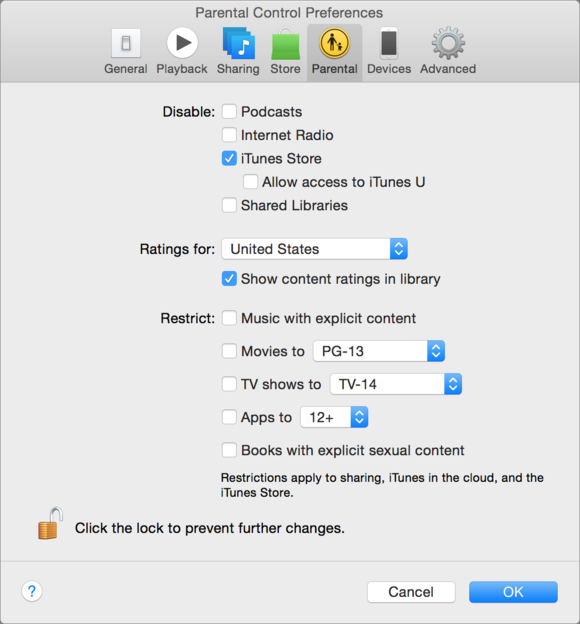 If you want to access the iTunes Store, this isn't ideal. Each time you intended to visit the iTunes Store you'd have to unblock it from the preferences. But if you don't visit the store very often, you might find this a suitable solution.
I can't imagine that Apple will allow people to hide iTunes Radio any other way as its partly a tool to sell music. Plus, with rumors that Apple will be adding a music streaming service to iTunes in the near future, I would expect to see it even more tightly integrated into iTunes.
Nostalgic for the old-fashioned Info window
Q: I like to use the "old" Get Info window for tracks in iTunes, accessed by right-clicking the track and holding down the Option key while selecting Get Info. I just upgraded to iTunes 12.1 and this trick no longer works. Is my beloved "old view" Get Info window gone forever?
I've mentioned that window several times in my Ask the iTunes Guy columns, such as here. I called it the "old-fashioned" Info window.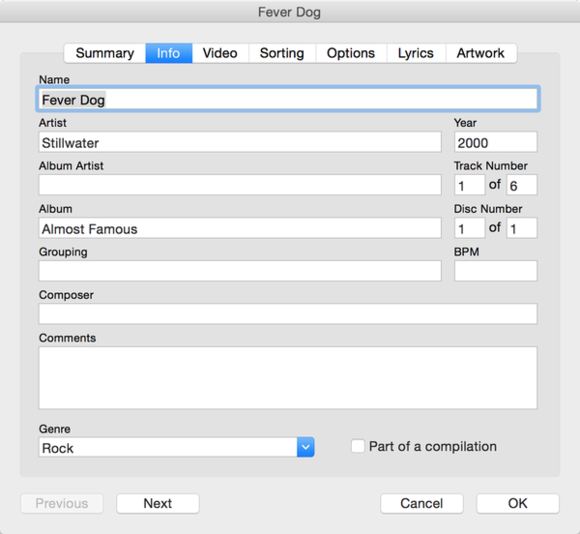 Unfortunately, Apple removed this when they released iTunes 12.1. I suspect that it was a bug in iTunes 12.0 that allowed access to that window. It's a shame, because its a much more flexible tool for tagging files.
My tags keep changing
Q: In recent versions of iTunes I've tried to change certain artists names by right clicking on an item and changing it in the Info window. The change will take effect but then every time Apple updates iTunes, the changes are reset. How do I make permanent changes to track info such as artist name or even song name?
This problem seems to be more prevalent than before; I've been getting a lot of emails about it. There's a setting in iTunes' preferences that causes this problem. For example, if you have purchased music from the iTunes Store and have checked Show iTunes in the cloud purchases, iTunes will not only display your purchased tracks, but will "correct" their tags to match what's in the iTunes Store, if you've made any changes.
The only way to stop this is to uncheck that setting. Unfortunately, Apple doesn't understand that you may want to use iTunes in the Cloud, but not use all of its tags. I discussed this in an article on my website last year; I also explain an easy way to get back the changes you made to your tags.
If you uncheck this setting you won't be able to download items directly from your iTunes library. Instead, you'll have to go to the iTunes Store and download them from your Purchased list. You can access the Purchased list by clicking the button in the iTunes toolbar that shows your name and then choosing Purchased.
Sort, order
Q: As my iTunes music library grows, I find it more difficult to find the music I want when I list music by artist. I'd like to show my artists with their last names first. Is there any way to do this?
Alas, no. This would make sense, allowing users to see, say, Springsteen, Bruce, instead of Bruce Springsteen. I do this for the names of classical music composers, but I've never considered doing it for other artists.
However, there are a number of potential problems. What do you do for a band such as The Beatles? Would it be changed to Beatles, The? And how about Jethro Tull?
The only way to do this is manually, and that can take a while. Select all the tracks by a given artist and then press Command-I. In the Artist and Album Artist field, change the name, and then click OK. Naturally, you only need to change artists whose personal names appear, not band names, so you won't have to change your entire music library.
If you do this, remember to make the change each time you add or purchase new music, or you'll have music by some artists listed out of order, or even twice.
Have questions of your own for the iTunes Guy? Send them along for his consideration.