I'm a sucker for data. At my day job, I get to help businesses collect and analyze all kinds of information—a process that often leads to transformative change on the way our clients operate.
During my last physical, my doctor told me that it was time to start monitoring my weight and blood pressure, so naturally, I looked at this as an opportunity to try out HealthKit—something that I had been looking forward to ever since Apple introduced it with the launch of iOS 8. A couple months in, I'm here to tell you all about my little adventure in the land of smartphone-powered healthcare.
A health-centric shopping spree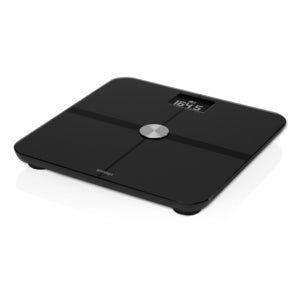 Before I could start measuring everything Tabini, I would obviously have to acquire some new gear—namely, a scale and a blood pressure monitor. Luckily, this task was made somewhat easier by the fact that the list of HealthKit-compatible hardware is not exactly rife with choice.
In the end, I settled for Withings' $150 Smart Body Analyzer, and iHealth's $80 BP7 Wireless Blood Pressure Monitor, both of which have somewhat mixed reviews online, but fared a bit better in recommendations from several friends who already own and use them.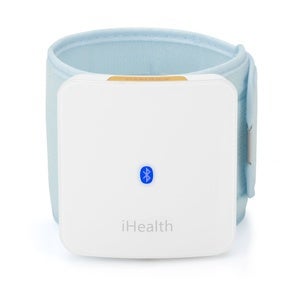 As I was shopping, the first thing that I noticed that this modern version of healthcare is a rich person's game: Both devices are significantly more expensive than comparable models designed to operate sans smartphone connectivity. But I decided to persevere, and placed my order through Apple's online store.
The weight of things
Since the Withings scale arrived at my door first, it was the first device that I installed and set up. Initially, I was taken aback by the documentation that came with it: The pictorial quick-start guide that I found in the box was so short on text that it would probably make an IKEA instruction sheet look positively verbose.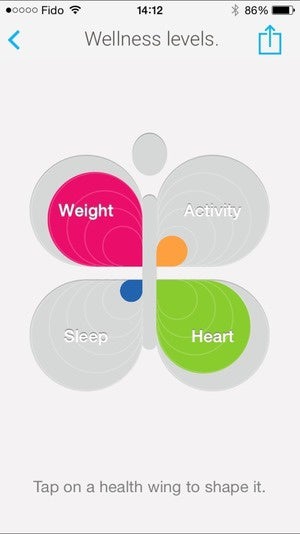 The scale can either connect to a companion iOS app running on your iPhone via Bluetooth, or directly to a Wi-Fi network; either way, provided that connectivity is handy, the process is almost entirely automated and painless, which, perhaps, explains the lack of a thick instruction manual. The only hitch I encountered was that my original choice of installation spot (the inside of a walk-in closet) turned out to be out of network range—a fact previously unknown to me, since I do not typically use my iPhone inside it. Once I moved to my bedroom proper, the scale connected without problem and started working right away.
Besides your weight, the Body Analyzer can measure a number of other things: Your body fat/lean mass composition and pulse, the temperature of your room, and the percentage of carbon dioxide in the air. Perhaps most perplexingly, it will also check the weather for you, and let you know if it's raining or snowing outside.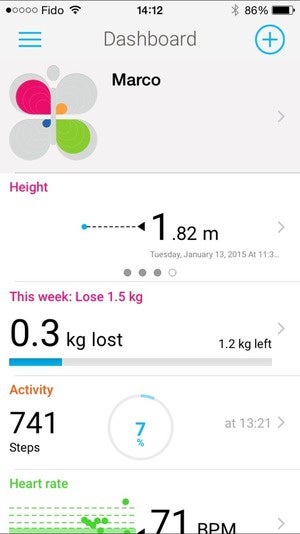 Once you strip away all the gimmicks, the scale works remarkably well. Simply stepping on it starts it up and causes it to go through a cycle that measures all your vitals, lets you know whether you need an umbrella, and then immediately sends everything to your iPhone. Even better, the device can tell different people apart based on the data it collects from them, dispatching the resulting measurements to a different device automatically and making it the perfect family health companion.
The Body Analyzer is also quite accurate; I compared it against the doctor's own scale and they both came within a few ounces of each other. It's hard to say whether the body composition analysis and CO2 measurements work as well, but they are, in my opinion, much less important than providing you with a consistent picture of your weight over time.
The pressure is on
Compared to Withings' picture showcase, iHealth's pressure monitor comes with a nice manual that includes plenty of information and pictures. Unfortunately, these are a bit sparse when it comes to explaining the subtleties of properly positioning the wrist cuff when taking your blood pressure—a pretty common problem, at least judging by the device's online reviews.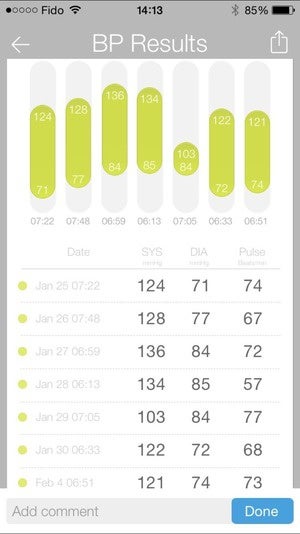 Indeed, on my first try, the measurements were so high as to warrant a visit to the hospital—hardly an auspicious start. On account of the fact that my eyeballs weren't exploding, I decided to take a trip to YouTube instead, where I was able to find instructional videos that provided better guidance, and a few attempts later I was able to get reliable readings that did not involve calling 9–1–1.
Unlike the Body Analyzer, the BP7 will only connect to an iPhone over Bluetooth, which isn't a big deal, given that you need your iPhone to start the pressure measurements anyway. The problem is that the device can only pair with a single smartphone, which makes it impossible for two people—say, a husband and wife—to share it.
Once you've figured out the proper way to do it, taking your blood pressure is a pretty simple affair. The device even comes with a convenient sensor that helps you appropriately position your arm, and the resulting measurements are—at least in my wholly unscientific experiments—about as accurate as my doctor's own pressure-measuring unit.
The proof in the software
Of course, hardware is only half the story, and it's not until I started playing around with the health-centric software available for iOS that the frustrations began.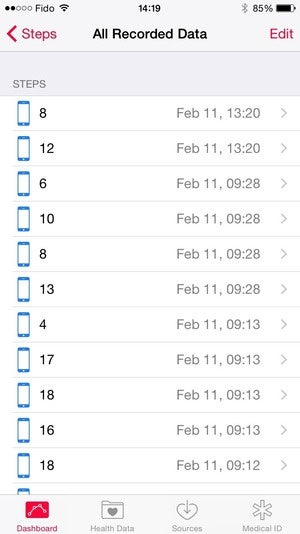 Both the Body Analyzer and BP7 come with their own apps, and I was a little dismayed that the two pieces of software insist on keeping their own copy of my measurements, rather than simply relying on the built-in HealthKit database. They all but required me to sign up for an account on their respective cloud services—where, undoubtedly, my personal information now resides.
To be blunt, I find this approach pretty invasive. I was hoping that Apple would have put its corporate foot down over these shenanigans, at least when it comes to health data, and prevented vendors who wanted to get on the HealthKit train from attempting to make such brazen grabs for information that is pretty personal in nature.
This seems particularly important when you consider that neither app adds much value to the data that their devices collect. BP7's app simply keeps a running spreadsheet of my blood pressure, and Body Analyzer's makes a feeble attempt at gamifying everything from weight loss to the number of steps you take in a day—which is off-putting to the extreme.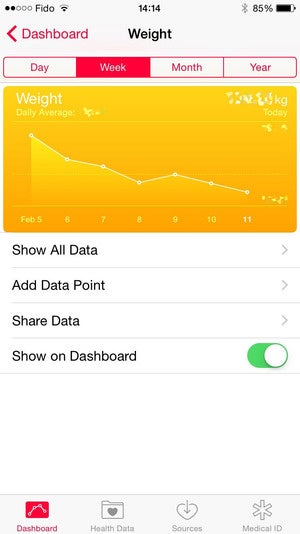 Worst of all is Apple's own Health App, which takes a complex job—storing and visualizing all kinds of data about your health—and makes a pretty substandard job of it. For one thing, the charts it produces are hard to interpret, because it's impossible to tell exactly what value is associated with each data point. Thus, you can more or less "guess" how your weight has changed over time, but the only way to tell exactly how much you weigh is to go look at the individual measurements, which are shown as a table in a different screen.
Unfortunately, this detailed view suffers from a fatal defect of its own: It takes longer and longer to load as you accumulate more data. To give you an example, my Steps screen, which contains information collected from the iPhone's built-in pedometer, takes several minutes to open up.
A mixed bag
Despite these hiccups, my experience with this "connected" way of managing my health has been very positive. During my most recent visit, I was able to show the doctor that my previous high blood pressure measurement really was a fluke, and the data from the Body Analyzer and pedometer helped us work on better ways to manage my weight and exercise regimen.
The only real disappointment in my little experiment was that, while the hardware performed really quite well, the software side of things seems to be limited to collecting the data and making a half-hearted attempt at visualizing it for you.
Call me cynical, but I don't really know what to make of an app that cheers me on while I drudge through an attempt at changing my eating habits. However, features like the ability to spot unusual (and potentially worrisome) trends, or even just reminding me that I forgot to take my blood pressure on a given day, would be immensely valuable—and also happen to be things that software can do really well.
The good news is that these technologies are still in their infancy, and the software is likely to improve with time, particularly as agencies like the FDA start taking connected devices into account.
Until then, HealthKit's major advantage over a pencil and a $20 scale is primarily one of convenience; if, like me, you aren't very good at keeping track of minutiae, there's something to be said for the ability to walk into your doctor's office with a full complement of health data at your disposal—it certainly makes for a more productive relationship with medical professionals.
If, on the other hand, record keeping is your strong suit, the additional expense connected with acquiring the hardware is unlikely to really give you more bang for your buck than a good old-fashioned spreadsheet.