Online dating used to be a way for shy, socially awkward people to meet their (shy, socially awkward) soulmates and begin relationships based on, well, more than just looks and sex. But when dating sites moved from the wired Internet to smartphones, well, let's just say things started to go downhill.
Now, instead of questionnaire-based sites like eHarmony, we have hot-or-not style apps like Tinder. Instead of looking for "the one," we're looking for the one who can take the sexiest selfie, and who's within 25 miles of our house and down to…get coffee.
I'm actually not here to hate on dating apps—they're an understandable and necessary way to meet new people, thanks to our jam-packed schedules and smartphone-obsessed society. But some dating apps have me shaking my head. An app that asks you to bribe users to go on dates with you? An app that doesn't let you message other people unless other people deem you "hot enough?" If you've got the Valentine's Day blues and are looking to try a new dating service, stick to OKCupid—stay away from these.
Carrot Dating
Online dating is tough, especially if you want to date out of your league, looks-wise. But how can you show that sexy girl (or guy) that you're worth it (because you have money)? Bribe them, of course!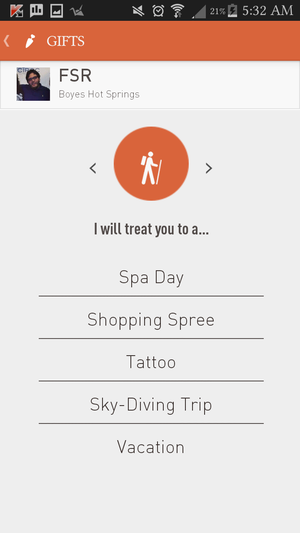 Carrot Dating is an app that lets you bribe (it literally says "bribe") people to go on dates with you. In fact, you can't not bribe people—the app only lets you communicate with people you have bribed or who have bribed you.
Does that sound totally sketchy? Well, that's because it is. Here's how it works: You sign up with Facebook or with an email address and you upload a photo and a short bio. You can then purchase credits (10 for $5, 50 for $20, 100 for $30, or 250 for $60) if you want to be the briber, or you can just sit back and hope you look sexy enough if you want to be the bribee.
Bribers can choose from a number of preset bribes from different categories (dining, entertainment, gifts, and activities). Bribes include everything from traditional dates such as "dinner" to…less traditional gifts such as "a tattoo" or "plastic surgery treatment." Bribees can accept the bribe, reject the bribe, or negotiate the bribe by saying "Let's Do Something Else." Carrot Dating acknowledges that "once a bribe is accepted, it's up to the members to communicate and plan the details of the date," and that even after a bribe is accepted, "some dates may not happen."
Sketchy bribing situation aside, the Carrot Dating app is fraught with technical issues. The app doesn't log your sign-in info, so you have to login every single time you open it. And you'll be opening it a lot—the app crashes every five minutes, and is otherwise slow and laggy. Plus, the iOS app has actually been pulled from the App Store, so no new members can join (and, trust me, that's a good thing).
I know, I know—traditional dating involves a lot of give and take, money-wise. Carrot Dating is just cutting to the chase, right? I don't know about you, but putting the money on the table bluntly screams of an "arrangement," not a relationship. And, not surprisingly, the creator of Carrot Dating is also the creator of sugar daddy/sugar baby online dating website Seeking Arrangement.
FaceMatch
Looks-based rating apps (think Tinder and Hot or Not) are…not great, unless you're looking for a quick, shallow hook-up. But FaceMatch (free), formerly known as HotScore, is somehow even worse.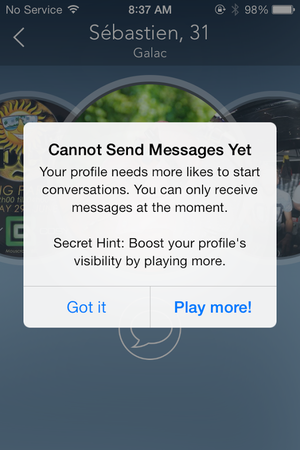 On the surface, FaceMatch looks like your typical Hot-or-Not type of app—it's a gamified dating app in which you're asked to choose the hotter of two people. Each "game" consists of five matches; once you're done "playing," you can go back and take a look at the people you thought were hot (or rather, hotter). And then you can message them.
Oh wait, no you can't. See, there's another level to FaceMatch: Social currency. According to creator Val Lefebvre, the big problem with dating apps today is that they don't separate the wheat from the chaff. And thus, super sexy hot people (such as myself—duh—and, apparently, Mr. Lefebvre) are stuck getting messages from less attractive people, and that's just…terrible, I guess. So, to fix this, Lefebvre has introduced the idea of social currency—the more "likes" your profile gets (that is, the more people who think you're hot), the more you can communicate with others on the site. If you have a highly ranked profile, you can message just about anyone you want. But if you have a low-ranked profile, well, you have to wait to be messaged by other people.
There are a few obvious issues with this setup. First of all, it's completely biased toward conventionally attractive people. But life is already biased toward conventionally attractive people, so is it really a great idea to exacerbate this? Second, if two less attractive people like each other, but neither has enough social currency to start a conversation with the other, well…I guess they're just stuck in weird dating app limbo. And, you know, this whole concept is degrading.
Lulu
Lulu (free) technically isn't a dating app—it's a researching app. But because stalking— er, researching—a guy online fits within the realm of online dating, I've decided to include it in this round up.
The premise of Lulu sounds somewhat noble: It's a private, anonymous, ladies-only network where women can "share their experiences" and "make smarter decisions." In other words, it's a shameless rating app where girls can rate guys they've known or dated with hashtags like #AlwaysPays and #ManChild. Women can also give guys scores (out of 10) for various categories, including style, humor, manners, ambition, and commitment. Again, the idea here is that women can "research" potential partners by, um, looking at other girls' experiences with said partners (to be fair, most of the reviews on the app appear to be from guys' friends, rather than one-night stands).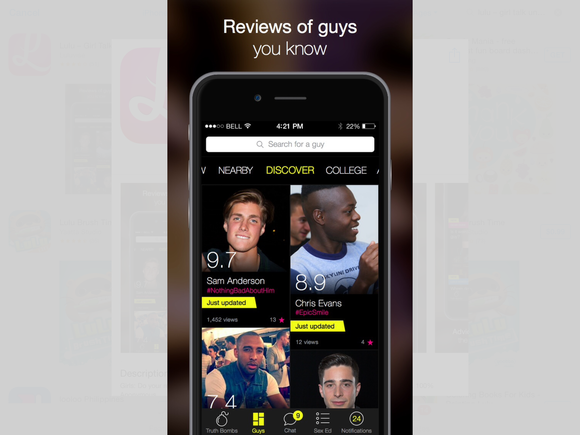 Yeah, any app that actually encourages you to stalk your date is probably something you should avoid if you want to have a healthy relationship. That said, Lulu isn't quite as bad as it sounds. First of all, it works on an opt-in model—any guy reviewed on the app has to first sign up for the app (guys can track their Lulu reviews, though they can't review other guys). If, at any time, they decide they don't want to be on the app, they can simply remove themselves. In other words, the guys you should be worried about…probably aren't on this app to begin with.
Lulu also keeps it pretty tame by giving ladies a list of hashtags to choose from—women can't enter in their own hashtags, so you're probably not going to find anything too scandalous.
Down
Down (free), formerly known as Bang With Friends, is an app that initiates hookups between Facebook buddies.
Because who doesn't want to hook up with their younger brother's college roommates, am I right?
For what it's worth, the concept behind Down isn't awful, if you think about it. After all, it makes more sense to hook up with people you sort of know via Facebook than it does to hook up with people you've never met before via Tinder, right? But that doesn't make it any less creepy when the app asks you to rate a bunch of kids you've known since elementary school.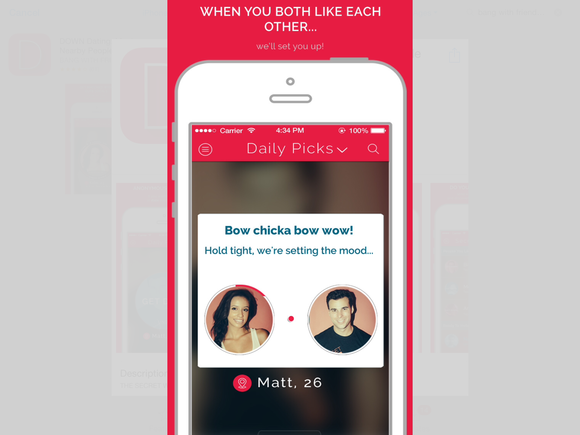 Because Down is based on your Facebook friends list, you must sign in with Facebook. Don't worry, though—the app promises it will never post anything to Facebook on your behalf. Next, the app asks you to go through your friends list and rate your friends by swiping up for "get date" (meaning, "I would like to have coffee and potentially a relationship with this person"), or down for "get down" (meaning… well, something else besides coffee) or to the left for "NOPE." Like Tinder, the app only lets the other person know that you want to have coffee/hook up with them if they also want to have coffee/hook up with you, so nobody gets embarrassed.
The app lets you choose who you'll see: Guys, girls, and friends or friends of friends. You can also search for people by name, if you know who you're after. The app does not discriminate by relationship status, but it does take friend location and sexual preference into account when showing you people to rate. Also, in the (horrifying) event that you accidentally swipe "get date" or "get down" for someone you shouldn't have, you can undo the action by searching for them and tapping "undo."
Finally, if you want to "increase your chances," you can have the app send your chosen "friend" an anonymous text message (assuming you have your friend's phone number), asking them to download the app and hopefully rate you. In other news, this is an excellent way to prank your single friends—sorry guys!
Is Down any worse than Tinder? No, not really. But it's much more difficult to get in the "online dating" mood when you have to keep swiping past your boss, your extended family, and your old high school teachers.
Mingleton
Proximity-based dating apps are great for hooking up, but Mingleton (free) might take the "proximity" part a little too far. Mingleton is a Tinder-like dating app that matches you up with people who are in the same room as you—seriously, it looks for people who are "within up to 50 meters" from your location.
At first, this doesn't seem too bad. After all, if you're looking to get down with someone at a party, it's probably easier if they're, you know, at that party. Like Tinder, it's a mutual opt-in app that asks you to like people (ask them to "mingle"), and then it only connects you to people who also want to "mingle" with you.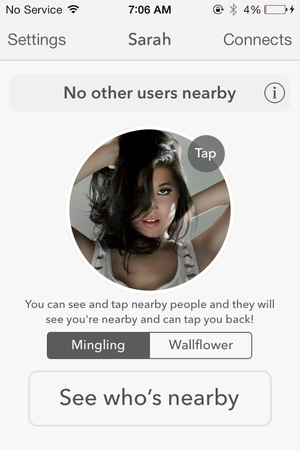 But while this concept of mutual opt-in works on Tinder—because if you don't want to mingle with someone on Tinder, you can just not ever meet them—it's not quite as easy in a Mingleton situation. It definitely sets the stage for potential stalking, since you can simply look around the room (or festival, or whatever) and see the person who has rejected your invitation. After all, they're within 50 meters of you—that's just more than half the length of a football field.
In other words, while Mingleton means well (the point, according to the creators, is to get people to do some IRL mingling), it's just super creepy and weird, and it probably makes for a lot of uncomfortable situations.
A slightly less-creepy, but still extra-close-proximity-based app is the newly launched Happn, which is sort of like Tinder mashed up with Craigslist's Missed Connections. Unlike Mingleton, Happn simply logs people as you cross paths with them, and then asks if you want to meet them later on, instead of logging people who are standing next to you.