Heaven for a hardcore graphic artist or photo editor is a Wacom Cintiq, one of those fancy input devices that builds in a display and includes a pen stylus for drawing, painting, or retouching photos. They're amazing, but they're pricey and not the most mobile.
What if graphic artists on a shoestring could simply use their iPads, at a fraction of the cost and with glorious portability? Astro-HQ wants to make that possible with software that transforms an iPad into a Mac graphics tablet. Founders Giovanni Donelli and Matt Ronge are even former Apple engineers.
Their product, Astropad, consists of companion apps for Mac and iPad. With the apps installed, the tablet links to the computer via Wi-Fi or a syncing cable to become a touchscreen editing surface for just about any Mac-based graphics program.
Draw on your iPad to draw on your Mac
Astropad unifies the iPad and Mac screens into one mirrored interface, with the tablet typically zoomed in to a portion of a work area that is shown in its entirety on the Mac. You can zoom and pan on the tablet to move around a graphics project in progress, glancing over to the Mac screen for reference. A set of buttons on the side of the iPad's screen provides access to Mac commands and shortcuts, so you don't have to switch to your computer as often.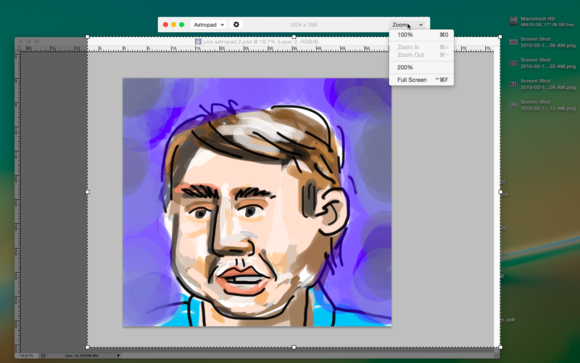 Customized Photoshop controls work well out of the gate, including a floating pallette with Adobe-specific tools on the right side of the iPad screen. But the developers say the commands also work fine with other Mac graphics programs, and you can customize them as needed.
Astropad has been designed to work with popular stylus models such as Adonit's $30 Jot Pro, Wacom's Bamboo line, and FiftyThree's $50 Pencil. Some styluses incorporate pressure sensitivity, which is important since iPads do not natively build in this capability the way pro graphics displays do. Astropad even lets you program the buttons on such styluses for specific functions.
The developers are crossing their fingers at rumors of an imminent Apple-branded stylus, as well, since they think that would help put their apps on the map. (So would a much-rumored 12-inch iPad Pro, they believe.)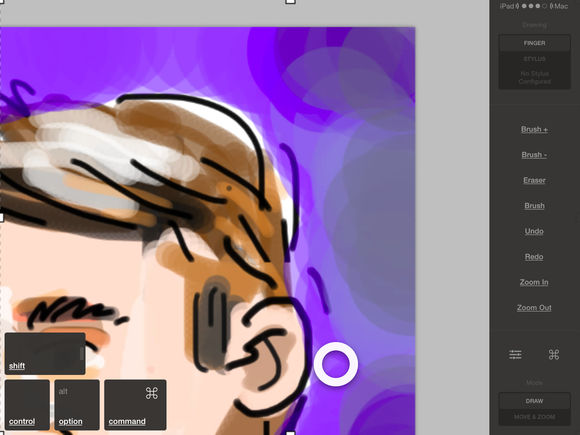 Astropad is not an entirely new idea. Rival apps such as Air Stylus and Limner provide similar capabilities. But Astro-HQ claims superiority over competing apps in a few key ways. First, images on the iPad have been "color-corrected to match what is on the Mac," says Ronge, and the software aims for "really high image quality."
"We have focused on the fidelity of the pixels," Ronge explains. "With other apps, you see JPEG artifacts, fuzzy things around text, and hard edges. Someone with trained eyes, like an artist, will pick up that stuff."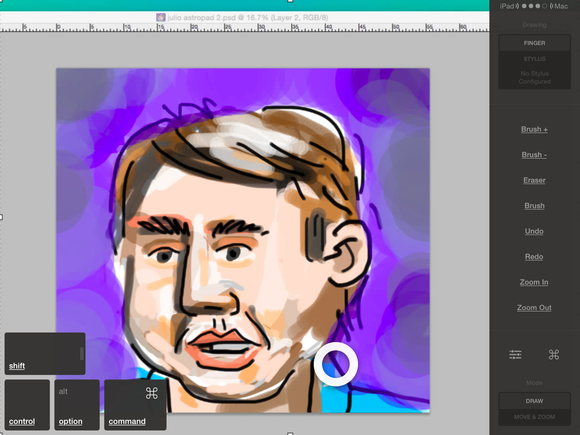 The developers say they also focused on Astropad's performance, because other attempts to make an iPad a satellite to a Mac have been marred by lag and stuttering. Astropad is supposed to greatly enhance graphics fluidity and responsiveness via a software engine the developers call "Liquid."
Astro-HQ also claims greater stylus compatibility than competitors. Limner, for instance, only works with a trio of styluses, but Astropad should work with just about any iPad-compatible stylus now on the market. Astro-HQ also claims nearly universal Mac-app compatibility, meaning any Mac graphics program should work with Astropad, while Air Stylus works with some apps but not others.
Test drive
At $50, Astropad isn't insanely expensive, although it is priced like a professional-grade app. So we handed it to David Steinlicht, a professional cartoonist with two published comic-strip volumes to his name. Steinlicht tried Astropad with Photoshop CS5 and Studio Neat's Cosmonaut stylus on a MacBook Air and year-old iPad mini 2.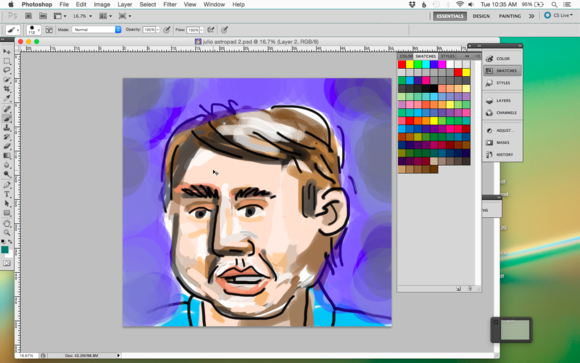 The small iPad felt a bit claustrophobic, he said, adding, "I wonder if it would have been a little more fun using a full-sized iPad." But he found Astropad "very easy to get going."
Steinlicht has never used a Cintiq-style pen display, only a traditional Wacom graphics tablet with no screen, so "seeing the drawing appear on the iPad, right underneath the stylus, is sweet! That is the way it should be."
Steinlicht encountered minor performance issues, but said these weren't deal breakers. "I feel the traditional Wacom input is a little more instantaneous," he said. "But the lag is not that noticeable while using Astropad."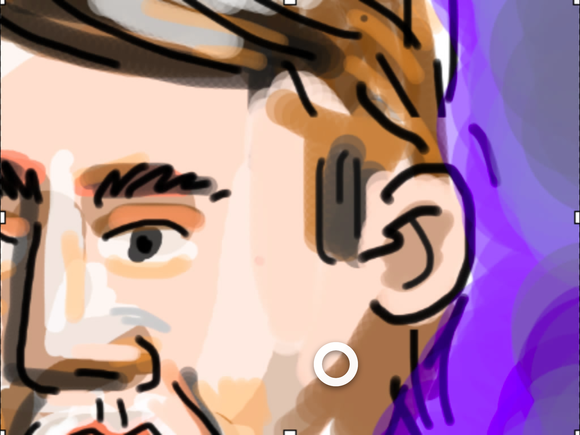 Using Astropad effectively required a bit of practice, too. "I had a little bit of a time understanding what it was doing, what was an active area (on the iPad) and not," Steinlicht said. "I think I was slightly confused because I have not really used a Wacom tablet for a while. This program really spells out what is an active area. On the Wacom, it just works or doesn't."
He isn't sure he'd keep using Astropad, but it's "very nice stuff. I enjoyed playing with it. It gave me a peek into what having a Cintiq would be like." Steinlicht whipped up four images using Astropad. Three were drawn from scratch, and the fourth, an image of the late New York Times writer David Carr, is a tracing of a photo found on the Internet.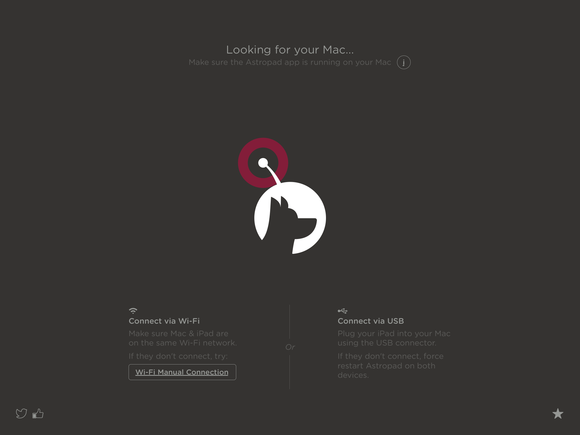 One final Astropad note: If the dog that is part of the product's logo seems familiar, that is because it's a variation on Apple's famed Dogcow. The developers said they have been inspired by that and other Apple classics, such as the pioneering MacPaint app bundled with the first Macs.
And, as Steinlicht observes, it might not be coincidental that the pet dog in the beloved cartoon The Jetsons is called…Astro.