The dance of printing a document, taking a pen and signing it, then scanning and emailing it to a banker or client is one I think we've all done. It's also extremely inefficient, not to mention annoying.
The Mac's handy-dandy Preview app makes it possible to fill out and digitally sign a document, but it's just as easy to sign from an iOS device, and of course there is no shortage of apps for that. I've whittled that selection down to these five that cover all the bases, letting you sign, fill out forms, connect to your cloud storage accounts, and use's iOS 8's share extension, among other features. The differences between them boil down to aesthetics, workflow, and pricing—which means one of them is probably just right for you.
SignNow
SignNow offers a free app for both the iPhone and iPad. If you only need to sign five documents (or fewer!) per month, the free tier will cover you. Anything over that requires a monthly service plan, which aren't cheap—a Pro account purchased in-app is $25/month or $180/year.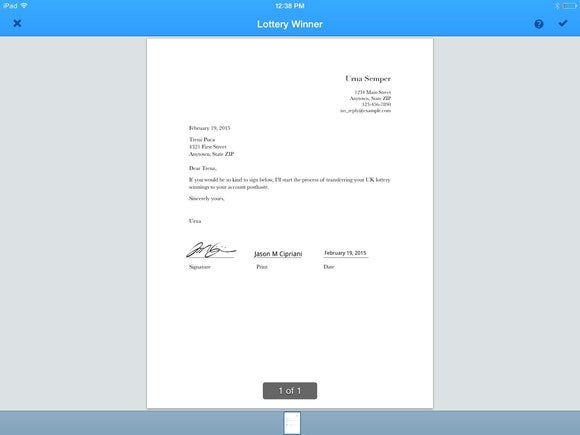 Of all the apps, I found SignNow to be the most visually appealing. Not to mention the quality of the signature placed onto the document was top-notch. The process of sending a document to someone else for him or her to sign allows for you to place buttons on the document, designating what information is needed where, and from who.
SignEasy
SignEasy is free, but limits you to signing three documents. Total. After you've reached the limit, you can purchase an additional allotment of 10 documents for $5, or a year of unlimited signatures for $40.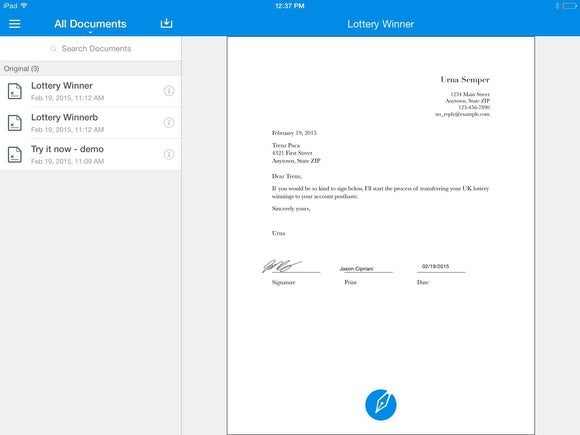 Also hidden behind the additional fees is the ability to unlock the app with Touch ID or passcode. If you ask me, securing my account should be free. SignEasy could also benefit from a clearly defined method for requesting signatures from someone else.
DocuSign
DocuSign has long been my go-to document signing app, only for its availability across multiple platforms, including web). The app is free to sign as many documents as you need to, with a limit on the number of sent docs. Plans for sending documents start at $10 per month (paid annually) for five docs per month.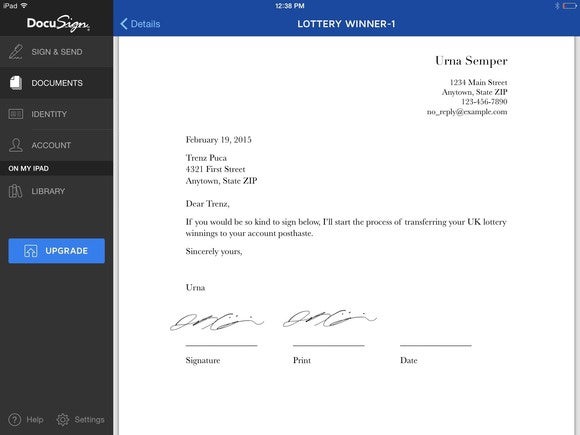 My only reservation with DocuSign is that the signature and text placed onto a document doesn't look near as crisp and refined as SignNow and SignEasy. But admittedly, I'm nitpicking. The app and service do the job with little fuss.
PDFpen 2
PDFpen 2 is the only app on this list you need to pay for up front—but then you'll never pay again, no matter how much you use it. The $20 price tag may be considered steep by some, but with no subscription fees or usage limits, it becomes a value.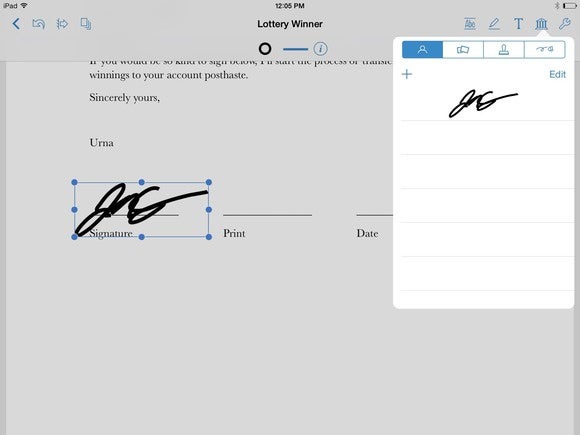 Adding a signature isn't completely obvious the first time you use the app, since it's geared more toward editing and working with PDFs. It auto-detects fields in PDF forms, making it easy to go from one field to the next, filling in your information along the way. To sign a document, you need to draw your signature on the line. After that you can save your signature for future reference. Once a signature is saved, a couple of taps is all that's required to sign another document.
PDF Reader
PDF Reader is completely free, with no restrictions on the number of documents you can sign. The only downside is having to deal with ads. For someone who doesn't sign a lot of documents, though, it's a solid choice.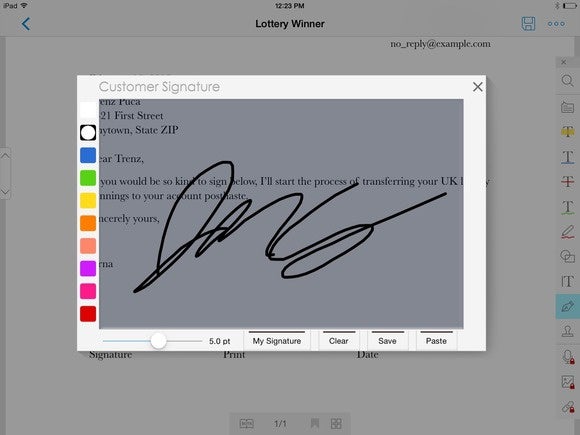 Similar to PDFpen 2, PDF Reader is designed to be a PDF editor first and document signing app second. Features for highlighting text, scribbling notes on top of a document and the like are found throughout.
Digitally signing documents and forms might be nowhere near as personal as putting an old-fashioned pen onto a piece of old-fashioned paper and scribbling your John Hancock. But it wins on speed and convenience every day of the week.