It's Friday night—time for you and your buddies to hammer out your plans for the evening. You know the drill: you start with a group text, then you launch Yelp to find a restaurant or bar nearby. Oh, there will be eight of you? Better make a reservation; switch to Open Table. Joe suggests you catch a movie first, so now you launch Fandango. And the app-switching cycle continues until your plan is finalized.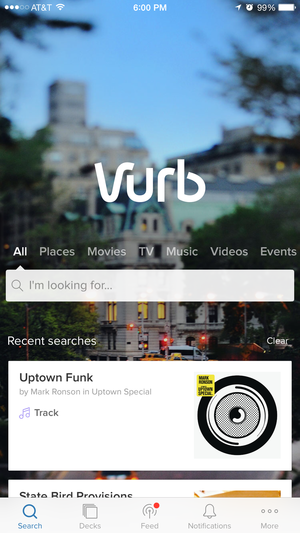 Having all of these different apps and functions in one place that doesn't require the back-and-forth launching is a dream scenario, and that's exactly what new iOS app Vurb, which launches Thursday, is trying to accomplish. Vurb connects to a bunch of different sources—Yelp, Foursquare, Fandango, Uber, Lyft, Rotten Tomatoes, Tastemade, and Google Maps, to name a few—to present it all within a single app, eliminating the need to constantly switch.
"All of these individual apps are siloed, so you have to use a bunch of services to get things done, which actually can take longer," said Vurb's founder and CEO Bobby Lo during an interview with Macworld. "Vurb adds a layer that connects you to the apps you need, and takes you from A to B to C, all the way to the end of your task."
In the real world, Vurb actually holds its ground as a stellar planning tool. On launching the app, you'll first search for activities, which are broken down by category: places, movies, TV, music, videos, and events. Toggling between those main categories shows you points of interest nearby your current location (or things that are trending, in the case of TV shows, music, and videos). You can also search for something specific by typing it in.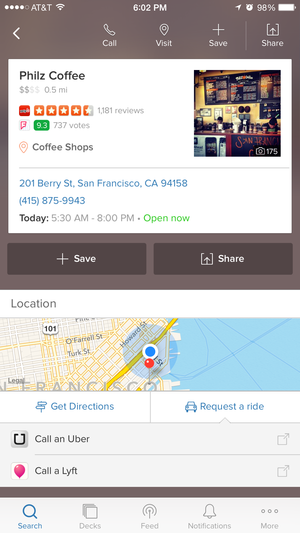 Each listing (place, movie, song, etc) is called a Vurb Card, and tapping on a card reveals much more info from a bunch of different apps. For example, when looking at a card for a restaurant, you'll see reviews from Yelp, Foursquare, and Tastemade, and you'll also see its location on a map and prompts for different follow-up actions—like getting driving directions from either Google or Apple Maps, hailing an Uber or a Lyft, or finding other cool spots in the area.
Once you find something of interest, you can shuffle that card into a themed deck to reference later. Decks can be about whatever you want: date night ideas, tiki bars you want to scope out, upcoming movies you want to see, or anything else. You can also share decks with other users and open them up for collaboration, so you and your friends can add cards of activities and add comments as you make a plan.
For another approach, an entire plan could be stored as a deck, with different cards for each part of the outing. For example, a deck for a San Francisco day trip could have cards for Andytown Coffee Roasters, Lands End Trail, Baker Beach, El Farolito, the Exploratorium, a playlist of songs to fit the day (pulled from iTunes, Rdio, Spotify, or YouTube), and more—whatever activities you'd like.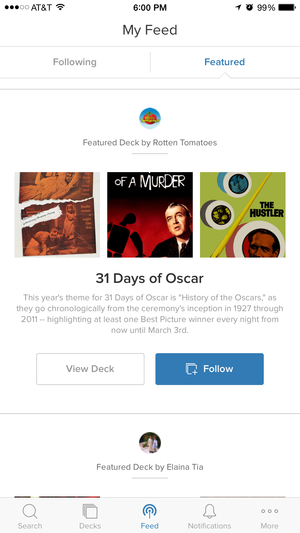 Vurb also has some additional discovery tools—you can follow other users, or explore Featured Decks created by other Vurb power users, which Lo hopes will change daily. A word of caution, though: Featured Decks seems ripe with potential to show off branded or sponsored content. Currently, Rotten Tomatoes has a curated list of Oscar-winning movies as a Featured Deck, which I think makes sense and find it a fun, useful list. However, as Vurb expands, it seems possible that more intrusive branded content could show up here.
While the app really shines when used with other people, you can make decks and share them with friends even if they aren't on Vurb, which is awesome—I'm willing to bet that some people might be hesitant to install yet another discovery app, even though Vurb really is more than that.
Vurb is a free app for the iPhone, available now in the App Store.