Playlists are one of the best, and most creative ways to organize music in iTunes, and to listen to music on your iOS devices. But sometimes, it can be hard to figure out how to make complex playlists. In this week's column, I look at three questions about playlists, both standard and smart. And I also look at an issue where album art, for some albums, changes on iOS devices.
Playing multiple playlists in order
Q: Is there a way to play several playlists in sequence? Placing them in a folder doesn't retain the song order.
I can think of two ways you can play several playlists in order. The first involves using regular playlists, and the second uses a smart playlist to combine several regular playlists.
Using the first method, let's say you have three playlists that you want to play in order, and they are named Playlist 1, Playlist 2, and Playlist 3. These three playlists could be regular or smart playlists.
Create another playlist—let's say it's called Combined Playlist—and drag each of the other playlists onto it in iTunes. First drag Playlist 1, then Playlist 2, then Playlist 3. When you look at Combined Playlist, you'll see that it contains all the tracks from the three original playlists, in order.
The second method uses a smart playlist to combine three regular playlists. Create one with the conditions Playlist is Playlist 1, Playlist is Playlist 2, and Playlist is Playlist 3. Make sure that this playlist matches Any of the following rules at the top of the window.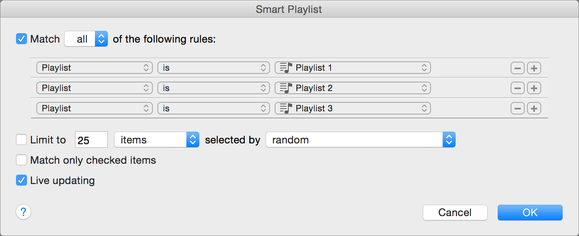 As long as you don't change the sort order of the smart playlist (by clicking any of the column headers), or set the playlist to play in random order, the songs will play in the order of the playlists you use as its sources.
No comment
Q: I enjoyed your article about creating complex smart playlists. I'm trying to create a playlist of all songs in the pop genre where the comment field is not blank, but I can't get it to work. Any ideas?
This is actually quite simple, and you can use the same idea to create playlists where any field is empty. Just create a smart playlist with the condition Comments is ; don't type anything in the last field. The smart playlist window should look like this:
After the first condition, you can add another, such as Genre is Pop to obtain the smart playlist you want. You could also use this technique to find tracks where certain tags aren't filled in, such as the Year tag, or the BPM tag, so you can enter metadata for those tags.
Unplayed tracks
Q: I want to make a smart playlist for about 100 tracks that have no Last Played date. The problem is that about 10 of those tracks have a Plays count of 1 (I don't know how that happened). How can I make this playlist?
Unlike some fields, the Last Played field in a smart playlist cannot be empty; when you choose that condition, the window shows you a date, in the form mm/dd/yyyy. What you can do, however, is zero the play count of the 10 tracks that say they have been played once. To do this, select all the tracks, right-click, and then choose Reset Plays.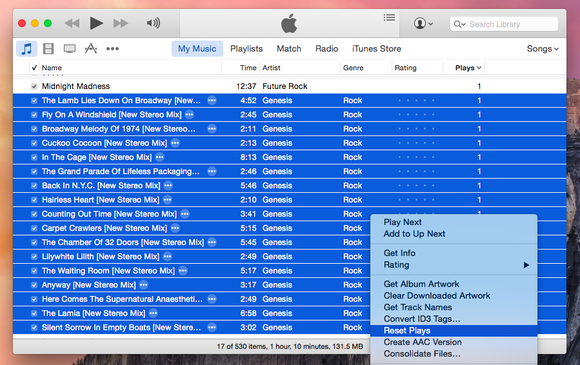 Next, make a smart playlist with the condition Plays Is 0, and this will pick up all your unplayed tracks.
What changed my album art?
Q: I recently noticed on my iPhone that the album artwork for all of the songs in my Beatles box set is the same "box set" artwork, rather than the artwork that I manually added to each album. I also have the Led Zeppelin Box Set, but those songs have the proper original artwork. Is this a server-side issue with iTunes, or can I fix this?
I received this email in mid-January, and, shortly after that, I started seeing the same thing on my iOS devices. It drove me crazy, because I couldn't figure out why this was happening.
I have three "digital box sets" purchased from the iTunes Store: Bob Dylan, Pink Floyd, and U2. I had replaced the artwork for each album with the original artwork, but, for some albums, I was seeing the "box set" artwork.

Since the original artwork for the box sets I have isn't in my iTunes library at all, I was perplexed. I spent some time digging into this issue, and I think I found out why it's happening, but I didn't really find a long-term fix. There's a lot more detail about this on my blog, but here's the short answer:
When you sync iOS devices, they connect to iTunes Store servers and download box set artwork for some albums (though I don't know why they don't do this for all albums). You can prevent this by putting your iOS device in airplane mode when you first sync the songs in question, but if you ever resync them, because you've changed tags, for example, they may pick up the box set artwork again.
Have questions of your own for the iTunes Guy? Send them along for his consideration.