It's impossible to truly know how you'll take to a device until you live with it for a while. That might be true for all gadgets—including smartphones—but especially so with wearables, which might be strapped to your wrist or affixed to clothing all day and night. It might function, but is it comfortable? Fashionable? Spending a couple minutes with a demo unit at a store isn't the same as donning it for a full workday, taking it to the gym, and sleeping in your own bed with it.
Finding the right wearable can be a pricey endeavor. I learned that tiny Fitbit trackers probably aren't for me when I "lost" one for several months—and later found it safely nestled in a rarely worn pair of jeans. My wife similarly hasn't taken to easily overlooked clip-on fitness trackers: she just wants something that's relatively inconspicuous, but won't be regularly forgotten on her nightstand.
She thinks she's found the one: the Jawbone UP24 wristband. That's because she spent the better part of a week wearing one sent by Lumoid as part of its home try-on service, which lets you pick five different devices (mostly fitness and/or sleep trackers) to test out. The devices are sent to your home, you spend a week with them, and then you mail them back. If you want to keep something, Lumoid will sell you a brand new one. If not, you'll pay a small fee for the weeklong trial.
In the market for a new wearable? I spoke with Lumoid founder and CEO Aarthi Ramamurthy about the try-on service and what's ahead as the Apple Watch and other advanced devices emerge.
Lovable wearable?
Wearables actually aren't Lumoid's first offering, and almost certainly not its biggest moneymaker: the company rents out a wide array of camera bodies, lenses, and kits by the day, perfect for events or vacations. You can also rent flying drones or Google Glass—you can't even buy Google Glass anymore. Simply pick the days you want the gear, pay the rental fee, and it'll arrive at your door just in time. And then you'll drop it off at FedEx when the term ends.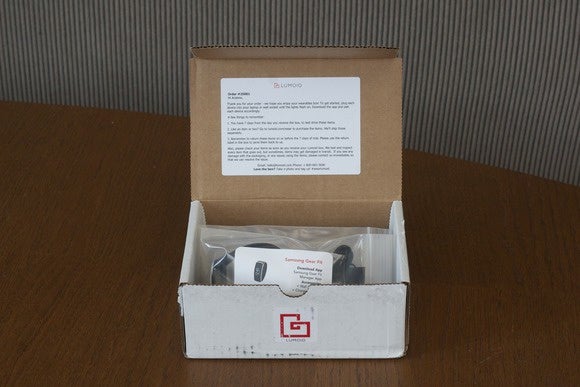 But the wearable box is something different: multiple devices in one small box, with a fixed trial period and a single fee—which is applied to the purchase price if you decide to buy anything during the trial period. The idea came from existing customers who loved being able to test out a pricey item before committing to a purchase, and wanted to do the same with wearable gadgets.
"The biggest problem that our customers had with wearables was that they didn't know which wearable was right for them. Each customer had a different need—like tracking sleep, losing weight, or being able to run faster," says Ramamurthy. "It didn't make sense to apply the same business model as photo/video gear to wearables, because wearables are less expensive but have a lot more variety."
And thus the home try-on box was born and launched in January. I ordered a box with a few devices I'd been eager to test out, and had a chance to try the Samsung Gear Fit, Withings Pulse O2, and aforementioned UP24 amidst the pack. Each device was packaged in a plastic baggie with the necessary cables, as well as a label noting basic features and functionality, as well as which smartphone app to download.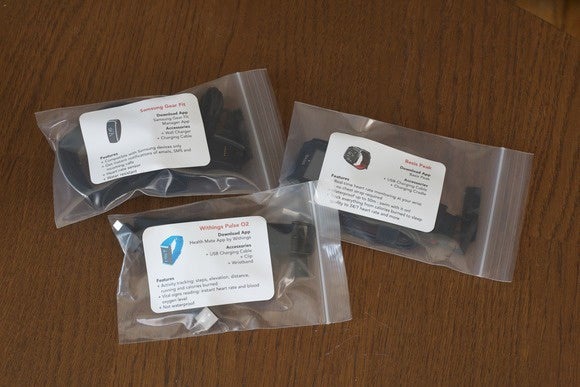 All of the devices looked clean and ready to wear—a couple didn't even appear to have been used before (the Pulse O2 still had a translucent sticker around it). General instructions for the program and process were included inside the box, and everything appeared neat and orderly. A return label was found at the bottom, and on the sixth day after receiving the box, I received an email saying it needed to go back tomorrow. A quick drop at FedEx and the process was complete.
More to come
Granted, it took almost three weeks for the box to reach my doorstep—the order wasn't even confirmed for two full weeks, whereas the email I received after choosing my devices suggested it'd be just a day or two. Ramamurthy chalks that up to intense demand, with hundreds of orders outpacing their supply. "A good problem," she admits, but one that initially backlogged orders. "We're in much better shape now, and orders are going out much faster as our inventory pool and supply chain is improving," she explains.
And Lumoid has made other improvements in response to user feedback, such as adding more detailed setup instructions to the boxes, and creating walkthrough videos viewable on the website. She says it's too early to share conversion details—that is, how many people buy one of the devices after testing it—but notes that the rate is climbing each week as they improve the packaging and turnaround speed, and make things as easy as possible for consumers.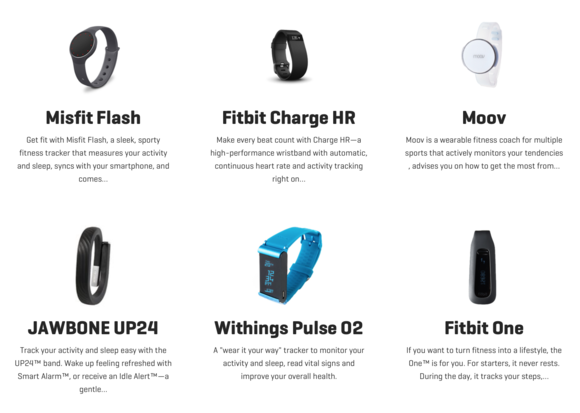 The home try-on selection has already improved significantly since I chose my devices: additional options like the Fitbit Charge HR, Nike+ Fuelband SE, and even the Withings Wireless Blood Pressure Monitor weren't listed for me back in January, and the total selection comprises about 20 devices at present. However, the rental price has also increased, up to $25 for the week from $20 at launch.
Smartwatches are currently absent—actually, the standard Pebble is available if you search for the device, but it's not listed on the wearables selection page. But you won't find any Android Wear watches amidst the pack. Lumoid says it's considering such options, although it's unclear if those watches would be available as part of the home try-on or rented separately like the site's pricier gadgets and gear.
At least the Apple Watch is destined to appear on Lumoid. The company has already established a wait list for the smartwatch, and says it "will have limited units for you to try before you decide to buy one." If the idea of spending $350 on a wearable hasn't quite clicked, then Lumoid may have one heck of an offer for you come April.