Greetings! You may be used to a much thicker mane of hair occupying the Mac 911 seat, but as you may have heard, one Mr. Chris Breen has gone on to greener pastures as an orchardman, and I've been tapped to take your questions.
I started using a Mac in 1985 and never stopped. I even owned a G4 Cube. My first smartphone was the original iPhone; my current, an iPhone 6. (Is it my last? As they say in Maine: Not yet.) Your problems are mine, and I feel your pain, and want your questions.
You can email things that perplex you or need solving to mac911@macworld.com, tweet them at me (if brief) @glennf, or call 206–337–5833 and leave a voicemail message. (We'll be experimenting with some audio in the future, and may put your question "on the air.")
Now on to this week's travails.
Missing Wi-Fi adapter
Apple has built in a Wi-Fi adapter in most models of Macs for a decade, and the remaining ones for several years. Thus it was a surprise to tweeter Jeremy when his Mac, after a crash, displayed an X in the Wi-Fi menu which, when clicked, revealed a gray label: "Wi-Fi: No hardware installed."
Well, it was just there a minute ago! I advised Jeremy to restart and reset the NVRAM (once called PRAM), in which a number of boot-up parameters are held and sometimes get corrupted; and then, failing that, escalate to resetting the System Management Controller (SMC). The SMC reset did it.
I've heard in the past from other users that they've seen this problem when their Wi-Fi adapter has become flaky, and they ultimately replace it (if under its original warranty or extended AppleCare), or buy a USB Wi-Fi adapter, some of which come with Mac OS X drivers.
In Apple's discussion forums, some users suggest downgrading to an earlier version of Mac OS X and then upgrading again, or reinstalling OS X, both of which should be last resorts. (See our step-by-step guide to installing Yosemite; just don't perform a clean install.)
Dark matter filling space
It turns out that astrophysicists have a pretty good idea of how much dark matter there is in the universe and some speculations about what it might be made of, even though it can't be measured directly. It is not, however, filling your OS X boot drive or your iPhone or iPad's storage in the "Other" category. That cause remains murky, and reader Jeneva writes in to ask what's up with that.
I've regularly experienced a startup drive's free space shrink from 30GB to 5GB with OS X 10.10 (Yosemite), and occasionally with 10.9 (Mavericks). Later updates to Yosemite seem to have slowed the pace at which this occurs.
Mac OS X and various Apple and third-party apps write temporary files and cache files to disk. Temporary files are intended to be just that: they're written during some kind of large copy or move operation, where the original file shouldn't be deleted until the new one is created. (Just like Star Trek's teleporter, "moving" a file just copies it to a new location and destroys the original.)
These temporary files are sometimes orphaned: a program crashes or permissions are wonky, or there's a bug that fails to delete files when they're no longer needed. On occasion, I'll find an errant file with a datestamp from a decade ago! Sadly, they don't increase in value over time.
Software like that from Apple that supports automatic storage of previous versions of the same file can fill space like mad, too, and that space is only reclaimed when files are deleted. There's no way to flush those versions; it requires work in the Terminal and then careful checking. One colleague wrote in to say the versions folder, a hidden one named .DocumentRevisions-V100, was occupying 192.5GB of her 250GB drive.
Caches are a different matter. These are actively used by software to store bits and pieces that the apps need to have readily available and can't store in memory. Rebooting my Yosemite computers often frees up 15 to 25 GB of this dark storage, very likely because OS X has created vast caches that it can't seem to unwrap.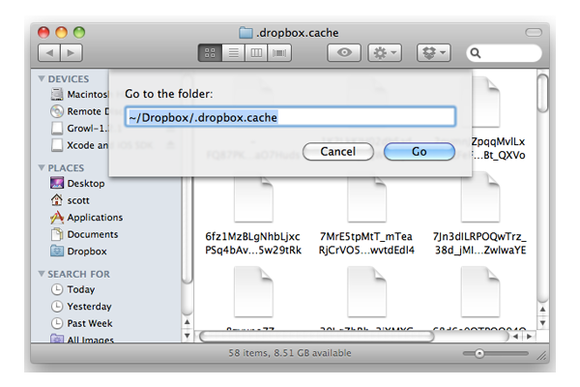 Dropbox is another likely culprit, if you're a regular user. While it only caches the last three days of file transfers locally, relegating older deleted files and previous versions to its website, three days can add up. The company offers simple instructions to delete its cache files. Checking just now, I had 2.5GB of Dropbox cache!
Another common cause? Older iTunes backups of iOS devices. If you still or ever use iTunes to create a backup of your phone or tablet, every manual backup is retained forever, and can represent gigabytes of old data. Launch iTunes, choose iTunes > Preferences, click Devices, and you can see these elder files. Select and click Delete Backup one at a time to free up storage if you're sure those aren't current.
If you'd like to get more insight into what's on your drive, WhatSize ($30, free trial with some features disabled) will examine your drive, and display caches, temp files, duplicates, and more, while also offering tools to clean things up.
iOS offers fewer ways to gain insight into its Other category, that lump occupied by things besides music, apps, and identified items. Other can also include caches, such as the full cached download of a digital movie, even after you've deleted the file, and other detritus.
If this is a persistent problem that causes you to have to dump apps and media files while you stare longingly at 5GB identified as Other, you can back up and restore your phone. This is a hassle, no question about it, but it appears to be the only consistent way to get that space back.
Make the backup manually via iTunes for the speediest recovery. Also, remember to checked Encrypt iPhone/iPad Backup to retain most of your passwords, so you don't have to re-enter them after the device is restored.
Have a question of your own? Drop a line to mac911@macworld.com.