For many visually impaired users, myself included, it was a rough transition from the "classic" iOS 6 to the top-to-bottom redesign of iOS 7. While I still take issue with some of the design changes iOS 7 brought, I've grown accustomed to them and can't imagine going back to the old style. If anything, I feel the iOS 7 and iOS 8 look is much more aesthetically pleasing overall.
Still, as someone with low vision, I continue to struggle with the legibility of iOS in various parts of the system. With iOS 9 in the works, here are six things I'd like to see Apple tweak in an effort to make iOS more visually accessible.
Make the App Store more readable
As I wrote for iMore last year, it's my strong opinion that the accessibility of the App Store is arguably its biggest problem that no one talks about.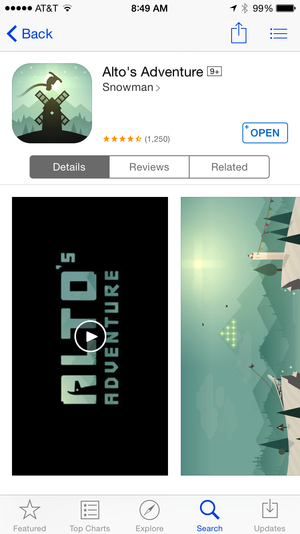 The App Store's appearance has changed since its inception in 2008—unfortunately, the font size hasn't. It is very small, making it difficult to read app descriptions and release notes. I find myself holding my iPhone or iPad inches from my face, squinting hard to read information. It's not a pleasant experience, as the squinting leads to eye strain, which is ultimately painful. Worse, I can't get the information I need because I can't see it; if I can't see, what's the point?
App search and discovery are important for Apple to get right too, but I hope the company tackles readability first and foremost. I think Apple should add a text size slider in Settings and/or support Large Dynamic Type. And it's not just the App Store that has readability issues—the iTunes Store and the iBookstore suffer from the same problem.
Make the magnification loupe and cursor bigger
I work a lot with text on my iOS devices—I'm writing this very piece on my iPad Air, in fact—and, as such, I often use the loupe to place the cursor. The problem is, I find that both aren't big enough to see. As with perusing the App Store, I find myself squinting to see where to place the cursor, and it makes my eyes uncomfortable.
Apple should add a new Accessibility setting to alter the size of the loupe and cursor. The Mac has a similar feature, letting users adjust the magnification level of the Dock icons, and the size of the mouse pointer. This would alleviate eye strain, making working with text with iOS a little easier.
Improve the text-selection interface
Related to the loupe and cursor, I'd like Apple to alter the text selection mechanics in iOS 9. The interface for selecting text has gone unchanged since its debut with iPhone OS 3, and while I've never had too much trouble using cut, copy, and paste, I feel it could be improved.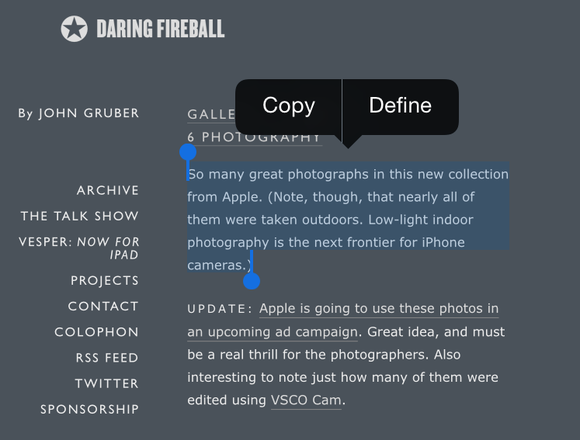 My wishes here are twofold. First, Apple should make the grab handles bigger. As it is now, I sometimes have trouble finding them, so making them more identifiable would help me a great deal. Second, the popover options would be more readable in a bigger font—I oftentimes have problems with seeing the Cut, Copy, and Paste commands.
Clearing Notifications
Notification Center's arrival in iOS 5 was a godsend, as Apple finally added a central place where users could see all their push notifications.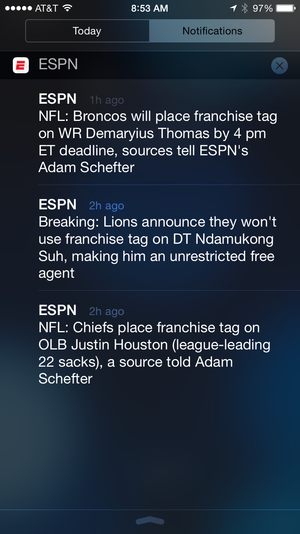 The problem, though, with Apple's implementation so far is that users must clear notifications manually (save for iMessages), and it can be quite the chore. The biggest problem I have is tapping the little X button, which then morphs into a little Clear button, to delete a notification. It takes two taps to clear one app's notifications, and you have to do this for every single app that sends you these things. Worse, the buttons are awfully small and low contrast, which makes them hard to see and tap.
Nothing would make me (and countless others, I'm sure) happier than if Apple would introduce a swipe-to-delete gesture to Notification Center, akin to the one added to iOS 8 that allows users to reply to text messages and act on email from the lock screen. Not only would such a gesture be convenient, but it would rid me of the struggle in finding the aforementioned little X button. It would mean less eye strain, fewer missed taps, and help me work faster on my devices.
Add an optional dark mode
Currently, iOS has an option under Accessibility (Accessibility > Invert Colors) that inverts the colors across the system. The point of this is to provide higher contrast, but turning it on makes everything look weird. In a similar vein, iOS 8 added a Grayscale option, also under Accessibility, that strips the UI of all color except for, as the name implies, gray. Like with Invert Colors, the point of Grayscale is to improve contrast, most notably for those whose vision has trouble focusing in the presence of color.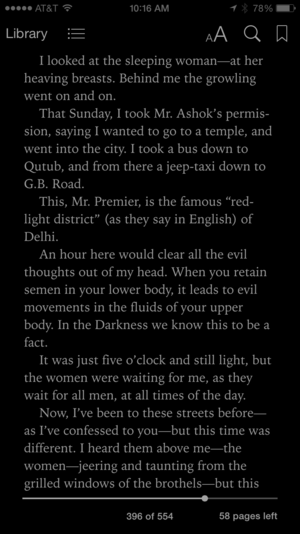 But there is a missing "theme" in iOS: dark mode. While I have never experienced any trouble using iOS the normal way, I do sometimes enjoy reading in dark mode in apps like Tweetbot and iBooks. This is because since the contrast is higher, text pops more easily, and because the background is dark, my eyes endure less fatigue and strain from the bright light of the white background. (This phenomenon is precisely why movie theaters show films in darkness; it's easier for the eyes to focus on the screen in the absence of ambient light.)
The chances of iOS 9 gaining a dark mode is, to me, fairly high because of precedent. Apple already has added dark mode to iBooksand in OS X Yosemite, so it seems the natural progression would be to bring it to iOS as well.
Give the camera grid lines better contrast
My iPhone 6 is my only camera, and I love the quality of the photos it produces. The iPhone 6's 4.7-inch screen is plenty big enough as a viewfinder, but I do run into problems using the optional grid lines in the Camera app, which are too light and low-contrast to see comfortably.
I do like using the grid, as I try my best to adhere to the rule of thirds, but it's not easy, as I'm constantly shifting my eyes to find where my subject is in the grid. I also experience this issue in third-party apps like Instagram and VSCO Cam, where I'm editing photos prior to sharing. The contrast of the lines just isn't high enough for me, and it makes for processing photos a pain—often literally.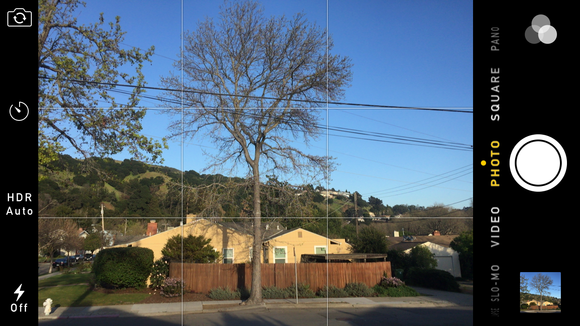 My hope is that Apple will make the grid lines thicker, which will enhance their contrast and easier for my eyes to pick up. In doing so, I think it will improve my photography skills because I'll be able to focus my subjects exactly where I want, rather than straining my eyes and approximating where it best fits.
The thread that holds my iOS 9 wish list together is contrast. To a visually impaired person, contrast can make or break an experience, and it's a big reason why so many in the accessibility community bemoan iOS's visual makeover. My hope is that some (if not all) of these ideas are announced at this year's WWDC, beacuse I feel these changes will marry what was great about the iOS 6-era UI with the modern, sophisticated look of iOS 7 and 8.