If you've got your heart set on an Apple Watch, be prepared to pay some of the highest prices in the wearables universe when you pre-order on April 10. The absolute cheapest model—the 38mm anodized aluminum Sport model—costs $349, and you'll pay another $50 more if you need the 42mm version for your largish wrist.
The sweet-spot Apple Watch, made of a stainless steel alloy that's apparently 80 percent harder than normal stainless steel, leaps up to $549 for the 38mm model with Apple's most pedestrian wrist band, and tops out at $1,049 for 38mm versions with high-end fashion bracelets—like the Space Black Stainless Steel Link version. Add another $50 to all these iterations if you have a wrist that requires a 42mm watch case.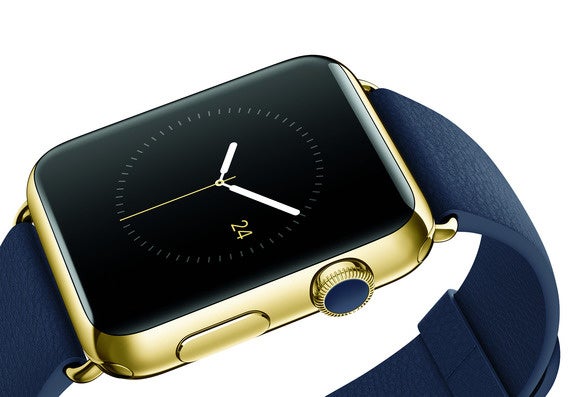 But, hey, all the speculation of a $20,000 Apple Watch Edition proved untrue. On Monday, Tim Cook told us this 18K gold version starts at just $10,000. Now, granted, if you opt for the 38mm Edition model with an 18K Rose Gold case and Rose Gray Modern Buckle, you'll pay $17,000—but $17K appears to be the highest price of any Apple Watch. (There's a Yellow Gold model with a Bright Red Modern Buckle that costs just as much.) You'll only be able to buy the Edition models at select retail stores. That's exclusivity for you.
Pre-orders begin April 10, and on that day you'll also be able to check out Apple Watch for yourself in Apple retail locations. The watches themselves will begin shipping on April 24. And thus begins the grand reset of wearable tech. Many smartwatches have preceded Apple Watch, but this is the wearable that's best poised to validate wrist computers among mainstream consumers.
Short on new details
Apple didn't drop any Watch-related bombshells at Monday's press event save the pricing and availability details. Apple verified that you can conduct voice calls directly via the Watch's microphone and speaker, a feature that's been hinted at, but never yet demoed until today. We also saw the Watch's heart rate glance for the first time. Take a quick reading to see your beats-per-minute.
Both features are already old hat in the smartwatch space, and now it's up to Apple to prove that wrist-based phone conversations don't have to be frustrating ("Can you hear me? What?") and that heart rate spot checks are actually useful. Samsung and the rest of its wearables brethren haven't had success in these areas, so the onus is on Apple to deliver utility where others deliver feature bloat.
But beyond that, the most interesting thing we learned in that an iOS 8.2 update (it's live right now) gives us the Watch app, which you can use to browse and download apps, and also set notification filters. The current apps list is impressive. You can check them out here as you wait for iOS 8.2 to download.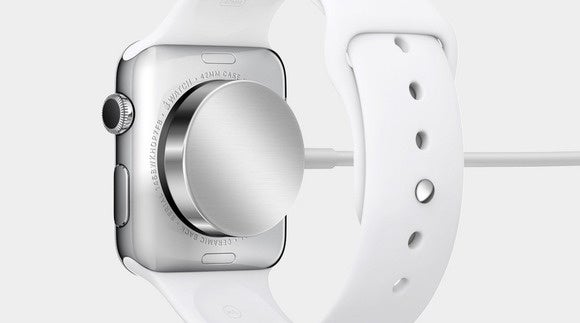 Battery life? Apple says you'll get 18 hours of use across a typical day. There was no mention of any type of battery-saving power-reserve mode, and it remains to be seen what a "typical" day of use really looks like.
Case materials and strap choices? Apple rehashed what it already shared to oohs and ahhs on Sept 9 last year. Tim Cook and co also indulged us with a refresher course on the Watch's Glances, Apple Pay, Siri, and Digital Touch features. We saw a Shazam app identify ambient music, an American Airlines app display a barcode boarding pass, and an Alarm.com app control a garage door.
The upshot: With your new Apple Watch, why ever take your iPhone out of your pocket ever again?