An Apple Watch without the essential apps you want on your wrist would be useless, so Tim Cook and co. made sure that must-haves like Uber, Instagram, WeChat, American Airlines, Shazam, and a slew of others were ready to go at launch.
Apple has its own native Watch apps, like Workout and Activity for fitness-tracking, but to install third-party Watch apps, you'll need iOS 8.2, which is now available as an over-the-air download. The upgrade has a few new features, including the Apple Watch app, which is where you'll find the Watch app store. Apple will feature all the apps and games you'll need to get started when you unbox the Watch—just don't expect them to be like iPhone apps.
"Using Apple Watch during the day is really about brief interactions," said Kevin Lynch, Apple's vice president of technology, during Monday's Apple event. "Many of these are just a few seconds long."
Watch apps take advantage of Glances, where you swipe up to view information, and actionable notifications, which work similarly to notifications in iOS.
For messaging apps like WeChat, that means you can reply by tapping on the notification as it pops up on your Watch screen, which opens the app and lets you reply with text or stickers. (Yes, stickers.) If you need to see information about an upcoming trip, the American Airlines app will display details in the Glances view. Salesforce will have business information at the ready, and MLB's At Bat will show you baseball scores.
Other Watch apps will try to deliver the same experience as on iPhone, but miniaturized. Instagram will let you scroll through your feed using the digital crown, and you can hail an Uber just as easily on the Watch as on your phone. (Though it's unclear if you can change the sometimes inaccurate pin drop to specify your location on the Watch.)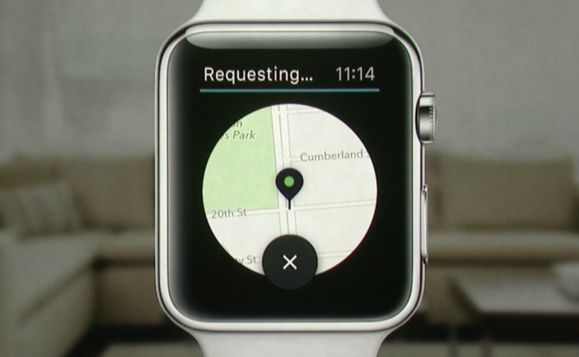 We already saw Starwood Hotels & Resorts' SPG app, which turns the Apple Watch into a hotel room key, but now we know that Alarm.com's Watch app will let you open your garage door remotely. That'll come in handy for locked-out kids (and, let's be honest, adults). Shazam's Watch app can listen for songs that are playing and display lyrics on your wrist.
The Watch has a few other impressive features we saw at Apple's Monday event, including Passbook integration so you can scan your boarding passes and concert tickets straight from the Watch face. Apple Pay will also be as easy to use on the Watch as on the Phone, though there's one extra step involved: You have to double tap the digital crown to bring up the credit card stored on your Watch and then hold your wrist near the NFC terminal. The Watch sends you haptic feedback, or light pressure, to let you know the transaction is complete.
You can catch an early glimpse of the Apple Watch app in iOS 8.2. today, and a full list of major Watch apps here, but you won't see Watch apps in action until Apple stores start offering previews of the devices on April 10.