There's a reason Apple hasn't changed the MacBook Air's core design for years now: It's basically perfect—the epitome of a thin-and-light laptop, from its luxurious, razor-thin exterior to its majestic glass trackpad. But even perfection can't coax Apple into sitting on its heels.
On Monday, Apple revealed a new 12-inch MacBook, a radical revamp that shakes up the winning MBA design by dumping virtually every conventional port—Thunderbolt, the SD card slot, a power connector, everything—in favor of a pair a single USB Type-C connection and an audio jack. That, paired with numerous other advances, helped the 12-inch MacBook become the slimmest, lightest MacBook ever—and it's silent, too.
"Can you see it?" a grinning Tim Cook asked, holding one aloft onstage. "I can't even feel it!"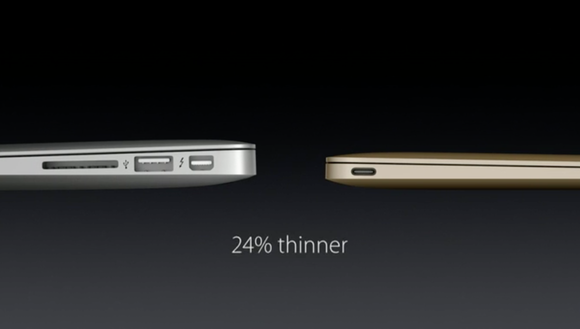 The overhaul slims the notebook down to a ridonkulous 2 lbs. and 13.1mm—the slimmest MacBook by a full 24 percent, according to Apple's Phil Schiller (though it's still not quite as light as Lenovo's 1.72 lb. LaVie Z HZ550 or as thin as Lenovo's 12.7mm Yoga 3 Pro). And that's with a full fanless design. Achieving such thinness required Apple to redesign the machine from the ground up.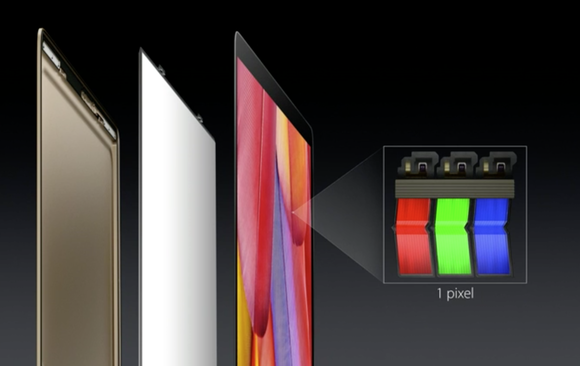 First, the display on the 12-inch MacBook—which packs a Retina-class 2304×1440 resolution—now reaches edge-to-edge, with barely there bezels. It measures just 0.88mm thin and uses 30 percent less energy than other Retina displays, while still offering the same level of brightness.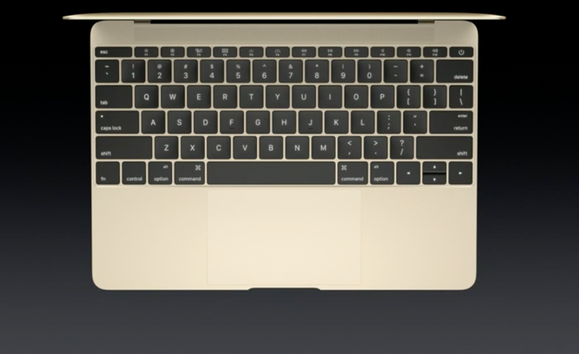 The keyboard now sits edge-to-edge, sporting closer-together keys than the new MacBook's counterparts. Apple actually created a new keyboard switch for the 12-inch MacBook, to replace the scissor switches that power most laptop keyboards. The "Butterfly mechanism" uses a single assembly with a stainless steel dome, which Schiller claims is four times as stable as scissor switches despite being 40 percent thinner.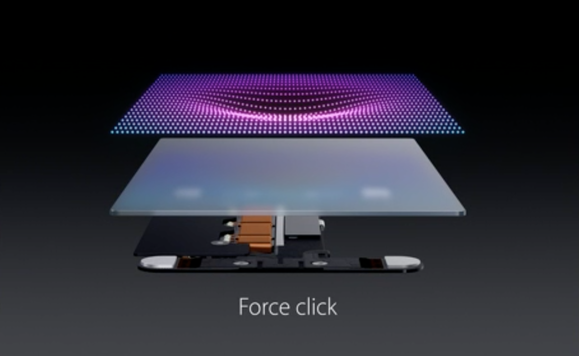 The MacBook also introduces a new "Force Touch trackpad." It's covered in glass like Apple's previous models, but also sports four force sensors under the hood to create a uniform tapping feel. Together with the introduction of a "Taptic engine," similar to watch you'd find in the Apple Watch, the 12-inch MacBook introduces the idea of light and "force"clicks—the laptop registers a new class of deep clicks that it uses to automatically open certain programs depending on where you click. Force clicking on a word in Safari, for instance, opens a Wikipedia entry for it, while force clicking a date opens a calendar entry.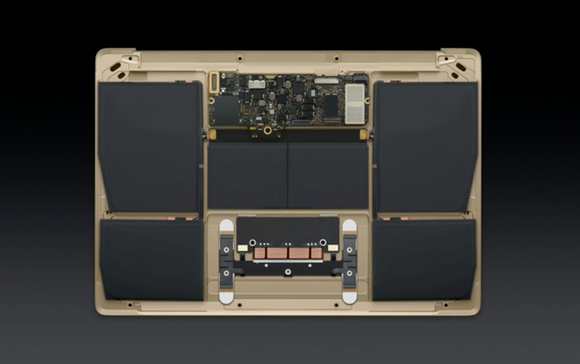 One of Intel's new energy-efficient Core M "Broadwell" processors powers the 12-inch MacBook, sitting in a logic board 67 percent smaller than Apple's previous record. The processor sips a mere 5 watts of power, running at 1.1GHz that can Turbo Boost to 2.9GHz when more oomph is needed.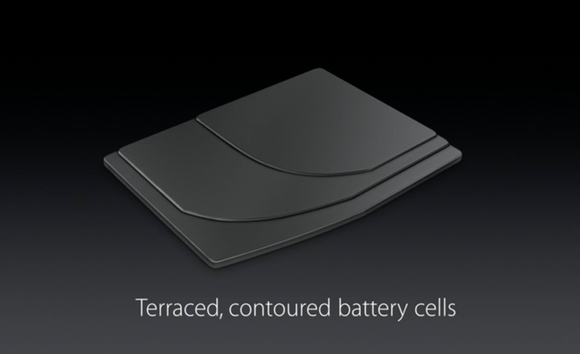 Around the Force Touch trackpad and itty-bitty logic board, Apple crammed the 12-inch MacBook with batteries, using a new layered, terraced battery design that lets the company use all the available space inside the unibody chassis. The 12-inch MacBook will get 9 hours battery life while web surfing, or 10 hours while watching video.
Reach out and touch someone
The spartan redesign also wouldn't have been possible without the cutting-edge USB 3.1 standard and new Type-C connection. This backward-compatible wonder cable does it all: It's capable of delivering 100 watts of power, 10Gbps data transfer speeds (twice that of USB 3.0), and even audio and video signals using the DisplayPort protocol. Goodbye, power cords, HDMI, VGA, DisplayPort, and Thunderbolt. And the Type-C connector is reversible, too, just like Apple's MagSafe connector, so you'll never have to fumble with shoving your USB cable in the right way again.
"This is the most extreme, efficient notebook we've ever created," Schiller beamed.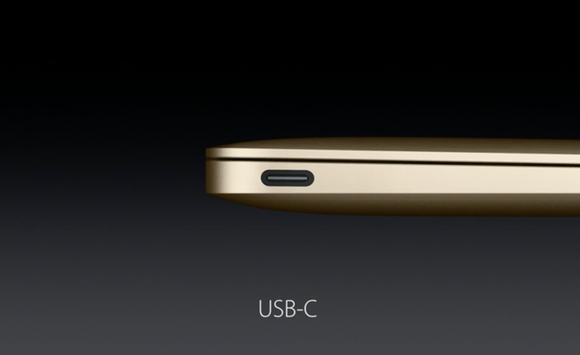 There is a downside to streamlining things down to a lone humble, potent port, as Michael Simon noted in his original coverage of the 12-inch MacBook rumors. You're going to need a lot of adapter cables to reproduce the lost functionality of the originals. Sure, Apple's embraced the new USB tech, but the legion of external peripherals and displays currently available haven't. Connecting those Type-C cables to a wall socket or a DisplayPort-equipped monitor will require adapters, and you'll need other adapters to connect to Thunderbolt, Ethernet, or standard USB devices. Want to plug in multiple devices? You're going to need a hub, too.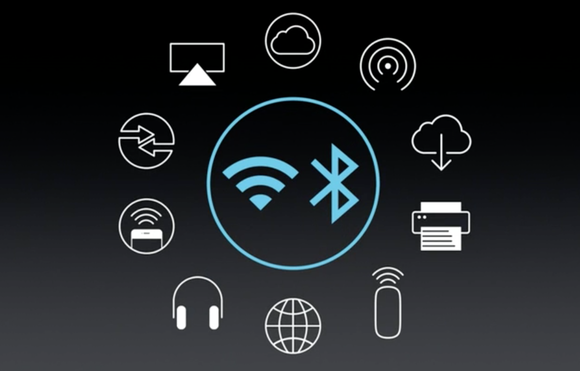 But that's where Apple's software ecosystem comes into play. Schiller touted that features like Continuity, AirDrop, and AirPlay allow you to wirelessly share data between your Apple devices without ever touching a cable.
The 12-inch MacBook will be available in silver, space grey, and—wait for it—gold, on sale on April 10. The $1,300 base model includes a 1.1GHz dual-core processor, 8GB of RAM, and a 256GB solid-state drive. A $1,600 model will pack a 1.2GHz dual-core processor and a 512GB SSD.
The rest
While the focus was squarely on the new Mac, Apple didn't leave the old Macs untouched. The entire MacBook Air line is being upgraded to Intel's new fifth-generation "Broadwell" processors, which should offer increased battery life and a modest performance boost over the last-gen Haswell processors. The 13-inch MacBook Pro with Retina will also receive Broadwell.
The 13-inch MacBook Air models will also be outfitted with flash storage two-times faster than before, while both the 11-inch and 13-inch Airs will be upgraded to Thunderbolt 2. The 13-inch MacBook Pro with Retina model will also have the faster flash, as well as the new Force Touch trackpad introduced in the 12-inch MacBook. The revamped old-school MacBook Air and Pro models are available today.
Editor's note: This story originally called the new MacBook a MacBook Air. We apologize for the error. It was also updated with additional specification information.