What's lighter than Air? The all-new MacBook. Apple's newest, goldest laptop is lighter and thinner than the MacBook Air, and sports a gorgeous Retina display like the top-of-the-line MacBook Pros. But this isn't an Air or a Pro. It's just a MacBook, and yet… it changes everything.
The first thing I noticed during my hands-on time is the MacBook's screen. The colors are bright and vivid, and the 2304×1440 resolution shows all the detail you're used to seeing on a Retina display. The bezel around the screen has shrunk significantly. The screen doesn't go completely edge to edge, but it's pretty darn close.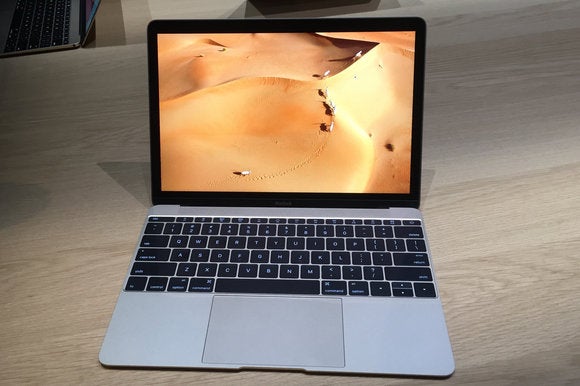 The laptop is incredibly thin and light, but keyboard real estate doesn't suffer. Apple put a full-size keyboard on the new MacBook, and even decreased the space between the keys a little bit—the keys themselves are actually 17 percent bigger than those on current Mac laptops. My fingers didn't feel cramped like they do when using a keyboard that's sized for the iPad, for example.
Apple replaced the scissor-switch key mechanism deployed in current MacBooks with a new kind of switch the company calls the butterfly mechanism. With this new hardware, your keys go straight up and down no matter where on the key you press. Conversely, on a scissor switch keyboard, if you happen to tap the edge or the corner of a key, you can feel the key "lean" that way.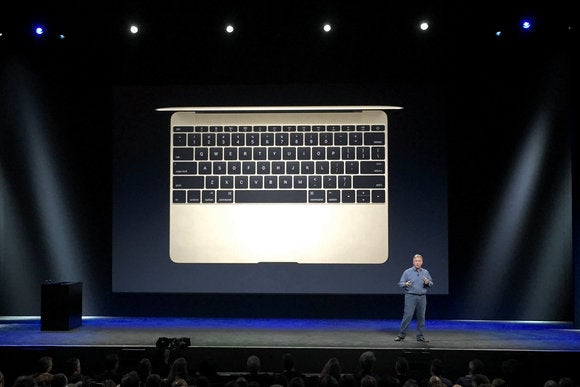 But the new MacBook's keys feel the same no matter where your fingers strike them. The keyboard is backlit, but each key gets its own LED light, so they'll all have the same brightness level.
Speaking of LEDs, the Apple logo on the MacBook doesn't light up. I know, I'm a little bummed too. But the new MacBook is still capable of turning heads since it's the first Apple laptop available in gold—you know, to match the gold-toned iPad and iPhone. (And who knows, maybe Apple will bring back the light-up logo in a future iteration.)
Force Trackpad
The MacBook's trackpad has some cool advancements too. The trackpad on existing Apple laptops hinges at the top, so a physical click at the top of the trackpad feels different than a click at the bottom. But on the new MacBook, there's no hinge, so no matter where you click, it feels the same.
OK, this change sounds pretty minor, but the hinge-less design enables the trackpad to have a new Force Click gesture. You can tap or click something to select it as normal, but when you push down harder on the fully pressure-sensitive trackpad, you initiate a Force Click, which is a shortcut to new capabilities.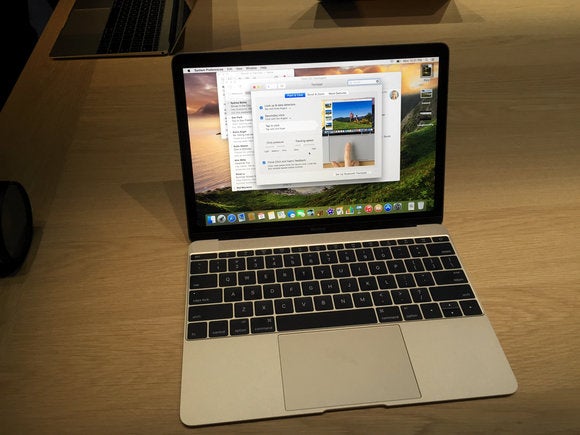 For example, you can Force Click a Mail attachment to Quick Look at it instead of clicking to select it, and then tapping the space bar. You can Force Click an address to see it on a map. You can Force Click a date and time to create a new calendar event. And you can Force Click a word to look it up on Wikipedia. I found this to be super handy—and faster than right-clicking and digging through contextual menus. It'll save MacBook owners a lot of time.
Just one port
Think of all the ports you've used on your Apple laptops through the years: MagSafe and its little brother MagSafe 2. FireWire 400 back in the day. USB 2 and USB 3 (which was only added to the Mac lineup in June 2012). And Thunderbolt. Oh, poor Thunderbolt. Those are all gone. The new MacBook doesn't even have an SD card slot. It's only got one port. One. Port.
OK, OK, two ports. You can plug in your headphones.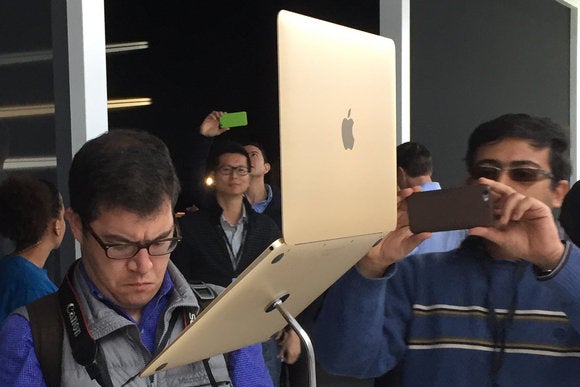 But the single port you'll use for everything else is called USB-C, and it holds some impressive technology—we'll have a deeper dive as we can get our (many) questions answered. What we know so far is that it replaces MagSafe for charging, USB for connecting peripherals, and HDMI, VGA, and DisplayPort for connecting external screens. What's missing from that list? Yup, Thunderbolt. Every single other Mac has a Thunderbolt port, so if you've made the investment in Thunderbolt devices, this may not be the MacBook for you.
Obviously, you'll need an adapter—you can't shove a big honkin' HDMI cable into the tiny USB-C port. Apple is selling a USB adapter for $19 so you can plug in exactly one USB device. Two Multiport adapters are also on offer for $79 each. The USB-C VGA Multiport Adapter has a pass-through USB-C port for your charging cable, plus standard USB 3.1 and VGA. The USB-C Digital AV Multiport Adapter has USB-C passthrough for charging, plus HDMI and standard USB 3.1. A DisplayPort adapter is coming later.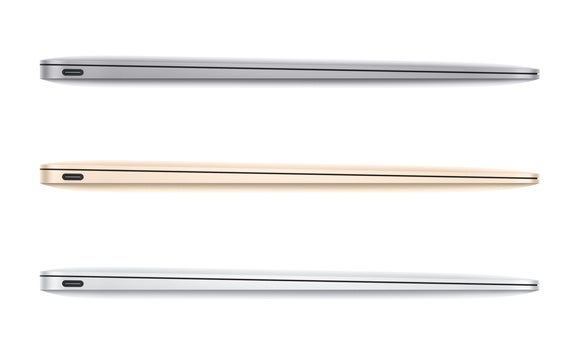 If that sounds confusing…well, this MacBook is meant to fly solo. Free as a bird. Unencumbered by wires. I use my trusty 13-inch MacBook Air as my everyday machine, and almost all of its ports see daily use. I connect to a Thunderbolt Display, a USB hard drive for Time Machine, and even a four-port USB hub to keep all my gadgets charged. The MacBook is better suited for people who want the lightest machine possible—and who can mostly lean on wireless connection methods like AirPlay, AirDrop, Bluetooth, and Wi-Fi. Need more ports? Look to the other machines. (Or perhaps a third-party dock—sounds like Henge has plans to build one.)
Hands on impressions
With a great keyboard, a beautiful screen, and a time-saving trackpad, the new MacBook has a lot going for it. Some may find it a struggle to adapt (no pun intended) to a single-port lifestyle, but if that doesn't sound like a big deal, your reward is a slick, golden laptop that only weighs two itty-bitty pounds. As much as I think I need all the ports on my 2.96-pound MacBook Air, I could probably deal with adapters to get the weight down that far. My head says no, but my back and shoulders say yes.
The MacBook ships April 10. We'll have a full review on Macworld as soon as we can put it through its proper paces. What do you think? Is this the future of laptop design, or has Apple gone too far in its quest for ultimate thinness? Let us know in the comments.