I had a $17,000 Apple Watch Edition strapped to my wrist today. Rose gold. 38mm. Rose gray strap that felt like butter, with a modern buckle also in solid 18-carat gold. It was beautiful. But as luxe as the materials are, my hands-on demo time with the Apple Watch made me confident that I can go with the entry-level Apple Watch Sport and be just as happy.
Why? It's the software, silly! The Apple Watch's apps, glances, and notifications are so easy to use and well-thought-out that once I started tapping, pressing, and scrolling around the tiny display, I quickly forgot what materials were in the case and strap. Here's what I found so compelling in my brief demo time, and why I'm looking forward to strapping an Apple Watch (Sport, natch) onto my wrist come April 24.
Attention to detail
The Apple Watch has so many delightful little details, and I'm not even talking about how the clasps on the gold Apple Watch Editon's bands are also made of gold. Again, it's the software. Scrolling around the tiny screen is smooth, and even though the home screen's tiny app bubbles look like you'd need to tap them with fingers the size of Q-Tips, I found them easy to hit.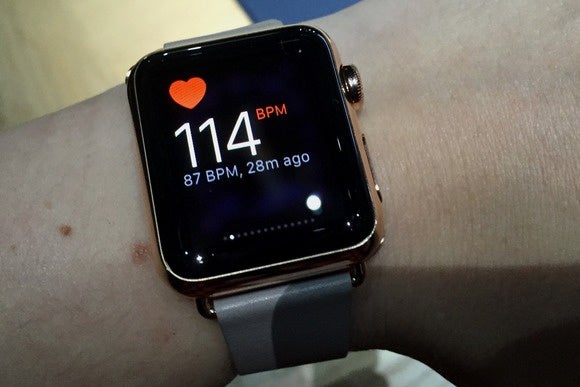 If you nudge an app's icon toward the center, it bulges a little bigger, and you can tap it with more ease, or twist the digital crown to open it. The animation from home screen to app even varies in speed based on how quickly or slowly you twist the digital crown. I immediately faded an app in and out with glee, over and over, like a kid in the back seat of a car who just found out about power windows.
Using the Digital Touch feature was a wow moment too. Press the button below the watch's digital crown to bring up your favorite contacts—from this screen you can call them, send a message, or enter Digital Touch if they also have an Apple Watch. Then you can draw an image with your finger, tap out a pattern that will be tapped on their wrist, or even send your heartbeat.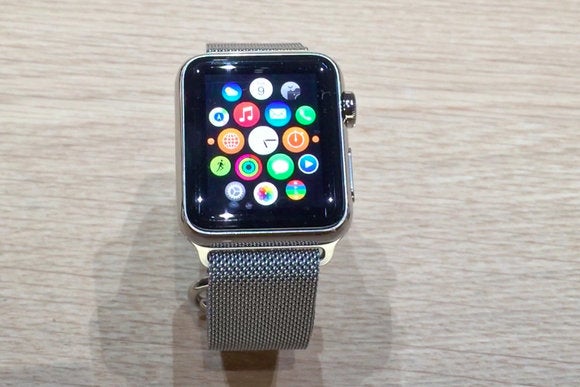 We knew that all already, sure. But seeing—and feeling—it on my wrist was next-level cool. The image I drew of a pink heart faded out only to flicker back to life on the other Apple Watch, in the same way I drew it. I received a subtle wrist-tap from a very nice Apple employee I'd just met, and got as excited as if it had been from my best friend. And holding two fingers over the watch's face prompts Digital Touch to tap out your heartbeat on the other person's wrist—less invasive than a phone call, but just as intimate (and infinitely less risky than racy photographs). I predict this will be the biggest mover of his-and-hers Apple products since FaceTime.
Questions remain
I'd hoped Apple would get specific about the Apple Watch's battery life, and the company claimed 18 hours on stage, and broke that down in painstaking detail on its website. Apple is good about not overestimating battery life, and from what I saw in my demo, these figures seem reasonable. The watch is designed to get you the info you want quickly, both in how the information is presented and how easy it is to move between it. You probably won't be staring at it for huge stretches of time unless you're trying to read all your email or something.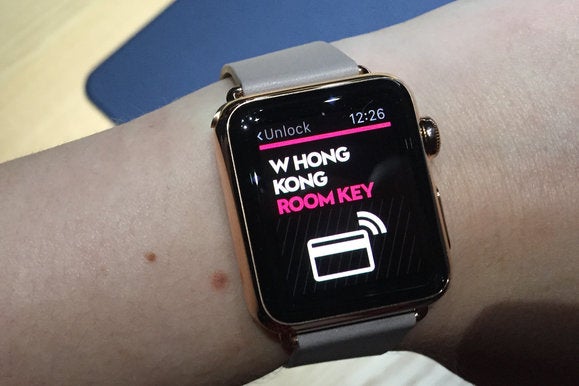 For example: To see your glances, you'll raise your arm to wake your watch to its clock face. Stop for a second. Depending on the clock face you're using, you could get some detail right there, like your next calendar appointment, progress toward your steps goal, or the temperature. Otherwise, just one swipe up from the clock face gets to your glances, and then you swipe between each one. It only takes a fraction of a second to absorb what they're trying to tell you: Stock up. Text mom. Your team won. Your appointment is clear across town. You better leave.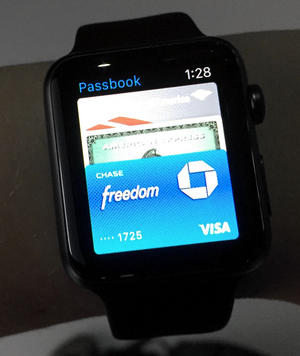 This means that just one swipe up and a half-dozen swipes right-to-left can show you a lot of information, and pressing any of the single-screen glances sends you to a more fleshed-out experience in the full notification or app. Notifications can be seen by swiping down the clock face from the top. Apple did a lot of work to make using a smartwatch with so many features this simple.
But not every feature could really be tested in Apple's demo room. It'll be interesting to see if the watch is a good workout partner even if you don't have your paired iPhone with you. The watch's accelerometer can count your steps as you run, but that uses math to extrapolate your distance. If you bring an iPhone, your whole route is tracked with the iPhone's GPS. The watch has iPod shuffle-like storage to play some songs during your run, as long as you have Bluetooth headphones.
Why I'm buying one
It's striking that the Apple Watch's best features solve a problem I didn't have before I had an iPhone. The problem is: I look at my iPhone too much. Throwing more technology at that problem seems frivolous, but if the right balance of notifications and glances actually succeeds to sift the signal from the noise? If it can reduce the number of times I unlock my iPhone to do a simple little thing like reply to a text, only to fritter away time on three or four apps? That could change my game.
Apple begins taking preorders April 10. The Apple Watch collection will be on display at the Apple Store, so you can try them on if you're in the area. The watches ship April 24. Have you decided if you're getting one? Which watch? Which band?