On Tuesday, Google launched a dedicated calendar app for the iPhone—one of the final missing pieces of Google's apps suite for iOS. And Google Calendar for iPhone doesn't disappoint: It's a gorgeous calendar app that mines your Gmail account to automatically add events. It joins a lengthy list of well-designed, highly functional Google apps on iOS that perform as well or better than Apple's default options.
Like many of Google's products, it's designed primarily for those who live in Google's app ecosystem, though it will also sync with any of the other calendars on your iPhone, including Apple's stock Calendar app. Like Google's other recent app updates and launches, it ushers in Google's signature Material Design and an interesting rethink on how a mobile calendar should perform.
Going beyond the traditional calendar view
The best thing Google Calendar does is automatically detect events and appointments from your Gmail account and create listings for them in your calendar, adding a splash of color and graphics for effect. (You can turn this feature off in the app's settings if you're not a fan.) For example, if you receive a hotel reservation confirmation email, you'll see that reservation info show up in Google Calendar, complete with an image of the venue. Dentist appointments, lunch outings, and other events all get their own animations. Of course, you can manually add in appointments or edit the events that Google Calendar pulled in from Gmail.
It works with all of the calendar accounts you use on your iPhone, so you don't need to jump between calendar apps. You do, however, need a Google account to sign in and use the app.
The default look is a schedule view, which intersperses the screen with your upcoming events in chronological order. If you don't like that view, you have a couple of other choices: A one-day overview, or a three-day option that gives you a glance at the next couple of days. The only missing piece is a seven-day view, which was recently added to the Android version.
The assists feature tries to speed up the sometimes laborious task of adding details to a calendar entry. For example, it will auto-suggest the name of your event and tap into Google's massive database to locate the specific address of where you're headed. When you tap on the address in any event, it will toss you over to the Google Maps app (if you have it installed).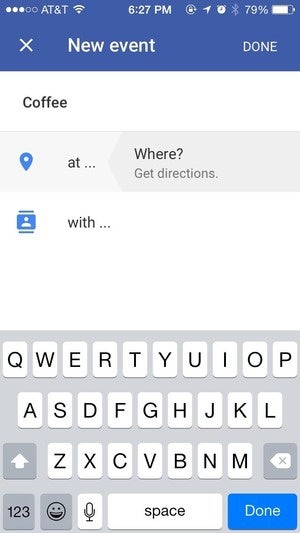 Unfortunately, you can't invite others to an automatically generated event, though you can do so with events you've created yourself. Also, Google Calendar doesn't have a Notification Center widget—the ability to swipe down and get a quick glance at what's coming up would be a convenient feature. It's also iPhone-only for now, which means you'll need to pick another option for your iPad (or install it anyways and live with a blown-up version until Google releases an iPad-compatible version).
Must love Material Design
The new Calendar app, and many of Google's other apps, have adopted the company's Material Design interface. It's a new aesthetic that Google is using for its own products and its Android platform.
It's rather elegant and polished, with a focus on parceling off information for easy viewing, registering touches with a subtle splash on the screen, and using a lot of visuals cues.
There's a floating action button, which in Google Calendar is used for creating a new event. The main menu is always on the left, which also houses details on your Google account and options to connect to other apps, like telling Calendar to open email links in the Gmail app. Many elements work with gestures, such as pulling down on the month's name to reveal a full-month calendar view.
But it's not for everyone, especially if you prefer Apple's design overhaul first introduced in iOS 7. You'll also find that some elements of Material Design don't translate well to the iPhone, such as the loss of the slide gesture to go back. In some cases, you'll have to hit the back button on the upper-left part of the screen, which can be quite the reach if you're using an iPhone 6 Plus.
Should you switch?
Google is clearly aiming its new Calendar app at those who use Gmail and do most of their productivity in Google's ecosystem. If you use iCloud, an Exchange account, Outlook, or another email solution, there's less reason to make the leap, especially if you're happy with other apps like Tempo or Sunrise. For many, it's the final piece of the Googly puzzle, putting Calendar right there with Drive, Gmail, Chrome, Maps, and the rest of the company's application army.