This runner's idea of heaven is strapping a 38mm Apple Watch Sport to my wrist, throwing on a Bluetooth headset, and hitting the Prospect Park loop completely unencumbered.
But my hopes were dashed when I realized during Monday's Apple Watch event that some key fitness features won't work if I run without my iPhone 6. The Watch's heart rate sensor and accelerometer work on their own, and the native Workout app can track different kinds of workouts that don't require GPS. All of that information can later be synced with your phone if you exercise without it.
An iPhone companion
On Monday, Apple took the wraps off new Watch app partners, including fit tech companies like Nike, Runtastic, and Strava, which will track your workout progress on your wrist. It's a far more convenient place to see your current pace than having to unlock your phone and fumble through various screens.
You'll be able to open Runtastic on your Watch before you set off on a run and the app will display speed, distance, pace (an essential stat), and how many calories you've burned at a glance. Your friends can send you cheers for a boost of encouragement during your workout. The app also makes use of the Watch's notifications to display your weekly numbers. The Nike+ Running app has similar Watch functionality. You can even connect your Bluetooth headset to the Watch and set your pace with high-speed jams.
But you'll still need your iPhone with you for most of that to work. Apps can't tap into the data your Watch collects without the iPhone, and the Watch doesn't have GPS to give you a complete picture of your actual running route. App developers also don't have access to the Watch's sensors (yet), so they can't design new features around them that would make the Watch even more useful.
The good news: You can squeeze in a 30-minute workout with Bluetooth music playback and the Workout app running on the Watch and it won't completely drain your battery. The device will still last a full 18 hours, according to Apple's tests. You can also store up to 2GB of music on the Watch, or about 200 songs, which is plenty for a long run. You can set up the Watch's music storage options in the Apple Watch companion app for iPhone (now available as part of iOS 8.2).
A better fitness tracker
The Apple Watch is much more than a glorified fitness tracker, which justifies the Sport model's higher price point compared to other bands from Jawbone, Fitbit, and the like, and it's also much more stylish than those bulky rubber wristbands. But to tap into its full potential, you have to run with your iPhone—and as someone who already does that, I can tell you it's not exactly convenient (or comfortable).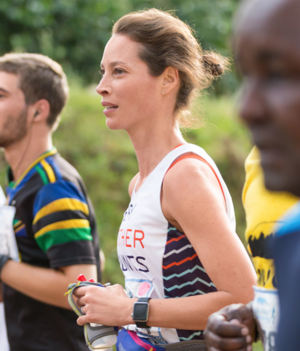 Runtastic CEO Florian Gschwandtner said the Apple Watch is a "nice combination" between standard running watches and the iPhone that will only help improve fitness tech in the long run. Runtastic makes its own fit tech devices, but Gschwandtner isn't concerned that Cupertino will make his products irrelevant.
"If we see Apple is pushing that much energy into fitness, that just shows that it's such a big thing," he said. "Overall that helps the developers that are working in health and fitness."
Android Wear didn't support GPS initially, either, though now it does, and some Android smartwatches have GPS baked into the hardware to take advantage of that support. It's possible that Apple will add that capability to the next-gen Apple Watch. Until then, I'll be dreaming of an Apple Watch Sport that displays my pace, heart rate, and mileage; stores my favorite high-energy playlists; sends quick replies to my boyfriend when he asks when I'm coming back; and lets me use Apple Pay for an iced coffee on the walk back to my apartment—all without having to carry my bulky iPhone in my nonexistent running-pants pockets. Hey, a lady can dream, right? I'll see how my dream compares to reality when Macworld gets its own Apple Watch on April 24, so stay tuned.