We may never see a Multi-Touch Mac. What seemed inevitable back in 2010 is no closer to fruition than it was then—OS X and iOS may share certain design cues and UX elements, but they're as far apart as the've always been. Nothing about the Yosemite redesign suggests touch is being considered in the slightest, and if anything, OS X 10.10 moves the Mac further from converging with iPad, with things like Handoff and AirDrop creating a seamless sharing experience that adapts to their respective environments.
But that's not to say the iPad hasn't had a tremendous influence on the Mac. Apple's line of tablets may have brought an extraordinary level of simplicity and elegance to common computing tasks, but it also introduced a perfect form factor: light, ultra portable, self-contained and long-lasting. It's something Apple has been striving for with its laptops for years, and with the new MacBook it's nearly there.
Imitation game
You don't have to be a seasoned Apple watcher to see where Jony Ive found his inspiration for the pared-down portable. The three colors it comes in—sing it with me: space gray, gold and silver—mirror the options available on the iPad line. The case is barely a quarter-inch thick when closed. The once-glowing Apple is now forged from metal. You'll never hear a fan.
But perhaps more than the superficial similarities, Apple's new MacBook has the spirit of an iPad. It's portable in a way only iOS devices are—shockingly light, yet sturdy and rugged. The only two ports are audio and power. Build-to-order options are virtually nonexistent. And the choice between the two models is largely based on storage considerations.
Even the keyboard seems to take its cues from the tablet's virtual keys. With a thinner design that squeezes the spaces between letters and brings them flush against the case, it shifts our expectations of how we type on a notebook. The new butterfly mechanism changes the feel and feedback we get while typing and creates a uniformity under our fingers that those of us who do a lot of iPad typing will immediately recognize.
The iPad's influence can be seen in the trackpad, too. It takes up more of the palm rest to let your hands sit in a more natural position, and like the keyboard, the underlying mechanism has been redesigned to provide a more homogenous experience that requires no actual clicking. Even with Force Touch—a feature that's all but certain to land on the iPad with this year's refresh—the tapping is intuitive, and the trackpad is able to recognize your touches without needing much more pressure than you would use to long-tap an object on a touchscreen.
Form over function
The biggest knock on Apple's svelte new notebook is that it doesn't have enough expansion, a familiar refrain that we heard when the iPad launched five years ago. People have been yelling for Apple to add a USB port or memory card slot for as long as its been selling its tablet, but as the iPad has evolved it's become clear that most people don't really need those things. The iPad is about simplicity and efficiency, and extra ports and slots would only serve to complicate its value.
With the new MacBook, Apple didn't just shave some expandability like it did with the MacBook Air, it completely obliterated it, replacing all of its legacy ports with a single USB-C input that handles everything. It's very Lightning-like in its appearance and reversibility, and plugging it in is rather reminiscent of an iOS device.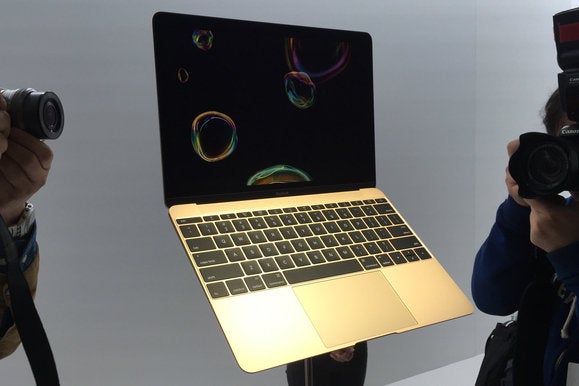 Gone, too, is the nifty magnetic MagSafe latch, suggesting that Apple doesn't expect users to operate it while it's charging. MagSafe was designed to prevent stumbles while cords are draped across tables and desks, but that won't be an issue with the new MacBook. I can't remember ever using my iPad while it was plugged in, and despite less overall battery life than the Air, it still has plenty of juice to easily get people through a full day, even while traveling.
Adapters and drives are already being announced for the soon-to-be-industry-standard connection, but users who are looking for ways to expand the new MacBook will undoubtedly be frustrated for a while. Apple is happy to sell them an overpriced and somewhat bulky Multiport adapters for VGA and HDMI, but that's not the target audience. There's a reason Apple announced its new MacBook at the Apple Watch event; buyers will likely be using it as a companion, either to a more powerful Mac or an iPad. You might say it's the ultimate Handoff machine, and if Apple were to implement an iOS-like iCloud backup system on the Mac, many people would never have a reason to plug in a peripheral device.
Eye on the future
The new MacBook may be the most drool-worthy Mac Apple has ever made, but it's certainly not for everyone. The lack of ports is the most glaring obstacle, but there's also the cost factor. An entry price of $1,299 might not seem like much for the most cutting edge of Mac notebooks (design-wise, anyway), but considering you can get a 128GB LTE iPad with a Bluetooth keyboard for around $900, it could be a tough sell.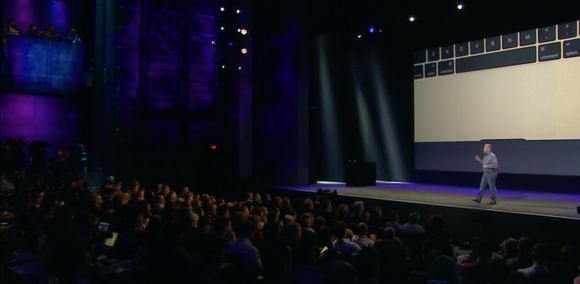 Besides, the MacBook name carries some weight and expectations of power and performance, and Apple's new notebook isn't exactly a screamer. Add the fact that it supplants the Air as the lightest laptop in line, and it's a wonder why Apple didn't opt to bring back the iBook moniker, both to eliminate naming clutter and confusion, and to cement the link to the iPad. (I know, the MacBook was the Intel transition iBook, but still, if Apple was going to recycle a name, it just seems like a better fit.)
But like the Air, the new MacBook isn't about speed; it's about rethinking our expectations of PCs and putting the best Mac experience possible into the lightest, thinnest case Apple has ever made. Despite its good looks, I suspect adoption will be somewhat slow out of the gate, but make no mistake: The new MacBook is the future we all saw coming when the iPad landed. Some technologies have already made their way into Apple's other laptops, and after a few years we won't even remember ever being mad at the single port.
It might not have a touchscreen, but it's the closest thing to a Mac tablet we may see for a while.