Like children, or weeds, an iTunes library has the tendency to grow and grow. Your Mac's internal storage does not. iTunes 12 segments your media in a way that makes it easy to forget you have a bunch of audiobooks, podcasts, or old TV shows in your library that probably don't need to be there anymore. But iTunes also makes it easy to back that media up in another location, so it's safe to delete and free up space on your Mac.
Offloading audiobooks
Q: I have so many audiobooks that I'm wondering if I could remove some of them from my iTunes library and hold then in a folder somewhere on my iMac?
You sure can. And audiobooks are good candidates for removal from your iTunes library, because you're less likely to want to listen to them again for a while, unlike music.
What I'd suggest is that you start by making a new, empty playlist, and then drag to that playlist everything you want to remove from your iTunes library.
Next, create a folder in the Finder for either your audiobooks, or all iTunes content that you're planning to remove from your library. (If you're removing different types of content, you can also make sub-folders by media type.) You may want to put this folder on an external drive to recover space on your Mac's internal storage device.
Drag the items from the playlist you created in iTunes to the folder (or sub-folder) you created above; you'll see that each file is copied (or moved) to the folder. They're moved if the folder is on the same hard drive as your iTunes Media folder, and they're copied if the folder is on a different drive.
Once you've copied everything, check that all the files are in the folder, select all the items in the playlist, and then press Command-Option-Delete. If iTunes asks if you want to keep the files or move them to the Trash, choose the latter.

You can do this for any files that are taking up space on in your iTunes library. You can move TV shows, movies, music or apps you don't use to another folder, or to another drive.
Remote app missing artwork
Q: When i play music on my iMac, I am often away from my desk but well within earshot of my speaker system. It is convenient to use my iPhone to see what is playing, and I use the Remote app for this. Prior to iOS 8, the app would display the artwork for the currently playing track, but it no longer does this. Is there a setting that I am overlooking?
It seems that this is a bug that's been in iOS since the release of iOS 8, but that only affects certain devices. I had expected it to be fixed in one of the iOS updates—such as this week's iOS 8.2—but it hasn't been yet.
The Remote app displays a text placeholder where the album art is, as below. However, if you tap Up Next, you'll see thumbnails of the artwork for the coming tracks.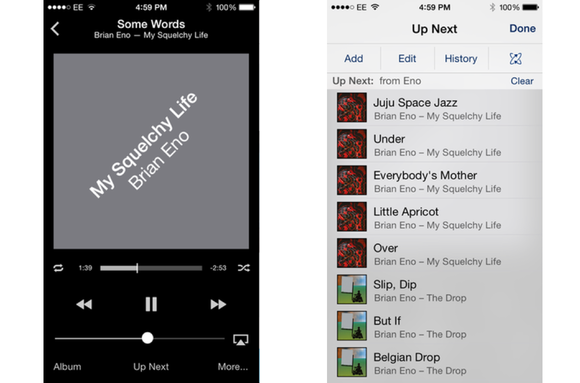 It does work fine on some devices, such as my iPod touch (5th generation) and my non-retina iPad mini. I don't know why this is the case.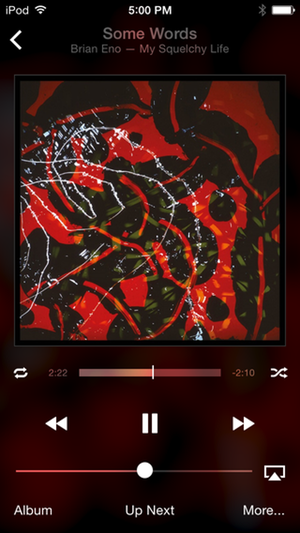 A Genius for all seasons
Q: I like to use Genius Mix playlists in iTunes 12, but there's one catch. Whenever iTunes generates these playlists it incorporates my holiday music into the selections. Is there a way to prevent Genius Mixes from including certain items? I don't want to listen to Christmas songs in the summer.
Alas, no. Just as you can't exclude items from iTunes Match, you can't tell Genius only to look at certain songs. The only thing you can do is move your holiday music out of your iTunes library during the part of the year when you don't want to hear it.
The first question above explains how to do this.
Can't buy me playlist love
Q: Why, for the love of mix tapes, would Apple remove the ability to gift a playlist? Have they no sense of romance? Do they not understand the power of a thoughtfully compiled and gifted set of songs? There are loves that wouldn't have blossomed… Babies that wouldn't have been born… Road trips that would have been totally lame if it weren't for homemade music compilations. I heard that at one point in 1985 Gorbachev was minutes away from pushing the big red button, but Reagan sent him a KILLER mix tape of mostly rare Erasure bootlegs. Now those kinds of surprises are nearly impossible. So, now, I'm I supposed share a playlist with someone, send her a gift card, and hope she'll use apply it to the playlist? I'm sure her heart will be all aflutter. I hope they bring it back. For the children's sake. There's simply no telling what kind of damage has already been done.
What he said.
iTunes removed the ability to gift playlists in iTunes 11, and many people miss this.
It's almost enough to make a guy burn a CD…
Have questions of your own for the iTunes Guy? Send them along for his consideration.