Austin—South by Southwest Interactive is nothing if not a hub for the entire tech community to party, so smartwatch maker Pebble fittingly chose the conference to release its SDK—Signature Drink Kit—to longtime backers.
Silly? Yes. But the company is getting ready to release Pebble Time, the next generation of its popular smartwatch, and already it's a smashsuccess. More than 72,000 people have backed the Pebble Time Kickstarter to the tune of $18.5 million, shattering the crowdfunding site's previous record. So Pebble's small crew descended on Austin to celebrate, and invited its evangelists to join them at the Pebbjama Jam. While Pebble supporters donned free pajamas emblazoned with Pebble logos and guzzled Smartstrap-ple Ciders and Eric Migibrewskis, I found Pebble CEO Eric Migicovsky calmly talking up Pebble Time to excited believers.
I went to the party hoping to get some hands-on time with an early version of the new watch, but Pebble only had demo units to show off, and I wasn't allowed to strap one to my own wrist to give it a go—Migicovsky said Pebble Time isn't yet ready for early reviews. But I did chat with the CEO about the watch's new features, how accessories can improve Pebble Time, and what he really thinks of Apple Watch.
Apple's big play
Some people consider Pebble Time more of an Apple Watch rival than any Android Wear watches, which makes sense—Pebble products are compatible with iOS, sothe company can offer iPhone owners a lower-cost smartwatch option. Pebble Time will retail for $199 and its fancier counterpart Pebble Time Steel, which comes in stainless steel casing with a leather and stainless steel strap, will sell for $299. Compare that to Apple Watch's $349 base price, and already Pebble Time has a competitive edge.
But Migicovsky told me he's "really glad Apple is getting into this space." Pebble has sold a million watches in its three-year history, a fraction of what some expect Apple to sell, and Migicovsky said "about .001 percent of people in the world know about Pebble." Apple's publicity blitz will increase overall awareness about smartwatches more than Pebble could ever manage without pouring hundreds of millions of dollars into an ad campaign.
Migicovsky hasn't seen an Apple Watch up close, or used one, but said he's a little concerned about Apple's approach to the home screen.
"That's the one thing I'm worried about the Apple Watch," Migicovsky said. "It seems like Apple is trying to do too much."
The old Pebble's navigation is centered around selecting an app from the home screen, a rudimentary version of what Apple has done with the Watch's home screen. Migicovsky said Pebble Time's new timeline view solves the problem of the overwhelming home screen full of apps. Now Pebble can grab relevant information that would want to see in the moment—like a travel alert or a calendar reminder—in a chronological snapshot of your day. Three buttons on the right side of the watch let you toggle between a past timeline view, which includes notifications you may have missed about a basketball score or an email notification, a present view, which will pull information about the current moment like the song you're streaming on the watch, and the future view.
I wasn't quite sure about the timeline view when I watched the Pebble Time Kickstarter video, but after Migicovsky showed me the three different snapshots on a demo model of the watch (not his personal Pebble Time), it made more sense. Timeline also reflects Pebble's mission, which is to create products that are incredibly good at telling time—and that includes giving you all the details you need to manage that time. The color e-paper display was also much more appealing than I expected, with easy-to-read black text on saturated yellow, red, and blue backgrounds. It certainly isn't retina, but it does the job.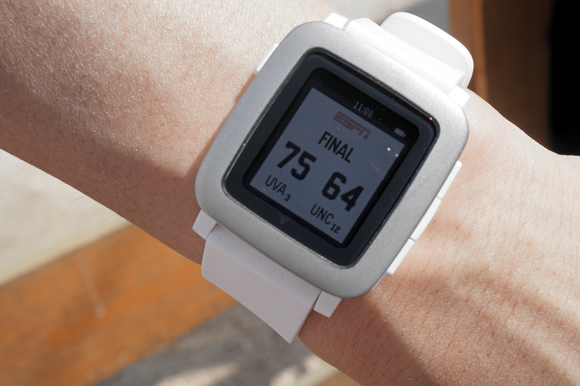 Making Pebble smarter
I'm also intrigued by Pebble's welcoming approach to third parties who want to make the watch better. Last week, the company told the top 500 Pebble app developers that they're all getting free Pebble Times when the smartwatch is ready to ship in May. Pebble is also encouraging accessory makers to create interchangeable bands that add external functionality to Pebble Time. Like Apple Watch, most of Pebble Time's capabilities are tethered to a phone, but so-called smartstraps will be able to add everything from battery-charging (like a Mophie for your watch) to USB ports, and maybe even GPS. To encourage creativity, Migicovsky said Pebble will financially support any smart strap makers who launch projects on Kickstarter.
But Pebble may find itself falling out of favor with iOS users. Our own Jason Snell, a longtime Pebble supporter,recently said that he was switching his smartwatch allegiance to Apple Watch due to his Pebble's connectivity issues with iOS. It remains to be seen whether Pebble Time has worked out the kinks for iPhone users, but for some, a smartwatch designed to deeply integrate with the iPhone in every way is an easier sell than a platform-agnostic watch like Pebble.
Pebble isn't exactly lunging after Apple's target market. It has its own fans. According to TechCrunch, Pebble Time's Kickstarter sign-ups nearly tripled after the Apple Watch event March 9, and there are still 11 days to go. Macworld will have in-depth reviews of both Pebble Time and Apple Watch, including a guide on which watch is best for you, when the two ship later this spring.