AUSTIN—On-demand transit app Uber is ubiquitous, but it typically hogs the ride-sharing spotlight for all the wrong reasons. Lyft is perfectly content to let its rival soak up the negative attention, because despite the constant comparisons between the two apps, their approach to business nothing alike.
Lyft has a reputation for friendliness. While its cars are no longer decked out in fuzzy pink mustaches (which some of us actually liked), the dashboard glowstache replacement is a welcoming sign. Riders hop in the front seat and get to know their drivers, though the introductory fist bump is no longer mandatory. Lyft hasn't jumped into international markets like Uber because it wants to establish ride-sharing as a de facto public transportation system in the States first.
"We have completely different visions for the world and we operate very differently," Lyft cofounder and CEO Logan Green said during a keynote talk at the South by Southwest Interactive festival this week. "Uber is a good car service, and that's exactly what they were when we launched."
But Lyft doesn't want to be an on-demand car service. The company is pinning its future to Lyft Line, the carpooling service that now makes up more than half of Lyft rides in San Francisco.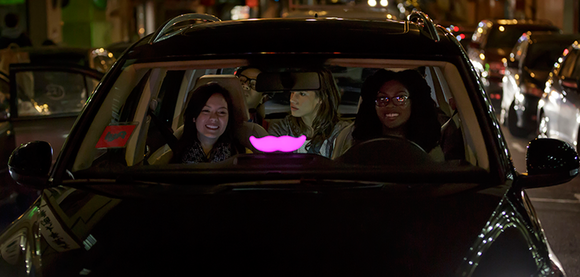 The mustache makes a difference
Lyft had a huge presence in Austin during SXSW as the festival's official ride-sharing partner. Lyft also used SXSW to gin up more users by sending cool cars—like a classic Bentley and a Tesla— to pick up lucky passengers.
The Lyft experience in Austin is also much different than in New York, where I live. Both Uber and Lyft offer a different version of their ride-sharing service in NYC than in other areas due to city regulatons—drivers must be licensed by Taxi and Limousine Commission and go through additional checks that drivers in other states don't have to, and so the passenger experience is more similar to a black-car service—and to Uber—than to Lyft rides in other cities.
But in Austin, the differences between Uber and Lyft are stark. Sitting up front in a Lyft and chatting about your life story with a stranger isn't for everyone, but that experience is what Lyft is riding on. The company pairs mentor drivers with new ones to show them the Lyft way.
"Lyft is more about connecting people in communities, not creating an on-demand delivery service," Lyft Chief Marketing Officer Kira Wampler said during a press roundtable at South by Southwest.
Wampler said a high percentage of Lyft employees are drivers, too, including CEO Logan Green.
"If we want every car on the road to be a Lyft, we need to make it incredibly convenient for drivers," Green said during his keynote. "The other day I picked somebody up and made $20 on my way into work. Every dollar counts."
Carpooling into the future
Lyft got its start as a Web 1.0 carpooling service called Zimride, which was essentially a digital bulletin board for college students to share rides. The company went back to its roots when six months ago it launched Lyft Line, a feature that lets you share Lyfts with people heading the same way.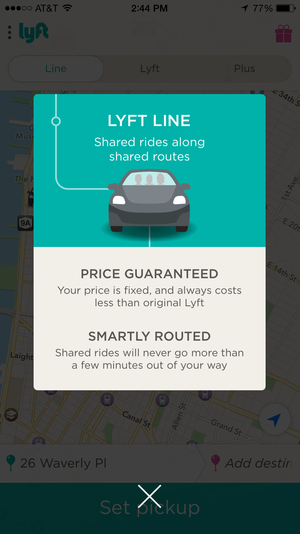 Uber announced a similar feature the same day, but the company is known more for its black-car service. Logan pointed to Uber's early motto, "Everyone's Private Driver," as a symbol of the difference between the two services.
"Most of the population cannot afford a private driver," he said. "We're relentlessly innovating to bring the price point down."
Lyft prices Line rides to be competitive with public transportation options.
Lyft has hesitated to expand internationally while Uber is jumping headlong into the global transportation market in part because it doesn't want to change its premise to compete with local services.
"We're looking to add something unique to the market," Green said. "When we do go international, it won't be as a taxi service. It'll be bringing the pieces that are most unique to Lyft to the rest of the world."
Green said Lyft is "learning a lot right now" watching Uber struggle to assert itself in other countries, and said he doesn't think Uber's current strategy is working. It's unclear if Lyft has a strategy in place to expand internationally or when it plans to start that process, but for now the company is focused on making Lyft Line as popular in other U.S. cities as it is in San Francisco. With a fresh $530 million in funding, the company is well on its way.
This story incorrectly stated that only Lyft was allowed to pick up passengers at the Austin-Bergstrom International Airport. Both Uber and Lyft are able to pick up users at the airport for a temporary period pending a long-term agreement.