There's more to the recently revamped Gmail app for iOS than pretty Material Design: It also comes with some new features that will make Google App users' lives a heck of a lot easier. You can respond to a message straight from Notification Center, open attachments in other apps, and more. Read on for four Gmail tricks—some new, some old, all awesomely helpful.
Set a vacation responder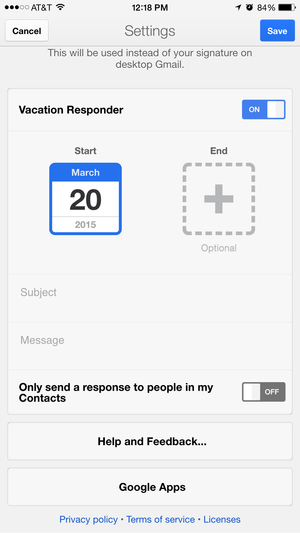 You can set a vacation reminder directly from the Gmail app, perfect for letting friends, loved ones, and coworkers know that you won't be replying for a good long while.
Tap the menu button in the top-left corner of the page, then tap the Settings button (the one shaped like a gear) next to your email address.
Flip the Vacation Responder switch, then fill in the blanks—you know, start and end dates, subject line, message, and so on. Tap the Save button.
Bonus tip: Any vacation message you set in the web version of Gmail will automatically sync with the Vacation Responder settings for the Gmail app, and vice versa.
Shush an annoying email thread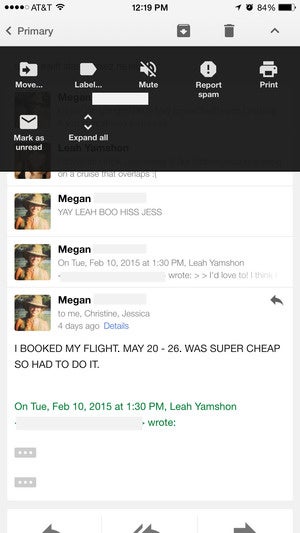 Some group messages are super helpful, but other times you'll find yourself wondering how you got thrown into to a conversation that just won't fizzle out. Gmail makes it easy to "mute" an annoying message thread—like the kind where everyone chimes in with a "congrats!" or "so cute!" or "see you there"…over and over again.
Once muted, the thread won't appear in your inbox again unless you're the only person in the To field.
See a message thread you'd like to mute? Open it, tap the down-arrow menu in the top corner of the screen, then tap Mute.
Want to unmute a message? Search for "is:muted," open the muted message you'd like to unmute, then move it back to the inbox. That'll clear the thread's Muted label, and you'll once again receive every message sent to the group.
Swipe between message threads
Here's a handy little Gmail feature that's easy to miss. Want to read the next message thread in your inbox? No need to tap the Back button to return to the inbox screen. Instead, just swipe from right to left (for older threads) or left to right (for more recent threads).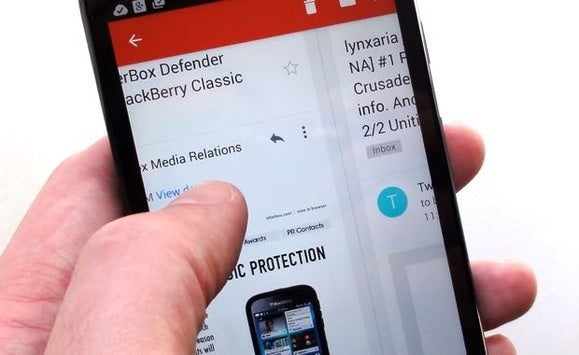 Attach big Google Drive files to your messages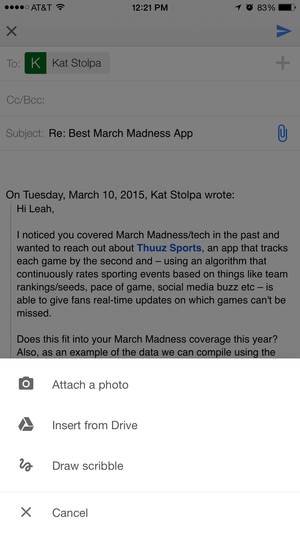 With a little help from Google Drive, you can send a massive file—as in, say, more than a few GB—to a friend via email, or deliver a large batch of files.
Don't have a Google Drive account? Well, if you're using Gmail, you've actually got one already.
First, you'll need to load the files you want to send into Google Drive. Open your Google Drive account, then drag the file you want to send onto the webpage. The file should begin uploading automatically.
Next, open the Gmail app, compose a new message or reply to an existing one, tap the Attach button (it looks like a paperclip), then tap Insert from Drive.
Find the file you want to send, tap it, then tap the Attach button again.
Have any other Gmail for iOS tips you'd like to share? Let us know in the comments below.