These days, keeping up with games can be a full-time job. So how do you separate the signal from the noise, the wheat from the chaff, the Temple Runs from the Temple Jumps? Allow us to help by regularly selecting a game You Should Play.
We've seen attempts to bring console-style music games to iPhone and iPad, with touch-based entries like Tap Tap Revenge and even adaptations of Rock Band and Guitar Hero—but they've been serviceable at best without instrument controllers. And curiously, all of those have since been removed from the App Store!
Instead, the best mobile rhythm games have been those designed from the ground up for touch: Experiences that connect you to the music with a tap, free of excessive interface elements or complicated gameplay. I'm talking Groove Coaster, Taito's amazing blend of electronic music and vector graphics. Or Pulse: Volume One (the only volume, sadly), which has you tapping beats on a bull's eye as dazzling icons spin out from each touch.
Joining those touch favorites is Planet Quest, a charming new rhythm affair that finds you abducting humans from a hovering UFO. As the planet spins, you'll tap in time with the current track to suck them up into your ship, and when one song ends, another immediately begins. It's a game you can play in an instant, but one you'll want to keep plugging away at to learn the tricky rhythms and dominate the leaderboards.
Thinking about taking over the globe with your tapping skills? Here are three reasons why Planet Quest is an essential iOS music game.
It's tricky: If you're familiar with Nintendo's wonderful Rhythm Heaven, then you might find that Planet Quest feels like an extended version of one of those mini-games. If not, then here's the gist: Your task might be to zap up an array of costume-wearing humans, but really, you're playing a music game. The humans wind up under your ship in time with the beat, but Planet Quest likes to twist up its tempo and time signatures, meaning you'll need to be ready for quick rhythm changes.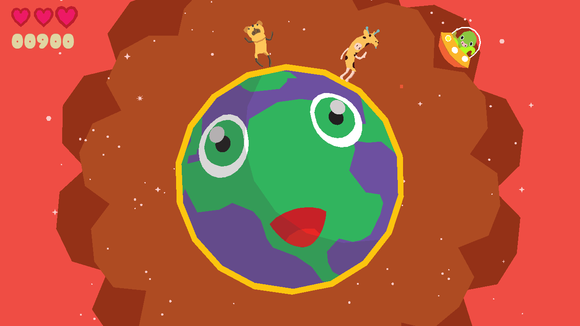 Planet Quest keeps the interactions super simple—tap anywhere to suck up anyone below your ship—and instead builds in challenge via timing and perspective shifts. In addition to tempo changes, the game will occasionally zoom in or out to throw you off, plus some of the creatures that cross your path can actually hurt you. Be precise and selective with your taps and the game can continue on indefinitely. Mistime your inputs or suck up the wrong abductees and it's game over.
The songs are super catchy: It's the obvious key to a great rhythm game: The music itself has to be appealing, and Planet Quest thankfully nails that part. These aren't licensed songs or really even standalone tracks, but rather cartoonish pastiches of various genres: Electronica, metal, and reggae included. They're meant to follow one another back-to-back, so the tracks have some commonalities—but it all comes together in one ear-pleasing megamix. And when the song shifts, so too does the look, with a new graphical skin that reflects the current audio selection.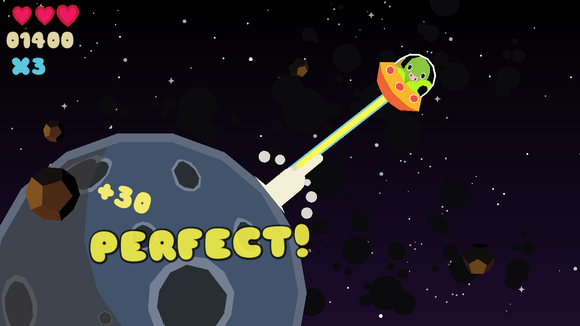 It's perfect for mobile: True, the tap-anywhere design and uncomplicated mechanics mean you don't have to deal with overly complicated gameplay: It's all about finding the rhythm and reacting to it. But Planet Quest feels perfectly designed for phone play especially, as it doesn't bother with menus, extensive options, or song selection before you're off and running. Simply press the play button and it'll immediately toss you into a song. And if you complete that one, it'll automatically continue on through song after song. That makes Planet Quest an ideal game for killing a few minutes, since you'll be into a game within a moment.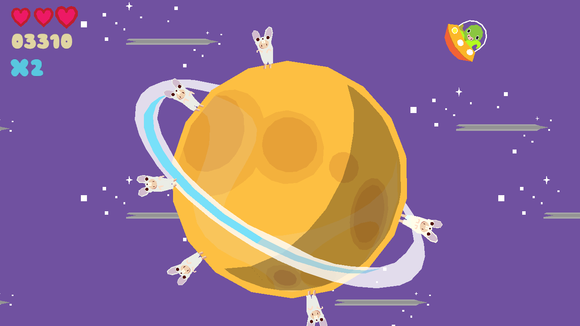 Planet Quest is free to download and enjoy, although it comes with video ads, which can be a bit aggressive. Luckily, a mere dollar spent within eliminates those entirely, and for gaming fans, there's no question that it's well spent here.
Developer: OutoftheBit Platform: iOS (Universal) Price: Free