New filters and fancy editing tools are fine, but if you want to get really creative with your Instagram snapshots and videos, you have to turn to a third-party app. So the photo-sharing network is taking back control—and keeping you inside Instagram—with its new stand-alone Layout app for photo collages.
These aren't the average cheesy, low-quality collages from a random app you discovered on iTunes. There are no overly stylized borders or over-the top fonts. Layout, now available on iOS, simply allows you to arrange your photos in a grid, then experiment with their size and placement. There are a few effects that can elevate your images to high art, like mirroring. But, like Instagram itself, Layout is all about simplicity.
How it works
Collage-making could just be a feature within the main app, but Instagram risks alienating its community if it grows bloated with layers of options. So, like Instagram's last stand-alone product, the time-lapse app Hyperlapse, Layout is basic enough that anyone can use it—even people who don't have Instagram accounts.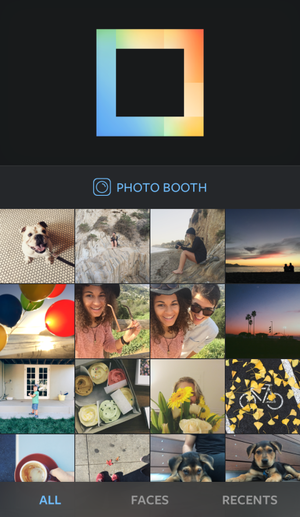 When you open the app, you don't have to sign in. Just get to work choosing shots from your Camera Roll. You can create a collage with up to nine photos, although that might be excessive. Three or four would suffice. Then Layout lets you select which layout works best.
There are a slew of tweaks you can make to your photos after you choose a layout. A blue handle lets you resize each of the photos horizontally or vertically, and you can pinch to zoom in on an image. Tap and drag a photo to swap it with another in the grid.
There's even a feature to help you step up your selfie game. Tapping on Photo Booth will trigger your front-facing camera to take four shots in a row, which you can then turn into an artful collage because your friends are going to love it. Get ready for the onslaught of gridded bathroom mirror duck face shots.
After you finish your masterpiece, save it to your Camera Roll and share it to Facebook, or share it to Instagram with the appropriate filter.
The cottage industry of third-party apps designed to improve your Instagram game is now on notice. If Instagram keeps churning out easy-to-use apps that easily export photos to your feed and to Facebook, then others like Diptic, Framatic, and Layout (this one by Juicy Bits, not Instagram) might fall by the wayside.
I never use collage apps because they look incredibly cheesy, like pint-sized scrapbook pages, but Layout makes a persuasive case for Instagram collages. You don't want to spam your followers with a series of similar images, even though each one is slightly different enough to warrant its own post and caption. Layout lets you sum up an experience in one perfectly curated photo, which is exactly what Instagram is all about.