Live video streaming app Meerkat took Twitter by storm during SXSW earlier in March, and now Twitter has released its response. On Thursday, Twitter introduced Periscope, its own live video streaming app that will compete directly with Meerkat.
Twitter's plan for live streaming actually began long before we'd even heard of Meerkat. Periscope was first an independent startup. Then in January there were rumblings about Twitter acquiring the app. Finally, about two weeks ago—the day after SXSW wrapped up, not-so-coincidentally—Twitter confirmed it acquired Periscope.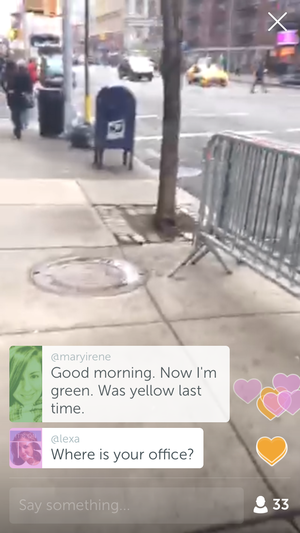 The story behind the story: If you ask Twitter, the company will say it loves seeing developers build products that integrate with their platform. Unless, of course, that product is similar to something Twitter already has planned. It's no surprise then that the same day Twitter confirmed the Periscope acquisition, it blocked Meerkat from accessing follower/following lists on Twitter. The end result: New Meerkat users could no longer search for people to follow on Meerkat using their Twitter contacts. Twitter told BuzzFeed its decision was "consistent with our internal policy," but that's awfully convenient timing.
A quick look at Periscope
Periscope is very easy to use. You authorize the app to access your Twitter account, go through a follower/following process using your Twitter contacts, and you're ready to go.
At start u,p Periscope shows you a list of videos posted by the people you are following as well as popular videos from users you don't follow. Many of the videos are live but you can also view recently archived videos. Periscope allows users to store their live feeds for replay, which stay available on the app for 24 hours.
During the live streams you can chat with the person broadcasting as well as other viewers. You may also see hearts (which are basically likes) coming out of the bottom right hand side of the screen. The more hearts a broadcaster gets, the higher they get in Periscope's "Most Loved" list.
When you want to start broadcasting your own live feed, you tap on the camera icon at the bottom of the screen, name your broadcast, line-up your shot, decide whether or not to share a link on Twitter, and then hit the Start Broadcast button.
Those are the basics for Periscope. To find out more check it out on iTunes. There's no word on when Periscope might come to Android, but hopefully we'll see it hit Google Play in the coming weeks. Although it could take months. Vine, Twitter's last video app, popped up on Android nearly five months after debuting on iOS.